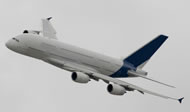 We've mentioned previously how important it is to keep an eye on the expiry dates of your domain names.
But in case you haven't got the message yet, here's a high-profile domain name expiry story to hammer home the point.
As reported by The Register, this time it was the turn of Emirates. The Dubai-based airline managed to let its emirates.com domain name expire earlier this week. As a result, instead of being able to book seats on the enormous new Airbus A380, visitors to the company's website saw a generic domain name parking page. Oops.
Once the error was noticed, it appears to have been corrected quite quickly. But it sounds like it took several hours for the site to reappear, probably because it takes time for domain name changes to propagate across the internet.
It's rare for such a high-profile site to suffer in this way, and as a result I'm sure Emirates' visitor numbers and online sales plummeted. And really, when renewing domains is dead easy, there aren't many excuses for such a lapse.
Use auto-renew
It's easy to avoid falling into this trap yourself. If you're a 123-reg customer, you can set your account up so any domain names close to expiring get automatically renewed.
As long as we have an up-to-date payment method stored for your account (usually a credit or debit card), we'll take payment automatically, and you'll never have to worry about losing a domain.
Domains are set to auto-renew as standard. To make sure you have given us details of an up-to-date credit or debit card, do the following:
Log in to your 123-reg control panel
Scroll down and click Update credit card details
Check the displayed details. If they're not up-to-date, enter your new card details and click Store Card Details (we won't take any money now).
It's easy to cancel the auto-renew option too, if you want to let a domain expire. To see how, log in to the 123-reg support website.
(Photo: Phill MacKenzie)