Web Design isn't easy. You've got to think about menu structure, page layout, colours, fonts and images.
When setting out each page, you need to sort out where everything goes. Your menu bar, logo, text, products, forms and buttons all need to slot together into a single design. So how can you decide what goes where?
There's a phrase that's borrowed from Newspaper publishing that says you must 'put the gold above the fold'. This means that you need to make sure all the important stuff on your page can be seen without the user having to scroll down.
This includes menu, contact details, headlines, product, but most importantly your 'call-to-action' or 'buy' button. No matter how long your page, it's key to include a 'buy' button above the fold.
But where exactly is 'the fold'? People have a whole range of screen sizes and resolutions. Others have installed one, two, and sometimes three different tool bars.  As a consequence, the fold isn't in the same place for every visitor.
That's where Google's new 'Browser Size Tool' can help you out. This helps you visualise the areas on the page that most people can see. Marked out as a percentage, it's possible for you to reposition your 'call-to-action' buttons so that as many people as possible can see them.
Here's what it looks like: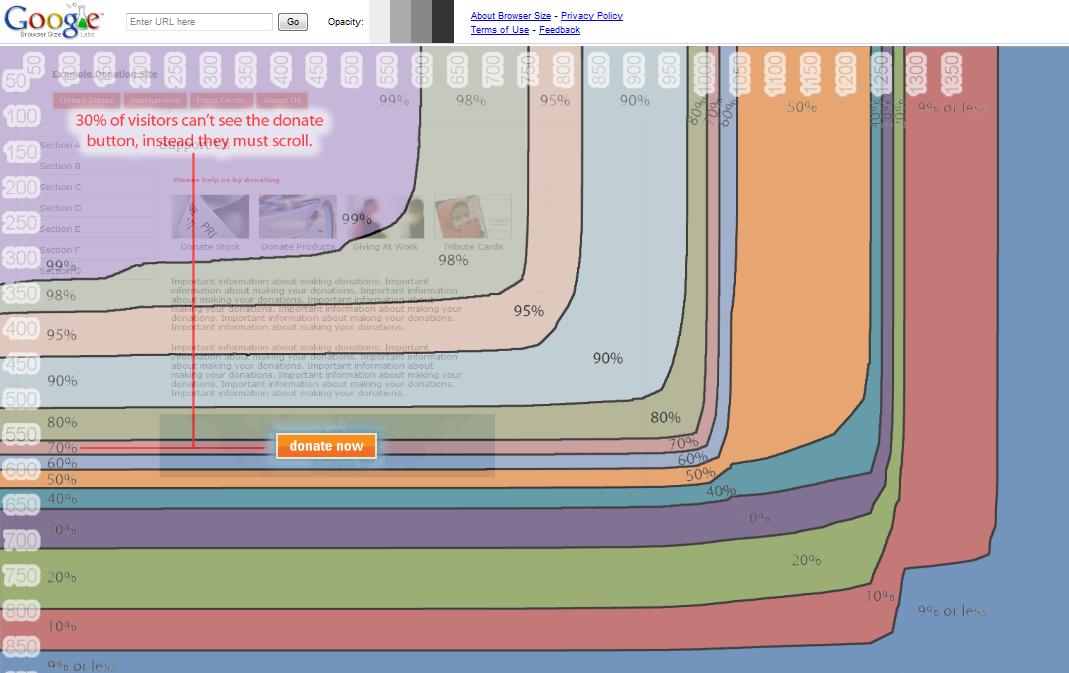 Have a go using the browser size tool and let us know what you find out.
Author: Nick Leech of Euston Digital