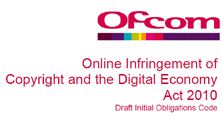 British internet users who infringe copyright by using file-sharing software and sites will be logged, monitored and risk their details passed to copyright holders under new proposals from regulator OFCOM.
The draft code of practice designed to implement the Digital Economy Act provides for ISPs to log names and the number of times individuals infringe copyright. These details will then be made available to copyright owners (Film studios, record companies, etc) upon application who can then decide whether they wish to take action against the infringements.
OFCOM has proposed a multi-stage approach with those accused of copyright being sent three letters over time by their ISPs requesting they stop the downloading and advising them of the potential penalties. If there is no repsonse after the third letter, details could then be passed to the copyright owners who would still have to apply to the court to reveal the full identity of the customers.
The first stage of the roll-out under the proposals will apply only to large ISPs (with over 400,000 customers) although that is thought to cover some 96% of internet users in the UK. Yet, several consumer groups are still concerned about the potential power to order the suspension of a suspected offender's internet account which was one of the most controversial clauses of the new Act. With the new government adamant they will not repeal the Act it seems we will have to wait and see if and how that power might be used.


Share and Enjoy
Leave a Reply