Your 123 Reg Online Shop launch checklist
Getting your ecommerce website online is one of the most exciting milestones for your business. It will make it much easier to promote your offering, attract prospects to your store, and provide a great experience that'll entice customers to buy from you over and over again.
Whether you're creating a brand-new ecommerce site with the 123 Reg Online Shop or moving your existing one to 123 Reg, launching an online shop can be a daunting task.
There are lots of moving parts to plan for and track. That's why having a launch checklist is so important — because it helps you see exactly what needs to get done so you don't miss a critical step before you launch.
Read through this checklist to ensure your online shop is ready to launch and that it will effectively support prospects and your business when it goes live.
1. Get your Online Shop package and free domain name
Visit our 123 Reg Online Shop page and choose the right package for your needs. After you click Buy now, you can claim your free domain name. The great thing about our Online Shop is that it comes with a .co.uk, .org.uk, .me.uk, .uk, or .com domain that's free for the first year. If you already have a domain name, don't worry, it's easy to connect an existing domain to your new ecommerce site.
If you've already decided on the perfect domain name for your business, enter it into the search box. If you need some recommendations on what's available, simply enter one or two keywords that describe what you do, and then hit enter to start your search.
Not sure what to name your business and website? Here's everything you need to know about choosing a business name and a domain name.
After you finalise your purchase, go to your Control Panel and assign your domain to your Online Shop package.
Once you've picked your free domain, you may also want to check to see if the corresponding domain name is available on other extensions. If it is, you may want to buy it to ensure no one else can.
2. Choose your template
The first time you log into your Online Shop, you'll be prompted to choose a template for your site. Select Online Store on the left to see our collection of pre-made template for ecommerce sites.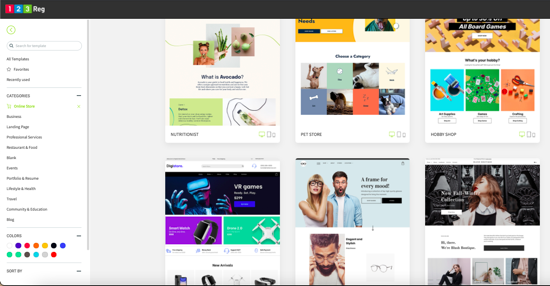 You'll notice there are many different templates designed with specific industries and types of stores in mind. Browse through them and see which one is the best match for your type of business and what you sell.
Need some advice? Read this post for tips to help you choose the perfect website template for your business.
3. Prepare your key pages
Your ecommerce site should have a few pages that prospects can visit to learn more about who you are, what you stand for, and what you sell. At a minimum, every online shop have the following key pages:
Homepage, that tells visitors what your business does, the value you provide, and why people should care and choose you over your competitors.
Shop page where prospects can browse through and buy the products you sell.
About page where visitors can learn more about who you are and what you stand for, and ensure you're a legit and trustworthy business.
Contact page where visitors can find options to get in touch with you, whenever they need to.
FAQ page to address common customer concerns and questions and make prospects feel more confident buying from you.
In your editor, go to Pages to add new pages to your template or delete the ones you don't need.

Add your text, images, and videos to each of these pages to entice more visitors to buy from you.
4. Add your products
Your product pages are key to your online shop's success. Make sure you pay extra attention to the information you add to these pages. Include high-quality photos, clear and compelling descriptions of what a product does, and a clear, attention-grabbing call to action to entice prospects to take the next step and buy from you. Read this post for some tips and advice on how to optimise your product pages to sell more.
In your dashboard, go to Ecommerce, and then select Manage store to add products to your store, organise them into categories, and more. If this is your first online shop, click Add New Product to add products one by one. Make sure you fill out the information for each product, including name, description, images, pricing, SEO, related products, and more.
If you have an existing ecommerce site, you can always import products to your 123 Reg Online Shop to save the time and hassle of having to add them manually.
5. Optimise everything for search engines
By everything, we mean your entire online shop, including text, images, meta titles and descriptions for every page on your site, and more.
Why is this important? Because a properly optimised store is a store that prospects can find with ease at the top of the search engines, when they're searching for your products. Check out these six SEO beginner tips to boost your website's visibility in the search engine results.
In your Online Shop, it's easy to add meta titles and description to every page on your site, as well as descriptions for images so Google can understand what your images are about and display them in the search results. You can also optimise your product pages using relevant keywords so they show up in the search results when people are looking up your products on Google.
6. Add your sales channels
Reach more customers and boost sales by adding different online sales channels to your online shop. You can sell and track orders from other websites, blogs, popular marketplaces, and more.
Go to Sales Channels and choose where you want to sell, whether it's on Amazon, Google Shopping, eBay, and more.
7. Set tax and shipping rates
Make sure you review the tax and shipping settings for all the products you're selling. You can set to calculate shipping fees and taxes automatically based on where your business and customers are located. This will save you the time and hassle of having to set everything up yourself. You can also configure shipping and taxes manually if you choose to.
8. Choose delivery options
Customers like options, so make sure you provide them with several options to receive their order. Some may choose to have their order delivered at their doorstep while others may prefer to pick it up themselves. Make sure you give them the option to choose whatever they're most comfortable with.
9. Add a variety of payment options
As an online shop, you need to consider the people who are buying from you. If you only provide checkout via PayPal, are you sure all your customers will have a PayPal account? Or are you going to lose customers because you're only offering one option to pay for the purchase?
Make sure to add a variety of payment options to your online shop so customers can choose whichever one works for them. In Ecommerce, go to Payment to add the payment methods you want to accept on your site, from cash to Stripe, PayPal, and major credit cards and debit cards.
10. Review and optimise your checkout
Your checkout is one of the most important parts of your ecommerce website. It's where visitors become customers, and where you make money. Make sure you review and optimise it to ensure visitors have a seamless checkout experience that allows them to buy from you quickly and easily.
Here are some tips to review your checkout process:
Test it. Go through the process yourself. Add products to your cart, fill out all the necessary information, and place an order. If something doesn't work or isn't clear, fix it right away.
Ensure there's a prominent and clear call to action button at every step that tells customers what to do next.
Enter a discount code to check this works properly.
Try to edit your cart's content by removing an item.
Review the pricing, taxes, and shipping rates to make sure they're visible and accurate.
Think about the information you're asking from customers and remove any field where you ask for information you don't need or plan to use in the future.
Read this post for more tips to optimise your shopping cart checkout.
Wrapping up
Having a launch checklist is key to your ecommerce website's success. So, if you're preparing to launch your online shop with 123 Reg, make sure to review this list before you hit Publish to ensure customers will have a great experience on your website, one that they'll be happy to come back to and recommend to others.
And don't forget, if you need any extra help getting your website up and running, you can call us on 0345 450 2310.