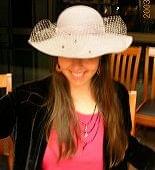 Have you heard the story of the Hungarian farmer who electrocuted himself with a homemade stun gun while trying to kill a pig? Or the chap who strapped a rocket engine to his car and crashed into a mountainside?
Actually, the second one is an urban myth, as Wendy Northcutt will tell you. She's behind the Darwin Awards website, which celebrates individuals who have removed themselves from the human gene pool (generally by dying) in extraordinarily idiotic ways.
This internet phenomenon has spawned a string of books and even a movie. As part of our series of interviews for this blog, I caught up with Wendy to talk about the awards.
The beginning
The Darwin Awards started on Wendy's personal website, back in 1996: "I put some things on my website – I was working in a laboratory in Stanford, doing this on the side. It started as a joke, but I had a section called 'pet porn'."
"I'd taken pictures of my father wrestling with his dog on the floor," she explains. "The dog slipped his tongue into my dad's mouth – I took a picture of it accidentally. So there's my dad, French kissing his dog."
"People," she continues, "thought it really was porn, so it became very popular. I was so embarrassed when I realised it was getting all of these hits that I took it down."
Another section of her site contained some of the first Darwin Awards stories. She discovered these after her cousin mentioned the rocket car story to her. With the pet porn gone, these became the most popular pages on the site.
Wendy clearly considers herself a possible Darwin candidate. "I am going to take myself out in some stupid way," she reckons, "and I love hearing stories about other people who are just as stupid."
Growing and growing
As time went on, the number of stories on Wendy's website grew. "Every time," she says, "I'd come across another newspaper article, or someone would email me one, I'd add it to the collection."
Traffic to the site grew until it got so large that the university kicked Wendy off its servers. "I had to figure out how to move on," she explains, "and how to continually keep up with the traffic. I became a webmaster accidentally and learned quite a lot."
Getting published
Wendy says the success of the site took her "completely by surprise." And I detect some pride when she talks about how the first Darwin Awards book came about.
Most publishers would only offer her a deal if she agreed to remove the stories from the internet. But Wendy was adamant: "It was a community! I could not do that. Even though it might have cost me a lot of money, I kept saying no." Eventually, a publisher agreed to print a book containing just 10% new material.
That first book was a huge success. "It went on the New York Times bestseller list for six months. After that," says Wendy, "there was no problem."
So she absolutely believes in publishing material online: "I would encourage people to put things online, because you get an audience. You get people to share their opinions on your writing and you can hone your material."
A full time job
Speaking to Wendy, it's obvious that she cares a lot about the Darwins, and feels some strong obligations, calling it "a full-time job." She feels guilty that she can't reply to every email she receives: "I always feel like I'm neglecting my audience, even though I work more than full time."
Wendy calls the site "a community", and gives an insight into its universal appeal. "I do snoop on the comments people put when they email a story to a friend," she admits.
"People are often saying 'this was us – remember when we did this?' Fathers will send them to their daughters, saying, 'you watch out at college.' So I really think part of the audience likes them because they've done something nearly as stupid."
Critics
Wendy sounds outgoing and enthusiastic on the phone, yet seems to guard her online identity closely. It's hard to find out much about her, and most photos have her face obscured.
This was partly because she was worried about her critics: "I was reluctant to have anybody find me, just in case. On the internet, some of the flames were very ugly. But I give plenty of public appearances and book talks and I've never had any trouble."
However, I also get a sense that she wants the stories to speak for themselves: "I did feel I was forming a community and I just happened to be the one who wrote the stories."
Since the first book was published, criticism has been much less of an issue anyway. Wendy says that "suddenly everybody thought it was ok."
There's a hint of awkwardness when she suggests, only half-jokingly, that being published "gave it a kind of credibility. It made it mainstream, so I've contributed to desensitising the race. I'm a little embarrassed about that."
The best stories
I got the impression Wendy's favourite Darwins change regularly as new stories come in. But she mentions a couple. First off, she recalls "the man who was juggling hand grenades in Croatia. He was at a party, showing off when he pulled the pin. What an idiot!" Quite.
And another: "I really like this new story and the comments that went with it. I had never heard of this, but someone was in the habit of injecting his alcohol by using an enema. He managed to party so much that he put two litres of sherry up his butt. I got several comments saying this is a common practice!"
Lastly, I wondered what Charles Darwin would think of the awards. "I think he would come over and have some discussion about whether or not these things were really examples of genetics," says Wendy, demonstrating her background in biology.
"He would probably want to be interested in having stories that only have genetic components."
Share this post