Local Listing
Help people near you discover your business
"We are a brand new restaurant. It takes time to rank on Google. We needed to show up in local searches. The best way was to use local directories."

Mazen Al-awdi, Founder of GGs
Put your business on Google for local searches
When people in your area search Google for what you do, does your business show up? Most don't. It's often down to inconsistent or missing citations in local directories.

Submit your business details through Local Listing to make sure it appears on the most popular specialised directories, including the expensive paid-for ones. Your business can appear in local search results even if you don't have a website! A great time saver that will boost your online visibility too.

Get it right and your business will hit the jackpot. According to a Google study, 50% of mobile users searching locally will visit you the same day.

Can you afford to miss out?
Local Listing

Boost the local SEO visibility of your business.

Save 33%

1st year equivalent of only

£9.99

per month

Boost your presence online
One-click updates
Personalise your listings
Collect your feedback
Easy setup wizard
Control your business information
Daily monitoring to protect your data
Review management

Prices exclude 20% VAT.

£119.88

per year

in advance; minimum contract duration

1 year

, then

£179.88

.
Improve your local SEO and get found online
Boost your presence online
Get found in the major directories people use to find local business listings, including Facebook and Google Maps.
One-click updates
Ensure your details are consistent by adding or changing your details across all directories with just one click.
Personalise your listings
Stand out from the crowd and make your listings as useful as possible by uploading images, opening times and news events.
Collect your feedback
Track every comment that is left on your listings from one centralised location. View and respond to feedback quickly and easily.
Easy setup wizard
Submit your listings using the easy-to-use Local Listing setup wizard, ensuring that your information is consistent across all local directories.
Control your business information
Anyone can write anything online about your business. Keep control of your information on local directories from one place.
Daily monitoring to protect your data
We'll review your listings daily to ensure they are consistent and up-to-date. Get alerts in your control panel if any action is required.
Review management
Review your average rating for each directory, as well as your overall average rating.
Be wherever your customers are!
Facebook
Reach the users of one of the most popular social media networks around.
The Sun
Your website could show up in The Sun's business directory – visited by thousands daily.
The Mirror
Tap into a new local audience and boost visibility for your company.
Bing
Show up in this super-fast search engine by Microsoft.
Foursquare
Have your restaurant show up when people search for local places to dine.
Scoot
Appear in this specialised search engine and get maximum exposure.
TomTom
Navigate customers straight to your business by having it show up on their GPS.
Hotfrog
A quick and easy search tool your customers can use to find you in just a few clicks.
The Evening Standard
Get listed in this popular UK paper read by thousands of potential customers.
The Independent
Get discovered by the many people who read this news outlet.
The Scotsman
Boost your Scottish enterprise with a place in this national publication.
citipages.net
Boost sales with an appearance in this popular business search engine.
And many more!
We're constantly adding directories to our service!
Now people can find you when they really need you
Get found locally
Generate visitors and sales by getting your business listed on the high quality local directories that people in your area use when looking for the products and services you sell.
Boost your local SEO
Consistent, accurate information across trusted directories helps to improve your local online visibility by boosting your rank on search engines.
Engage with your customers
Build a strong relationship by answering directly to messages and reviews, creating trust and turning one time visitors into regular customers.
A unique marketing platform
Push offers and news through directories to help attract new customers. Platforms such as Google Maps, Facebook and even TomTom will bring a huge new audience for your brand.
Help local people discover your business when they need you most
See how Local Listing submits your business to local directories, and the benefit of being found quickly and easily by customers in your area
Why choose Local Listing from 123 Reg?
Some great reasons to choose Local Listing through 123 Reg.
The UK's #1
Backed by the UK's largest domain registrar
Learning tools
FAQs, videos and blogs to help you develop your skills
Always here to help
Expert phone, live chat and ticket support to answer any questions
Best value
Great value with no hidden costs
Grows with you
Trusted by small businesses with over a million sites hosted
Intuitive and simple
Everything you need in one simple control panel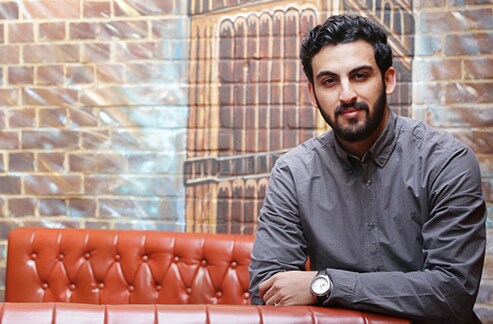 "Our aims for the first year are just to be known for great food and a great place to come and eat. GGs website, especially being open for a very short period, is vital. The website is great and I feel that that's where 123 Reg got involved and helped us a lot with that process."

Mazen Al-awdi, GGs
Frequently asked questions
Questions?

Call us on

0345 450 2310

Average wait time is under 2 minutes
Find out here how some of our customers are adapting their businesses during COVID-19 and how we're assisting them.