Supporting your business during coronavirus (COVID-19)
Find out what you can expect from us as well as ways to support your business
The ongoing coronavirus (COVID-19) outbreak is creating unique challenges for small businesses throughout the UK. As such, we've compiled a brief guide to inform you about what 123 Reg is doing as well as any steps you can take to help keep your business going.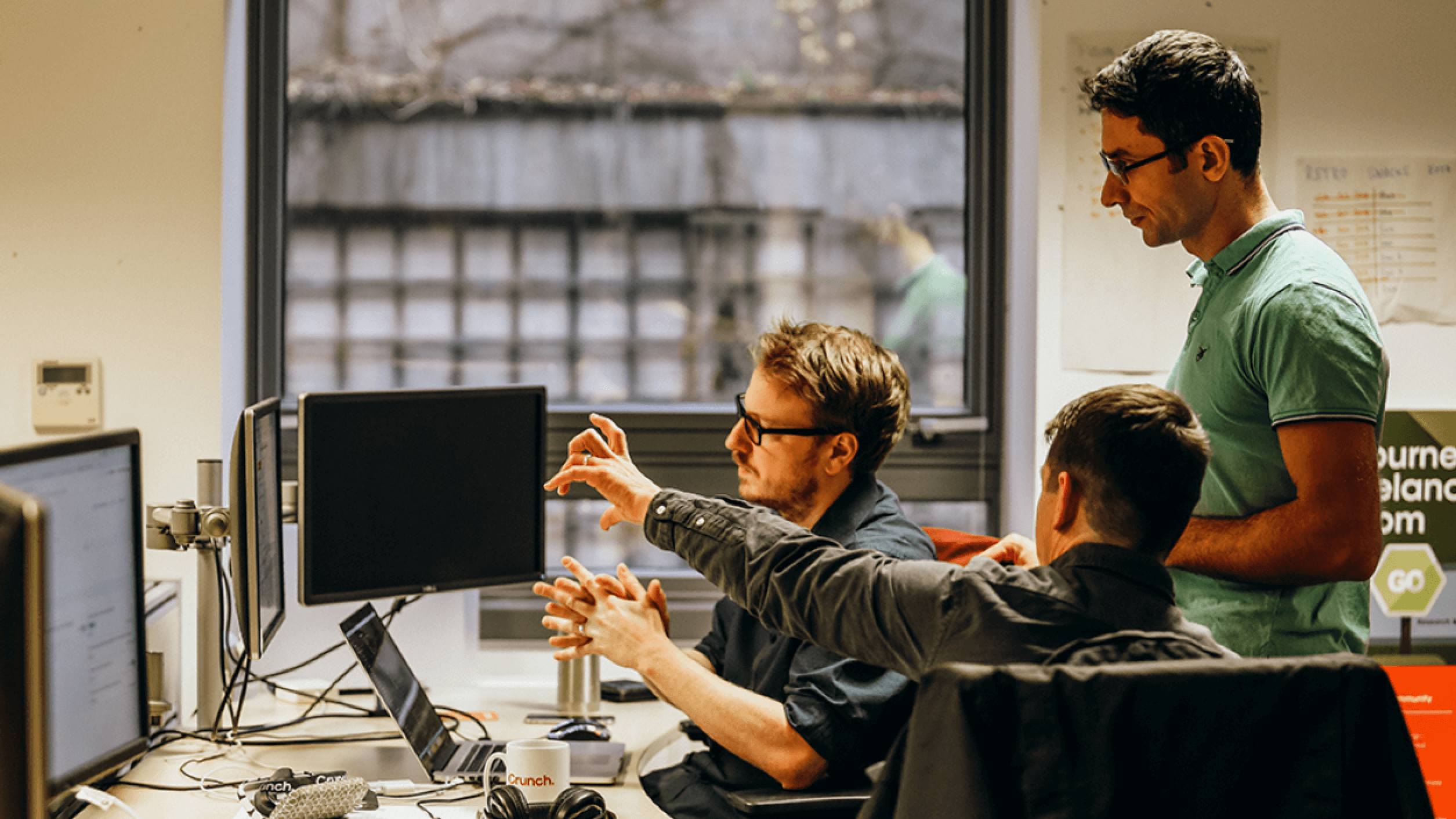 Free Webinar - The Financial Support Available During COVID-19 and Beyond
Even during the best of times, managing your business can be difficult. To help with this, we've enlisted the help of online accountancy firm Crunch to explain how you can best manage your finances during this time and receive financial support if needed. Some of the topics include:


Applying for Coronavirus Business Interruption Loans (CBIL)

Staying on top of your cashflow

Dealing with business losses

Preparing for the post-lockdown future
Putting our customers first
Some of our customers have implemented unique strategies to continue offering their services and overcome the fact that their customer base has begun self-isolating, or to assist NHS workers. While these measures might not be viable for every business, it's worth considering how exactly you could cater your business accordingly.
We'd love to know how you're adapting your business and showcase your story above! Get in touch with us at pr@123-reg.co.uk and tell us what you're doing to make a difference.
What 123 Reg is doing
Want to know what we're doing to assist our customers and employees during COVID-19? Check out some of the most frequently asked questions below.
Frequently asked questions
Overcoming this challenging situation
To help restrict the spread of COVID-19, there are several rules that businesses and customers alike will need to adhere to. As such, here are some guidelines to bear in mind that may help you overcome any potential issues:
Face coverings and social distancing
Members of the public are required to wear a face covering at certain indoor settings, such as shops, cinemas, theatres, massage parlours, places of worship and museums as well as on public transport. Restaurants, pubs and bars do not require face coverings, although bar staff, waiters and non-seated customers must continue to wear a mask. Customers may also remove their covering at an indoor premise that has a café or designated seating area for eating or drinking, but only this seated area is exempt. Furthermore, table service must be provided and these venues will need to be closed by 22:00.
Children under the age of 11 are not required to wear a face covering, while those who have an age, health or disability reason for not wearing one may prove so in the form of an exemption card, badge or home-made sign. Failure to wear a mask may result in you being charged a £200 fine. For more information, be sure to check the government's official guidance for a list of establishments where
face coverings are mandatory
, not to mention which
types of businesses
are to remain closed.
To further reduce the spread of coronavirus, you should limit the number of people you see to groups of 6 and remain at least 2 metres apart from anyone you don't live with. Hospitality businesses must also ensure that there are no unlawful gatherings in their premises. You should also avoid any physical contact with other people and refrain from touching anything that others have touched. Please see the government's official pages for any updates on national
social distancing rules
as well as
any other restrictions
.
Self-isolation
From 28 September, anyone at risk of spreading COVID-19 will be required by law to self-isolate. Those caught breaching these rules will face an initial fine of £1,000, which may escalate to up to £10,000 for repeat offences. This new law will also affect those preventing others from self-isolating, such as business owners who threaten self-isolating staff with redundancy if they don't come into work.
For those on lower incomes who cannot work from home, you may be eligible for a one-off Test and Trace Support payment of £500. You can find out more information from the government's
official announcement
.
NHS Test and Trace
As part of the NHS Test and Trace service, an official app has been developed that is free for anyone to download:
NHS COVID-19
. Available for both iOS and Android smartphones, the app will inform users of – among other things - their local risk level and will tell them to self-isolate if their phone detects they are near someone later determined to have the virus, complete with a countdown timer.
Another unique feature of it is that businesses can display their own authorised QR barcode on posters or digital signs so that users can register themselves using the app's built-in scanner. Not only will this help to save time and speed up the process of getting customers in but, should the venue become the centre of an outbreak, the app will also send an alert to any users that were present there, helping to save lives. For more information of the NHS Test and Trace service, please check the government's
official guidance
.
Local COVID Alert Levels
To help manage the ongoing outbreak throughout local areas, the government have introduced a new tier system in England that offers 3 different Local COVID Alert Levels: medium, high and very high. Each level imposes different restrictions that will affect businesses and individuals accordingly, so make sure that you remain aware of your local area's alert level and any associated restrictions by using the government's official
postcode checker
.
Depending on local rulings, the highest level may require the closure of entertainment venues, leisure centres, libraries, community centres, tourist attractions as well as pubs and bars, while people must avoid travelling in or out of the very high alert level area. For more information about what restrictions are imposed at each tier level, be sure to read the government's
official guidance
.
A similar scheme has also been introduced in Scotland in the form of a 5-tier system: Levels 0, 1, 2, 3 and 4. For more information on this system and what protection level each area has been set to, please read the government's
official page
.
National Lockdown
From 5 November 2020, England will be going on a four-week lockdown until 2 December 2020. Although schools, colleges and universities may remain open, pubs, restaurants, gyms, entertainment venues and non-essential shops will close. Takeaway and delivery services will still be permitted, although the takeaway of alcohol will be prohibited. For further details on these new restrictions, please read the government's
official announcement
.
Re-opening
Once the government begins easing the national lockdown and starts allowing non-essential retail shops to open, businesses will need to implement new measures to stay in accordance with social distancing rules and local lockdown restrictions.
For instance, any items that are handled by customers will need to be quarantined for 72 hours, while protective coverings are to be placed on large items such as beds or sofas. In addition to this, only groups of 6 customers or less are permitted at any time, other than where a legal exemption applies, while reasonable steps should also be taken to ensure that customers are kept 2m apart from each other, such as setting up floor markings or physical barriers.
Due to the variety of work environments, employees should work from home wherever possible. Anyone who cannot do so should go to their place of work and follow guidance from their employer based on a workplace risk assessment. To help with this, you may check this
government guide
to see what your workplace must do to keep people safe.
International business travel
Although travelling internationally is not recommended at this time, if it's a necessity for your business then you'll need to take a few precautions. Before and while you're travelling, be sure to check the Foreign and Commonwealth Office's travel advice for the country you're visiting as well as their official coronavirus requirements.
Once you arrive back in the UK, you may need to self-isolate for 14 days, unless the country you visited is on the government's
travel corridor exemption list
. If your journey includes any transit stops, this rule also applies should any new passengers get on or if any passengers mix with people outside the transport and then get back on.
As always, please refer to the government's
official guidance
as well as the
BBC's global report
for any further developments.
Communications
Make sure that you inform customers about any changes to your service operations, opening hours or delivery options as soon as possible. Furthermore, be sure to announce these changes across your entire website and social media channels.
Honesty and transparency are always appreciated and, given current circumstances, most people will understand if it'll take longer for them to receive their goods.
In any case, any messages sent out to your customers should be as brief and clear as possible, since many will probably be busy dealing with the effects of the outbreak on their personal lives.
Remote working
If, like us and many other companies, you're now working from home, it's worth downloading video conferencing and messaging software to ensure a smooth transition. Some great options include:
Useful tools
With more businesses placing a greater emphasis on their online presence, here are a selection of easy-to-use marketing and design tools that can help you boost your company image and workflow process:
Helpful blog articles
Here are a few articles we've produced featuring general tips and advice on how you can adapt your business and make the most out of the current situation.
Government and national resources
While multiple schemes have been launched and continue to be introduced to assist struggling freelancers and businesses, it can be difficult to make sense of it all. As such, we've compiled a list of government schemes that are currently available.
Business Loan Schemes
Even during these difficult times, you've still got a business to run and ongoing costs to meet. At the time of writing, to help with this
the UK government has announced
that it will offer a 100% Business Rates retail discount for companies whose property's rateable value is less than £51,000. Businesses that pay little to no rates may also receive a £3,000 grant, provided they're currently eligible for Small Business Rate Relief (SBBR) or Rural Rates Relief.
In addition to this, the government has launched
'Business Interruption Loan Scheme
that will support small and medium-sized businesses that need access to bank lending and overdraft services, provided they have an annual turnover of up to £45 million. For start-up companies that are unable to apply for this scheme, the government has also announced the
Future Fund
, which offers these innovative businesses loans ranging from £125,000 to £5 million. This loan is subject to equal match funding from private investors and the business having raised £250,000 in equity investment from third-party investors within the last 5 years.
Self-Employment Income Support Scheme (SEISS)
If you're self-employed, you may eligible to claim a grant through the
Self-Employment Income Support Scheme
, which has been extended to April 2021. There will be 2 taxable grants available, the first of which will cover a 3-month period from 1 November 2020 to 31 January 2021 with the government covering 55% of average monthly trading profits.
Applicants will be able to claim this grant from 30 November 2020, which will be paid out in a single instalment and capped at £5,160 in total. Details of the second grant have yet to be finalised, although both grants will be available for anyone who was eligible for the previous grants earlier this year. For more information or to see whether you're fully eligible, check the government's
official guidance
.
Coronavirus Job Retention Scheme (CJRS)
If your employees have been placed on furlough, you may be able to claim 80% of their wages, up to £2,500 per month, along with any National Insurance and pension contributions through the government's
Coronavirus Job Retention Scheme
. From 1 July, employers can bring furloughed employees back to work for any amount of time and any shift pattern and will still be able to claim this grant for any normal hours not worked. When claiming for furloughed hours, employers will need to report and claim for a
minimum period of a week
.
From
1 September
, the government will be reducing their contribution to 70% of employee wages, up to a cap of £2,187.50 per month. However, to ensure that employees continue to receive 80% of their wages, employers will pay 10% of salaries (up to a cap of £312.50) in addition to pension contributions and National Insurance. In October the government contribution will reduce again to 60% with another increase to employer contribution. For more information about these changes, please read the government's
official update
.
This scheme has been extended to 8 December 2020, whereupon it will be replaced by the Job Support Scheme (JSS). For more information, be sure to check the government's
official statement
.
Job Support Scheme
From 1 November 2020, the government will be launching a new plan that will replace the furlough scheme in helping to protect jobs and support businesses across the UK. The scheme will run for 6 months, during which the government will contribute towards the wages of employees who are working fewer than normal hours due to lower demand.
The grant will be capped at £697.92 per month and although the scheme is open to small and medium businesses that didn't use the furlough scheme, employees must be working at least 33% of their usual hours to qualify. For more information, be sure to check the government's
official statement
.
Bounce Back Loans
Since some businesses have missed out on or don't meet the criteria for existing schemes, they may apply for a
Bounce Back Loan
, which serves as a simpler and quicker alternative to the Business Interruption Loan Scheme. To qualify, a firm must be UK based, established before 1st March 2020 and been adversely impacted by the coronavirus, whereupon they could receive up to £50,000. All lenders will charge a flat rate of 2.5%, while the government will cover the cost of fees and interest for the first 12 months and guarantee 100% of the loan if the firm defaults.
Business Grants
To ensure that leisure, accommodation and hospitality businesses within high-alert level areas continue to be supported, the government will be providing cash grants of up to £2,100 per month to Local Authorities. This funding will be determined by the number of these types of businesses in their area, although Local Authorities will also receive a 5% top-up amount to help cover other businesses that don't fit into these categories.
To claim these grants, businesses will need to apply to their local authorities as it will be up to them to determine which businesses are eligible along with any payment schedules and timings. For more details, be sure to read the government's
Business Grants Factsheet
.
Eat Out to Help Out scheme
Although the government's restaurant discount scheme has officially ended, several businesses are unofficially continuing it at their own expense in order to attract more customers.
The scheme initially allowed cafes and restaurants to offer customers a 50% discount on food or non-alcoholic drinks, up to a maximum of £10 per person, and then claim the money back from the government.
For more information about the original scheme, please visit the government's
official page
. You can also see which companies are still offering the discount for their services
here
.
Plans for Jobs 2020
In addition to this, the government has unveiled its
Plans for Jobs
which will support the UK's economic growth, employment rate and public finances going forward. Among the most prominent points of this policy include:
The Job Retention Bonus scheme, which will encourage UK employers to keep on furloughed workers by rewarding firms with one-off payments of £1,000 for every furloughed employee who remains continuously employed through to the end of January 2021

Implementing a temporary VAT cut on supplies of food and non-alcoholic drinks, from 15 July 2020 to 12 January 2021, to support jobs and businesses within the hospitality sector, such as bars, restaurants, pubs and cafés. This reduced rate of VAT also applies to supplies of accommodation as well as admission to attractions across the UK

Temporarily cutting Stamp Duty Land Tax to help protect and create jobs as well as boost confidence in the housing market. As part of it, the Nil Rate Band of Residential SDLT will be increased to £500,000 until 31 March 2021 and cut the tax due for everyone who would have otherwise paid SDLT
Short-term solutions
If, however, you're facing immediate cashflow issues, you may be able to
delay your tax payments
to HMRC by calling their helpline on
0800 015 559
. Alternatively, you could get in touch with the
Small Business Commissioner
, an independent office dedicated to assisting small businesses affected by late or unfair payment issues.
It's also worth checking to see if you're covered by your business insurance – especially if you've purchased supply chain or denial of access cover – since the Chancellor has
confirmed
that the government's advice is sufficient for businesses to make a claim, where they have appropriate interruption cover for pandemics in place.
As always, you should stay on top of the latest information and advice for businesses on the government's
gov.uk
website and the latest health guidance from the
NHS
and
World Health Organisation
.