How do I connect my 123 Reg domain to a Wix website?
This FAQ will explain how to connect your 123 Reg domain name with a Wix website by changing your nameservers.
The below step by step instructions will allow vistors to access your Wix website from your 123 Reg Domain name.
Step 1 of 13
Log in to your 123 Reg control panel
Step 2 of 13
Have a look in the Domains section section.
Select your domain name using the drop-down menu and then click on the Manage button.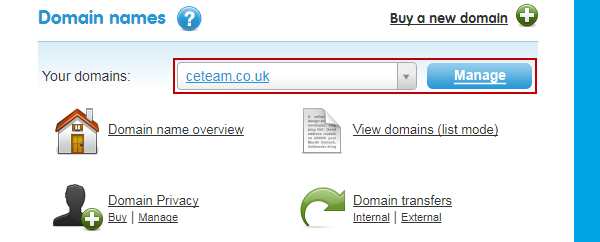 Step 3 of 13
Now click on the Change Nameservers (DNS) link.
Step 4 of 13
Enter in the Nameserver1 box ns1.wix.com, Enter in the Nameserver2 box ns2.wix.com
Once finished click on the Update button
Step 5 of 13
You will now see a message reading "Success! Nameservers successfully updated."
Once you see this message you can move on to connecting your domain in your Wix control panel.
Please note: The Nameserver changes will normally take effect within 6 hours, but please be aware that you may need to wait up to 72 hours for this to fully propagate.
Step 6 of 13
Log into your Wix.com account.
Step 7 of 13
Click on the My Account link.
Step 8 of 13
Now click on the Domains link.
Step 9 of 13
Now click on the Already have a domain? link.
Step 10 of 13
Enter the domain name into the box that you are connecting to your Wix website. This needs to be the same domain name that you have change the nameservers for as shown above.
Step 11 of 13
Select the Wix site that you wish to connect this domain to.
Step 12 of 13
Now click on the Next button.
Step 13 of 13
That is it, you are all done. You setup the domain with your registrar in the first few steps of this FAQ.
You will now have to wait up to 72 hours for the changes to take effect but Wix will email you once this has happened.
Please note: The above steps to use your own domain name in Wix may change as this is a 3rd party service.