How do I point my 123 Reg domain name to my 3rd party website?
This FAQ will help you to point your 123 Reg domain name to a 3rd party website
The step by step instructions show you how you can point your domain name to a website hosted elsewhere.
Step 1 of 7
Log in to your 123 Reg control panel
Step 2 of 7
Have a look in the Domains section section.
Select your domain name using the drop-down menu and then click on the Manage button.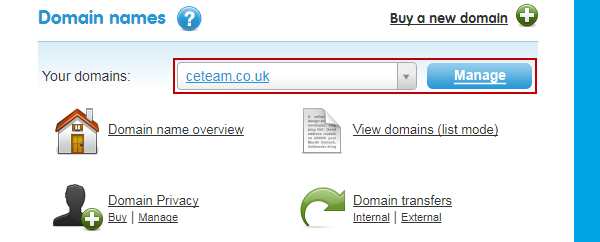 Step 3 of 7
If you are changing a top level domain i.e. .com, .net etc, you will need to unlock the domain name first. This can be done by selecting the Manage Domain Locking option and clicking on the Unlock domain link. Once the domain has been unlocked click on the Back to Control Panel link.
Step 4 of 7
Select the Change Nameservers option
Step 5 of 7
Enter your nameserver records into the relevant boxes. If the IP addresses are required you will be asked for these as well.
Step 6 of 7
Click on the Change Nameservers (DNS) button.
Step 7 of 7
You can now change your Nameservers, or even reset them to the 123 Reg default. Click the Update button to complete the process.
You are able to use 123 Reg as your domain name registration service, and host your website elsewhere.
If you do this the domain name administration will still be managed via your 123 Reg control panel, however, any management of your hosting, or updates to your website will be made with your web hosting provider.
There are 3 methods which can be used to link your domain name to your external hosting:
Web forwarding
DNS – using an A record or a CNAME record
Nameservers
You will need to ask your web hosting provider to confirm which method you should use, and provide you with the required settings.
Please note: If you change the nameservers for your domain name all DNS administration will need to completed via the nameserver provider.
Once you have been given the setting please select the correct guide from below, which contain step by step guidance on how to point your domain name.