How do I point my domain name at the 123 Reg Holding page?
This FAQ will help you to set up your Domain Name to point at the 123 Reg Holding page
f you're not using a domain but want to keep hold of it for use later one, you can point it to the 123 Reg holding page. That way if anyone stumbles across your domain then they will see some content, rather than a blank page.
Please Note: It will take between 24 - 48 hours for the new DNS records to become active.
Firstly, you need to ensure your domain is pointed to our nameservers:
ns.123-reg.co.uk
ns2.123-reg.co.uk
If the domain is not pointed to the 123 Reg nameservers, you will be unable to manage them from the 123 Reg control panel.
For more information on changing your nameservers please view the following article:
How do I change the nameservers for my domain name?
Please note: Upon changing your nameservers to 123 Reg, this will set any existing DNS to our default, meaning the domain will no longer point at the website its was previously showing, and any MX records will have to be recreated for email services.
Step 1 of 7
Login to your 123 Reg control panel.
Step 2 of 7
Select the relevant domain name from the drop down menu and click on the Manage button.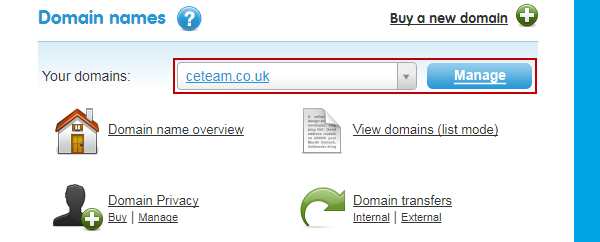 Step 3 of 7
Scroll down to the Advanced Domain Settings section and click on the Manage DNS (A, MX, CNAME, TXT) link.
Step 4 of 7
From the Basic DNS tab.
Step 5 of 7
Click on the Change button in the WEBSITE SETTINGS (A RECORDS) section.
Step 6 of 7
Select InstantSite from the Your domain is pointing to: drop down list.
Click on the Point to service button.
Step 7 of 7
Click on the Confirm button to complete the change.