How do I set up Google apps mail on my domain name?
The below step by step instructions will show you how to set up the required TXT record needed to verify your domain.
Once you have signed up for Google Apps you will be asked to verify the domain name you used to register with. To verify you are the domain owner to Google please follow the instructions below:
Firstly, you need to ensure your domain is pointed to the 123 Reg nameservers.
If the domain is not pointed to the 123 Reg nameservers, you will be unable to manage them from the 123 Reg control panel.
Please note: It will take between 24-48 hours for any new nameserver (DNS) records to become active.
Step 1 of 9
In your Google control panel, you need to Add a DNS record to your domain's configuration (This will be the domain name you are using) Select Other from the drop down list.
You will see the record you will need to add.
Step 2 of 9
Login to your 123 Reg control panel
Step 3 of 9
In the Domain names section, select the relevant domain name in the drop-down list and click on the Managebutton.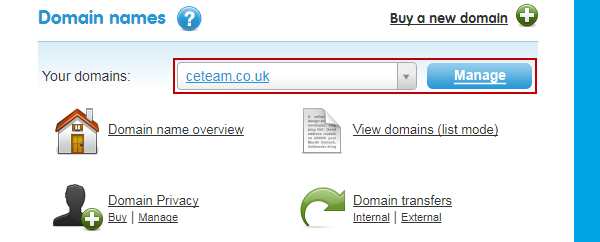 Step 4 of 9
Scroll down to the Advanced Domain Settings section and click on the Manage DNS (A, MX, CNAME, TXT) link.
Step 5 of 9
From the Advanced DNS tab.
Step 6 of 9
Select TXT/SPF from the Type drop down list in the Add new entry section.
Step 7 of 9
In the Hostname field enter an @ symbol.
Step 8 of 9
In the Destination TXT/SPF field enter your Google verification code record.
Step 9 of 9
Click on the Add new entry button to save the new record.