How do I set up my domain name to point to my own mail Server?
These step by step instructions will show you how you can use MX records to use your own mailserver.
If you intend to run your mail services via a hosted exchange service or a dedicated mail server from another provider then the below instructions will ensure that your domain is pointing to that mail server.
Email servers need a domain name to function correctly, some email systems will not except an IP address.
When you set a domain's DNS to use a mail server, you have to provide a domain.
It is standard practice to create a new sub domain and resolve the sub domain to the correct mail server IP address, then update the domain to use the new mx server.
The advantage of using this method is if you change your mail server IP address you need only need to update the sub-domain MX Record and not have to make several DNS changes.
Firstly, you need to ensure your domain is pointed to the 123 Reg nameservers.
If the domain is not pointed to the 123 Reg nameservers, you will be unable to manage them from the 123 Reg control panel.
Please note: It will take between 24-48 hours for any new nameserver (DNS) records to become active.
To setup 3rd party mail servers for your domain name, please do the following:
Step 1 of 6
Login to your 123 Reg control panel. In the Domain names section, select the relevant domain name in the drop-down list and click on the Managebutton.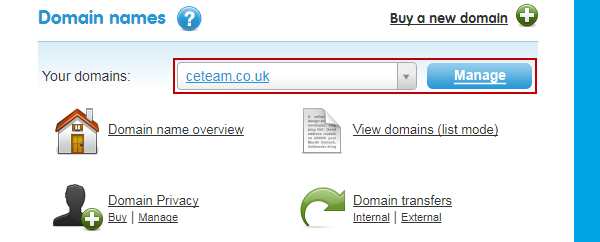 Step 2 of 6
Click on the Manage DNS icon under the Advanced domain settings section.
Step 3 of 6
Click on the Advanced DNS tab.
Step 4 of 6
Now delete any existing MX records by clicking on delete buttons next to the records you wish to delete.
Step 5 of 6
Enter the new A record that will resolve your MX record to an IP address and click the Add New Entry button.
Step 6 of 6
Enter the new MX Record and click the Add New Entry button.
Your domain name is now set to point to your own mail Server
Please note: MX records must be terminated with a full stop or they will not work correctly.