How do I setup a Domain backorder?
This FAQ will help you to set up a Domain Backorder
A Domain Backorder is a reservation on a Domain Name that someone else owns. This means that if they decide they no longer want or need the domain and it is released on the open market, you have first chance to register it yourself.
Step 1 of 8
Log in to your 123 Reg control panel
Step 2 of 8
Have a look in the Domains section section.
Select your domain name using the drop-down menu and then click on the Manage button.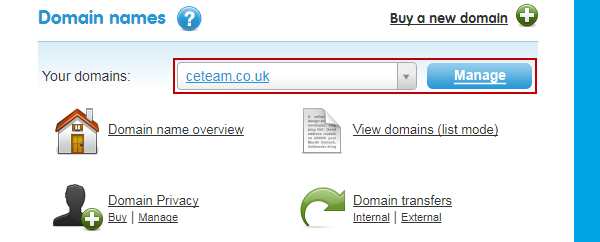 Step 3 of 8
Enter the domain name you wish to back order in the search bar and click the magnifying glass icon to start the search.
Step 4 of 8
Select the domain you wish to backorder by clicking the Backorder button.
Step 5 of 8
Your Backorder will be added to the basket, click on Checkout to continue.
Step 6 of 8
Review your basket and press the Continue button to proceed.
Step 7 of 8
Tick the I agree to the domain backorder terms and conditions box and click on the Continue button.
Step 8 of 8
Then follow the steps on screen to complete your purchase.