How to use your domain as a name server?
This article will explain what private name servers are and how you can set up private name servers on your 123 Reg domain name.
This article will explain how you can use your domain as a name server.
Usually when you sign up for web hosting you use your hosts name servers i.e ns.123-reg.co.uk and ns2.123-reg.co.uk. When you have your own name servers it looks like you are running the hosting company.
Instead of people seeing your web hosting companies name servers they see your private name servers. If you sell hosting and you do not want your customers to know who your web host you would want your own private name servers. Private name servers typically are in the format of ns1.yourdomain.com and ns2.yourdomain.com.
Step 1 of 7
Log in to your 123 Reg control panel
Step 2 of 7
Have a look in the Domains section section.
Select your domain name using the drop-down menu and then click on the Manage button.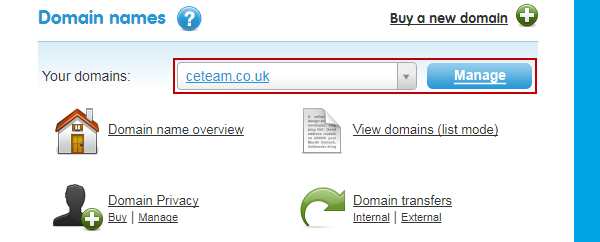 Step 3 of 7
If the domain is a TLD i.e com/net/biz etc click on the Manage Domain Locking option. Click on the Unlock domain link and then click on the Back to Control Panel link.
Step 4 of 7
Click on the Change Nameservers link.
Step 5 of 7
Click on the link to create nameservers based upon your your domain name.
Step 6 of 7
Enter the nameserver details and IP addresses for the nameservers you wish to create in the relevant boxes.
Step 7 of 7
Click on the Update button to complete the change.