How do I set up Office 365 mail on my domain name?
The below video and step by step instructions will help you learn how to add a mailbox to your Apple Mail email client.
Once you have verified your domain name with Office 365 you can configure the DNS for your domain name in your 123 Reg user control panel, you can find the DNS entries required by following the steps listed under the heading Add the required DNS records for Office 365 services here.
To set up Office 365 mail on your domain name, please do the following:
Firstly, you need to ensure your domain is pointed to the 123 Reg nameservers.
If the domain is not pointed to the 123 Reg nameservers, you will be unable to manage them from the 123 Reg control panel.
Please note: It will take between 24-48 hours for any new nameserver (DNS) records to become active.
Step 1 of 9
Log in to your 123 Reg control panel
Step 2 of 9
Have a look in the Domains section section.
Select your domain name using the drop-down menu and then click on the Manage button.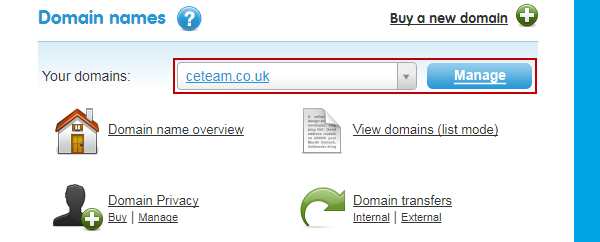 Step 3 of 9
Scroll down to the Advanced Domain Settings section and click on the Manage DNS (A, MX, CNAME, TXT) link.
Step 4 of 9
From the Basic DNS tab.
Step 5 of 9
Select an external email service from the Your email is pointing to: drop down list.
Step 6 of 9
In the Location of service: field enter your Office 365 MX record that you have been provided with i.e yourdomainname-co-uk0ii.mail.eo.outlook.com and press the Point to service button.
Step 7 of 9
Click Confirm to continue.
Step 8 of 9
Click on the Advanced DNS tab.
Step 9 of 9
Add the remaining DNS records to configure Office 365 on your domain name one at a time, pressing the Add new entry button between each record.
Once completed your DNS records section will look like this: