What are the 123 Reg Nameservers and how do I point to them?
Simply put, nameservers are what make the connection between your domain and your hosting. When someone goes to your web address the nameserver recalls where the website files are hosted and directs you to them, so the website is displayed in the browser.
If you have registered a domain with 123 Reg, by default, they will use 123 Reg Nameservers. This is because it is likely you will also have your hosting with 123 Reg. However, you can update the nameservers associated with a domain to anything you choose. For example, you might have your domain registered with 123 Reg, but your hosting is provided by another third party.
Previously, this is what 123 Reg nameservers looked like…
ns.123-reg.co.uk
ns2.123-reg.co.uk
Now they look much different and look like this…
nsXX.domaincontrol.com
nsXX.domaincontrol.com
Where XX is a randomly generated number assigned based on the capacity of the server. They now look different as we have improved our DNS system to offer a better service to our customers.
In some instances, after you have changed your nameservers you may wish to change them back to 123 Reg. Why you ask? Well if your domain is not pointed to the 123 Reg nameservers, you will be unable to manage it from the 123 Reg control panel and you will be unable to utilise 123 Reg services such as email for domain.
If you wish to re-point to the 123 Reg nameservers simply follow the guide below. However, please be aware that it can take 48 hours for nameservers to be updated across the internet and your website might be unavailable during this time.
How to point your domain to 123 Reg nameservers
Step 1 of 6
Log in to your 123 Reg control panel.
Step 2 of 6
In the Domain names section, select the relevant domain name in the drop-down list and click on the Manage button.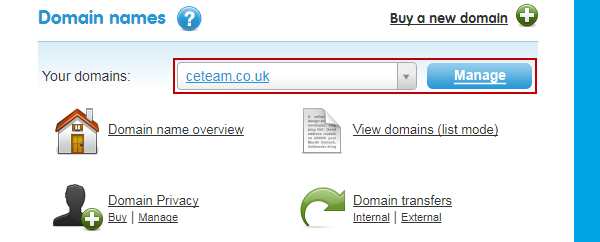 Step 3 of 6
If you are changing a top-level domain i.e. .com, .net etc, you will need to unlock the domain name first. This can be done by selecting the Manage Domain Locking option and clicking on the Unlock domain link. Once the domain has been unlocked click on the Back to Control Panel link and go back to the Manage section from above.
Step 4 of 6
Click on the Change Nameservers (DNS) button.
Step 5 of 6
Click the RESET TO 123-REG DEFAULT button.
Step 6 of 6
Click the Update button.
Please note: It will take between 24-48 hours for the new Nameserver (DNS) records to become active.