How do I modify the contact information for my domain name?
This FAQ will provide instructions on how to modify contact information for all types of domain names.
Different Types of Domain Names
Of the domain names that 123 Reg support, there are several different types:
 
Nominet (.uk) Domains

.co.uk – .org.uk – .me.uk

Generic Top Level Domains (gTLDs)

.com – .net – .org – .biz – .info – .mobi – .tel – .pro – .xxx – .asia

Country Code Top Level Domains (ccTLDs)

.es – .eu – .cc – .mx – .tv – .be – .me – .pw – .pm – .it – .at – .in – .de – .ws – .nl – .so – .im – .pl – .co – .cx – .sx – .jp – .ae – .co.nz – .co.za – .co.il

CentralNic Domains

.gb.net – .gb.net – .ae.org – .cn.com – .de.com – .eu.com – .sa.com – .us.com – .za.com – .gr.com – .se.net – .br.com – .ru.com – .jpn.com – .uk.net – .uk.com
Before attempting to modify the contact details for your domain name, please ensure that you use the correct procedure for your domain name extension as explained below.
If you have a .uk or .eu domain
Step 1 of 2
Log in to your 123 Reg Control Panel and scroll down to the Domain names section. Select the relevant domain from the drop-down box and select Manage.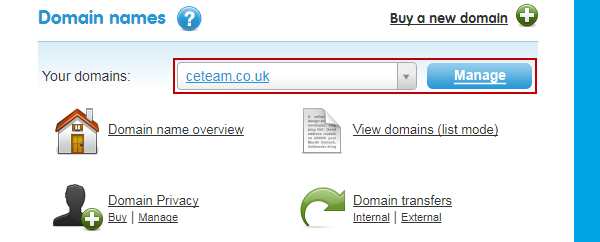 Step 2 of 2
Click on Contact Details and update your details accordingly.
Please note: for .uk domains, you will only be able to amend the postal address, telephone number and email address that is associated with it. The registrant name cannot be updated from the Control Panel.
For .eu domains, you will be able to edit and change any of the details associated with them.
If you have a .be, .fr or CentralNic domain
Step 1 of 1
In order to modify the contact details for these types of domains, you will need to contact our Support team and inform them of the details you wish to change. They will then be able to submit your changes for you.
Please ensure that you include the current contact information and what you would like it changed to when submitting your request.
If you have a .es domain
In order to modify the contact details for a .es domain name, you will need to contact the .es domain registry. Instructions on how to modify the contact details of your .es domain name can be found on the following page.