A leader's guide to networking for business success
Everyone knows networking is vital for business success but as with so many of these things it's easier said than done. At one time or another we've all struggled to make the connections that can help us grow our company in the way we want. In fact, if you're just starting out, networking can seem like an impenetrable maze of unfulfilled potential.
However, it is possible to take a structured approach to the issue and doing so will make the endeavour much easier. The graphic below gives an overview of how I do things, while the rest of the article takes a closer look at each individual point. Let's get started.

1 – Define what you want to achieve through networking
Although building relationships just for the sake of it has some advantages, the path to success is much smoother if you define your goals before you begin.
Exactly what you want to achieve through networking will depend on the immediate needs of your business. Tie your relationship-building goal to at least one the goals you have for your company.
For example, if you feel your business isn't getting enough press coverage, you may decide to address this through networking with journalists. Whether you do this on a local and/or national level is your choice. You can then track the number articles about you over the next year and use it as a metric to measure your success. The following table features more ideas.

No matter what you want to achieve through networking, define the most measurable goal you can and use it to track your progress.
2 – Identify the people you want to reach
Once you have a thorough understanding of what you want to achieve, start thinking about the people who can help you reach your goal.
Sometimes, as is the case with our press example, this will be self-evident. But it always pays to dig deeper and identify specific people who will be able to help you. Pinpointing individual business journalists at specific publications is a better tactic than just sending out press releases and keeping your fingers crossed.
That said, it's not always so easy and you may have to do a little digging before you can track down the people you want to contact.
Fortunately, the internet has made finding well-connected people easier than ever before. Almost every niche has at least one forum where people can gather to share their views and expertise. Followerwonk can allow you to identify influential people on Twitter, while even the humble search engine can help you find people you may want to connect with. If you're not familiar with how to do this, the next steps section at the end of the post will point you in the right direction.
Offline, chambers of commerce remain an excellent way to build contacts with people running businesses in your area. Even if these people can't help you themselves, they will have faced similar issues and as such will be able to connect you with those who can.
Attending relevant events will also help you network – go the right ones and you'll expand your business circle at the same time as picking up useful advice from the speakers.
3 – Understand your value proposition
Having identified those you want to build relationships it's tempting to immediately ask for the help you need. But doing this won't usually yield the results you're looking for.
To succeed with networking you need to do two things. The first is to act in a genuine and helpful manner. This is especially important if you are participating in an established community. The second is to offer something of value before you ask for anything.
Reciprocity is the key to networking and to achieve it you need to understand what you can offer the people you're reaching out to. In some cases this can be as straightforward as a basic business relationship. If you're looking for a new supplier then the value you offer to them is as a potential source of income. However, a lot of the time things won't be this clear. In essence you need to identify a person's needs and work out how you can meet them.
For example, the best way to network with a journalist is by offering them leads on stories that are of interest to their readers. This means avoiding sending them a sales pitch and instead thinking of angles that are newsworthy in their own right. It could be something as simple as your involvement in local good causes. It might be something as grandiose as how your product has changed the lives of hundreds of people. Again, the table has a couple more ideas.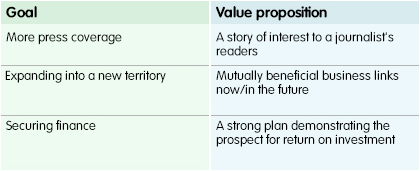 Whoever you're looking to network with, helping them before they help you is the best possible way to build a relationship.
4 – Network
By the time it comes to this step, the groundwork you have laid should start to pay dividends. You'll no longer be attending events with little clue about who you want to reach and what you want them to help you with. Instead you'll build mutually-beneficial relationships with people that have the knowledge to help you.
It's possible to work towards more than one goal at a time using this process. But if you're pressed for time, as most business owners are, prioritise your networking targets and tackle them in order.
Next steps:
Learn how to use Followerwonk here
Find a chamber of commerce
Watch a presentation on networking from our Google Town Hall event.