Seven tips to take your offline business online
With an increasing number of consumers turning to the Internet to shop for everything from gifts to groceries and online courses, there's no better time than now to take your offline business online.
Adding online delivery to an existing shop, or offering online quotes as a tradesperson is a great way to expand the reach of your business.
If you've never had a website or have little knowledge about what it involves to have and maintain an online presence, you may feel nervous. Don't worry because getting set up online is easier than you think. And if you find yourself procrastinating because it feels like an overwhelming project to take on, here are some tips to help motivate you to get your business online.
Ready to take your offline business online? Fantastic! Here are seven tips to help get you started.
1.   Learn about how websites work
If you've never had a website and aren't familiar with how they work and what you'd need to build and get yours online, take some time to get a basic understanding of the online before you jump in.
Even if you're planning to get help building your site, either by using a website builder or by hiring a professional to do it for you, it's still worth learning a few new skills. These skills and knowledge can come in handy in the long-run whenever you communicate with customers or need to make changes to your site and online presence.
Here are some essential skills we believe everyone should have or learn in order to set up and manage a successful business online:
Basic web skills about how domains, hosting, and content management systems like WordPress work.
Aesthetics and design skills to help you make the best design choices for your new website.
Content writing skills to ensure every word you write on your website and elsewhere on the web helps to tell your unique story.
Search engine optimisation skills so you learn what and how your customers are searching for on Google, and how to properly optimise the content on your site to get found by more customers in the search engine results.
Digital marketing skills so you learn about effective ways to promote your new website and attract more customers to your new online place of business.
Now, don't feel you need to be an expert or know everything about websites to start with yours. You can find plenty of information in these articles: 1) Key skills you need to start your first website, 2) Five skills to help start your online business, 3) How much does it cost to build a website?
2.   Choose the right products to get your business online
So, what products do you need to take your offline business online? And how much will everything cost?
The answers to these two important questions depend on the type of business you have or what you'd like it to look once you move it online.
So think about how you'd like your online business to look and what and how you'd like to sell. At the same time, take into account your technical skills (or your willingness to learn to make design or code changes yourself, if need be) as that can also be a factor when choosing the products you'll use to set up and manage your website.
At a minimum, to get any website online, you'll need the following:
A domain name. You need to buy a domain name because your online business needs an identity you control.
A responsive website template, meaning one that works properly for anyone who visits your website from any device, whether it's a smartphone, a tablet, a laptop or a PC.
A hosting package to get your website live for everyone to see.
An SSL certificate to make your site more secure for your visitors. This encrypts any sort of sensitive information that people share with you via your site, be it names, email addresses, credit card details, and any other personal information, to ensure it doesn't end up in the wrong hands. You can purchase an SSL certificate as a standalone product, but you might get one for free with your hosting package.
Read this article to learn more about these products and how much you can expect to pay for each.
An easy alternative is to buy a complete solution like the 123 Reg Website Builder that comes with everything you need to get your website online: domain name, hosting, professional email, SSL and a great selection of templates so you can choose the right look for your online business. The great thing about this option is that you don't need any technical skills to create and get your website up and running.
3.   Get your legal ducks in a row
As you're taking your offline business online, you may have to fulfil a few more requirements depending on how you plan to run your operations.
If you're not an expert, we'd recommend seeking out legal and financial advice before getting started selling products and services online. This ensures that you have your back covered if anything goes wrong.
For more information, read sections 8 and 9 in this beginner's guide to starting an online business.
4.   Look at your competitors' sites to get some inspiration
Don't know how your website should look, what pages and information to include, or what you can do to stand out and offer a great experience to your customers?
The easiest thing you can do is to look at other websites in your industry. Go to Google and enter a keyword or keyword phrase that is relevant to your business. For example, if you sell dog food, enter "dog food" into Google's search box and go through the results. If you want to be more specific, you can also add the city or country you're planning to deliver to.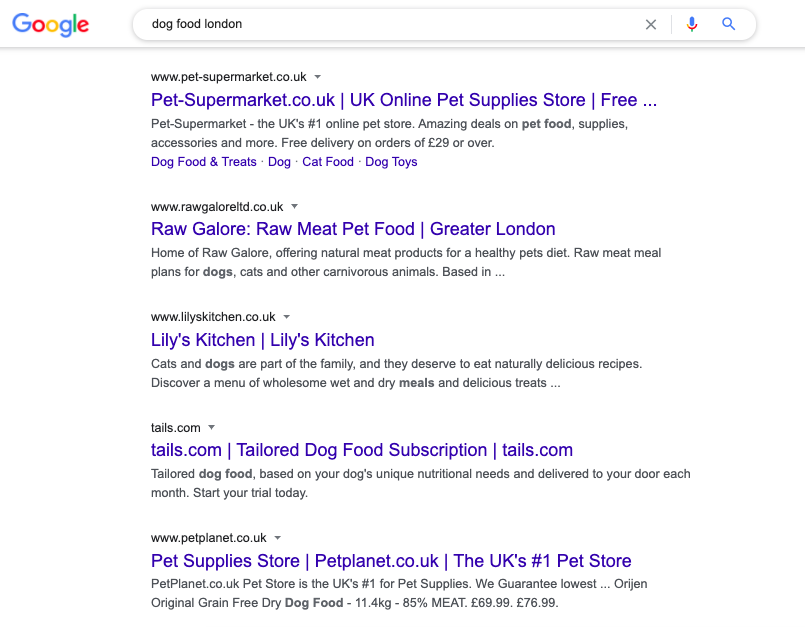 Now, click to visit a few of the top sites in the search results and see what they look like, what and how they're selling, the words, images and videos (if any) they're using on the website to present their products or services.
Take notes and use this information to organise your own website.
5.   Sign up for Google Analytics and Google Search Console
One of the great advantages of having an online business is that you get to learn a lot about the people who visit your website – who they are, where they're from, how they found your site, what they looked at during their visit, how much time they spent on your site, what they bought, and so much more.
This information is very useful as it can help you determine how well your site is performing and what else you can change to make it better.
But to have access to all this information, you need to set up Google Analytics and Google Search Console. These two free tools are a must-have for any website owner because you'll not only get to learn about your visitors but also about any issues with your site that need fixing right away.
Check out these two guides to learn how to set up and use Google Analytics and Google Search Console: 1) A beginner's guide to Google Analytics, 2) Getting started with Google Search Console (formerly known as Google Webmaster Tools)
6.   Get social
When you're reading about the internet and getting your offline business online, you're bound to stumble upon lots of social networks that you're advised to sign up to as a business.
Here's the thing: having a presence on social media is critical to your success. In many cases, it's the first place people go to to look up businesses and learn more about what they do and sell, and how other people feel about the products or services they purchased.
However, that doesn't mean you should set up an account on every social network out there. It'll be just a waste of time if your customers aren't actually there to see your messages. Instead, choose two or three social networks where you know your audience enjoys to spend time online.
Then you can focus on keeping an active presence where you share helpful and engaging content and build a meaningful relationship with your audience.
Read this article for some tips on how to decide which social networks your business should be on.
7.   Announce your move and promote your new website
Moving your offline business online is one thing. Getting people to notice is another. So now comes the challenging part: spreading the word about your online business to ensure the news reaches as many people as possible.
There are lots of things you can try from sharing the news on your social media channels to using online ads to get your online business in front of more customers.
Start by testing the ideas in these articles and see what works for your business: 1) Quick tactics for promoting a new business website, 2) Five ways to promote a new online shop, 3) How to use blogging to boost your small business's sales
Wrapping up
Your competitors are online. Can you afford to fall behind? If you've decided it's time to take your offline business online to get more customers and revenue, we're hoping the tips in this article will help you to make the move less challenging. Good luck!