Boost conversions and rankings in one simple step
84% of online shoppers say they abandon a purchase when they realise the website is insecure.
SSL Certificates give your website a padlock that is displayed in your browser bar, reassuring visitors they're safe on your site. What's more, Google favours secure sites, so it helps to increase your search engine ranking too.

So what are you waiting for? Secure your site today.
How much does an SSL Certificate cost?
Best for personal websites and blogs
Ideal for bloggers and small sites - gives you all the basics at an affordable price.
1st year equivalent of only

Pay £59.99 today. Renews at £59.99. Prices exclude VAT.
Browser padlock

Unlimited Server licenses

Site seal
Best for business websites
Organisational Validation (OV)
Designed to meet the needs of growing online businesses.
1st year equivalent of only

Pay £79.99 today. Renews at £79.99. Prices exclude VAT.
Browser padlock

Unlimited Server licenses

Site seal

Registered business required

Basic Business vetting
Best for ecommerce websites
Give your visitors maximum reassurance - perfect for an online shop.
1st year equivalent of only

Save 33% with an annual term

Pay £167.49 today. Renews at £249.99. Prices exclude VAT.
Browser padlock

Unlimited Server licenses

Site seal

Registered business required

Maximum Business vetting

Company name on Certificate
What's the difference between Standard SSL and Wildcard SSL?
Find out which type of SSL is the right one for your business.
Standard SSL
A Standard Certificate will give a single domain of your choosing full protection to keep your website secure while remaining cost-effective.

For example, a Standard SSL would cover your website address:

yourname.com and www.yourname.com

Wildcard SSL
A single Wildcard Certificate can be shared among any number of subdomains on your site. Meaning you can offer maximum security across all your subdomains without needing to pay out for additional SSLs.

For example, a Wildcard SSL would cover not just yourname.com but also:

blog.yourname.com
subdomain.yourname.com
anything.yourname.com
Everything to keep visitors secure and protected
Secure encryption
Keep data safe. All plans come with high (128-256 bit) encryption that ensures transactions and all sensitive information is secure.
Fast issuance
Get secured quickly. An SSL Certificate is typically approved in 4 days or less, with some plans approved in just 10 minutes!
Padlock and site seal
Show customers they're protected. A site seal proves your SSL is in place and the padlock in the browser bar tells customers their information is safe.

Secure all versions of your site
Both the www. and non-www. versions of your site will be secured, with no need to buy a separate Certificate for each one.

Total browser compatibility
Everyone is covered. Certificates are compatible with all the major web browsers across any device, including Chrome, Firefox and Safari.

PCI compliance
Our SSL Certificates will encrypt your customers' credit card information and ensure your business complies with the latest industry standards.
What does SSL protection look like?
Without an SSL Certificate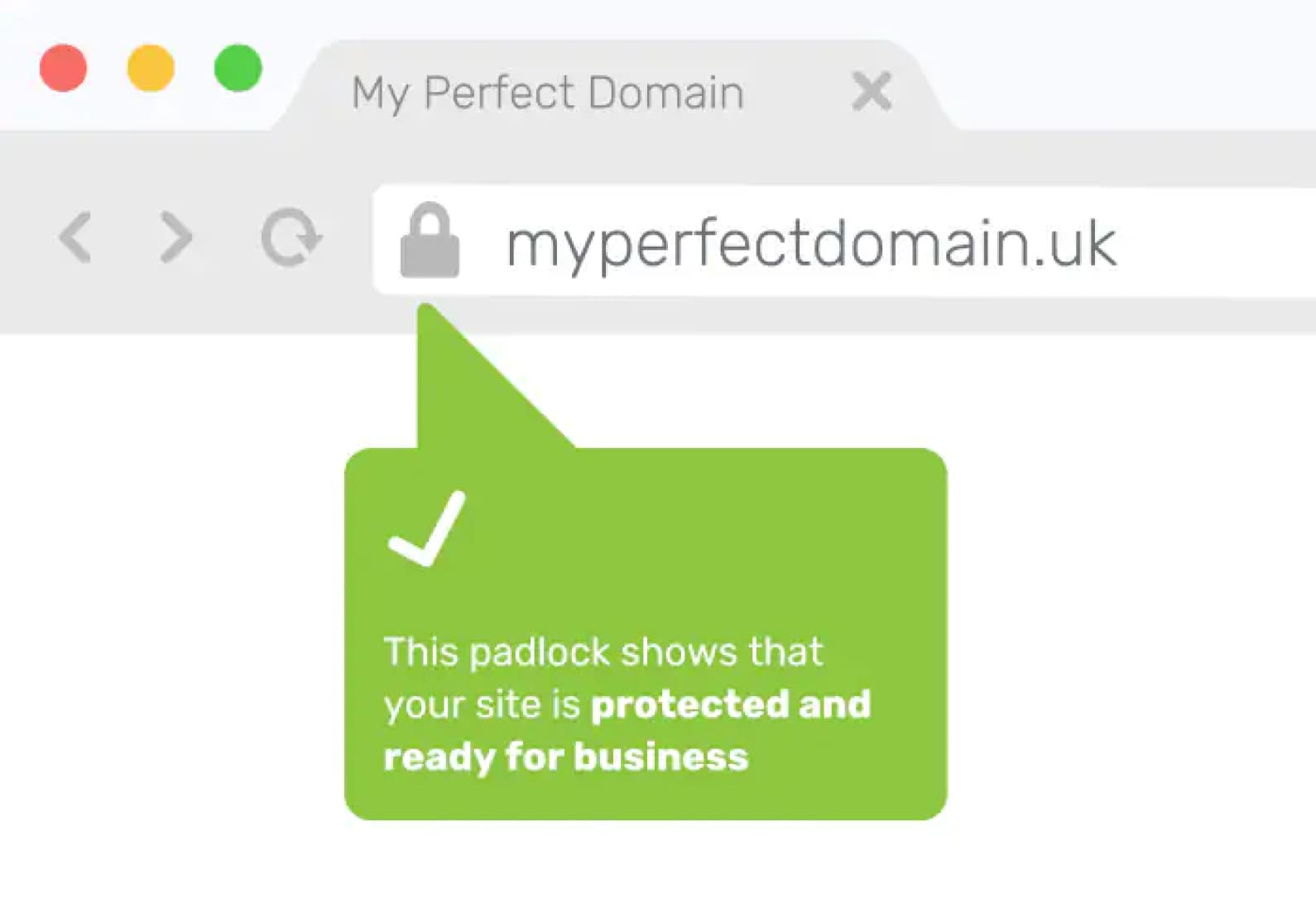 Why choose SSL Certificates from 123 Reg?
Four great reasons to choose a 123 Reg SSL Certificate for your website.
Cross-browser support

Our SSL Certificates are compatible with all browsers and can work on any website.

Trusted by millions

With over 20 years' experience supporting UK businesses, millions of customers depend on our services.

Always here to help

Our dedicated team of experts are on-hand to assist you via telephone or live chat.

Satisfaction guaranteed

Cancel within 14 days of purchase with a full money back guarantee.
Which Certificate do I need?
Every site is a little bit different - but our experts have some recommendations based on our experience in assisting businesses of all types and sizes to find their ideal safety solution.
Website Solutions
Some further reading about domains to hopefully help you on your way. If you need any further assistance, give us a call on 0330 221 1007.
I have a website
Even if you're not running a business, selling online or collecting customer data, our basic package, Domain Validation (DV) SSL, is a great place to start. This essential security and encryption will be enough to satisfy Google's requirements for SSL-encrypted sites, and you may see a rankings boost as a result. In addition, 9 out of 10 users are more likely to trust a website with visible security indicators like the padlock in the search bar.

Recommended: Domain Validation (DV) SSL
I'm using a content management system (CMS) like WordPress, Drupal or Joomla
If you're running your website with a content management system, you should secure your login and administrative areas, protect customer data transfer and ensure that feedback received from your comment sections and forms remains confidential. We'd recommend either Domain Validation (DV) SSL or Organisational Validation (OV) SSL in this situation, depending on the level of customer confidence you'd like to display.

Recommended: Domain Validation (DV) SSL or Organisational Validation (OV) SSL
I have a website with a customer or user login area
If you have a customer login, any protected content or collect any form of confidential data, you need our Organisational Validation or Extended Validation SSL for our maximum security and the highest level of customer confidence. Both offer high security, but Extended Validation (EV) SSL Certificates are ideal if you want to offer extra reassurance to your visitors and make every transaction a confident one.

Recommended: Organisational Validation (OV) SSL or Extended Validation (EV) SSL
I have an online shop
For any online retailer, we recommend Extended Validation (EV) SSL. This ensures your payments, customer logins and members-only areas of your site remain secure from online threats. According to a recent study, 90% of users are more likely to leave their details or make a purchase when they know that their data is sent over a secure connection.
Recommended: Extended Validation (EV) SSL
Server Solutions
Some further reading about domains to hopefully help you on your way. If you need any further assistance, give us a call on 0330 221 1007.
I need to protect lots of subdomains
Securing an Intranet Server or Virtual Private Network is critical to protect the sensitive personal and financial information being transmitted and ensure secure site-to-site connectivity and remote access. Our Domain Validation SSL Certificate offers an essential layer of security from both internal and outside threats while remaining a cost-effective solution.

Recommended: Domain Validation (DV) SSL
I run my own MS Exchange Server
Make sure you choose a Certificate offering Wildcard SSL such as Standard Validation or Organisational Validation as an option. This will enable you to secure as many subdomains as you need instead of having to buy a separate one for each.

Recommended: Standard Validation (DV) Wildcard SSL or Organisational Validation (OV) Wildcard SSL
I want to secure my Intranet and/or VPN
To protect the emails, contacts and data being sent across your server, we recommend a Domain Validation SSL. This Certificate strikes the right balance between price and features, with high encryption and the industry standard padlock in the search bar.

Recommended: Domain Validation (DV) SSL
Trusted by over a million sites
With a 99.9% uptime promise, expert telephone support and a 14 day money-back guarantee, you'll be in safe hands with 123 Reg.
Frequently asked questions
What is an SSL Certificate and how does it work?
An SSL (Secure Sockets Layer) Certificate is a data file that protects the sensitive information exchanged between users and websites, like passwords or credit card details. Every site that uses an SSL Certificate automatically switches from an HTTP to an HTTPS encryption.

They are issued by a trusted authority who will go through the necessary vetting to identify you, your site or your business and ensure you are who you claim. When you're approved, you can install this Certificate onto your domain name and encrypt the pages on your website.

If you have a Website Builder package with us, your SSL Certificate will be automatically installed for you.
What is a TLS Certificate?
A TLS (Transport Layer Security) Certificate is essentially an improved version of an SSL Certificate. Although they both work in a similar manner, they differ in how they establish connections. While an SSL Certificate makes connections via a port, a TLS Certificate makes connections via a protocol.
Who needs an SSL Certificate?
Anyone who does business online should be using an SSL Certificate for their website. Although they're frequently used with ecommerce websites, they should be used on any sites where sensitive information is exchanged, such as:
Entering credit card details

Logging in with a username and password

Viewing or sending emails

Downloading a customer database

Conducting online banking or sharing financial details

Chatting in a private room
How do I install an SSL Certificate on my website?
Installing your SSL Certificate is a multi-step process, in which you will need to request, verify and download your Certificate files.
For more details on each step, please read the following article: How do I install my SSL Certificate?
Can anyone use these Certificates?
Although anyone can use a Domain Validation SSL Certificate, only registered businesses will be able to use our Organisational Validation and Extended Validation Certificates.
This is because these Certificate types verify the domain name and the company associated with it, thereby offering a greater level of trust. As such, they're typically used for websites where users need to enter sensitive information such as payment details and contact information.
By only allowing legitimate businesses to use these Certificates, this prevents scammers from misusing them.
How long do SSL Certificates last?
Your SSL Certificate will cover your website for a maximum of 1 year, and you will be unable to purchase terms of a longer length. This is an industry-wide standard that has been implemented to enhance the overall security and protection provided by SSL Certificates.
How do you know if a site is secured?
Most web browsers display a padlock icon when you're viewing a site over a secure connection. Additionally, the addresses of secured pages start with https:// instead of the http:// protocol.
What domains can I use an SSL Certificate with?
Any domain name at all! There's one-click installation with our web hosting, or you can purchase a standalone Certificate and we'll help you install it elsewhere. Please note that these SSL plans are not currently compatible with our Website Builder and Ecommerce packages, since they already come with a free SSL Certificate included.
What is a Wildcard SSL Certificate?
This type of Certificate secures your domain name as well as an unlimited number of subdomains.
For example, www.yourbusinessname.com, shop.yourbusinessname.com, and secure.yourbusinessname.com can all be protected with a single Wildcard SSL Certificate.
It works the same way as a regular SSL Certificate, undergoes the same validation processes, and is available either as Domain Validation SSL or Organisational Validation SSL.
When generating a Certificate Signing Request (CSR) for a Wildcard Certificate, add an asterisk (*) to the left of the Common Name where you want to specify the wildcard.
Examples:
*.yourbusinessname.com secures www.yourbusinessname.com, secure.yourbusinessname.com, etc.
www*.yourbusinessname.com secures www1.yourbusinessname.com,

www2.yourbusinessname.com, etc.
*.mail.yourbusinessname.com secures secure.mail.yourbusinessname.com,
www.mail.yourbusinessname.com, etc.
It might sound complicated - but it's really not! Our friendly support team are ready to help you should you need any guidance.
Do SSL Certificates work with all browsers?
All our Certificates work with every major web browser, including Internet Explorer, Firefox, Opera, Google Chrome and Safari.
As you can imagine, the proportion of people using browsers that aren't compatible with our Certificates is tiny - around 1% - and because they are industry standard, every other provider will have the same compatibility rate.
What is the site seal for?
When you buy a 123 Reg SSL Certificate, you can use one of the site seals on your website. These instantly recognisable badges confirm to visitors that you're protected.
When a customer clicks on the site seal, they'll be able to view more information about your site's identity and confirm that you really are who you say you are.
Why do you use Starfield Technologies for your Certificate Authority?
Starfield Technologies has been a Certificate Authority since 2004 and have over 1 million active SSLs in use around the world which receive over 1 billion security checks every day. Starfield certificates are trusted by every major browser in the world.
Starfield are committed to ensuring high performance standards and maintaining their high levels of security. They successfully complete 3 annual WebTrust audits of their SSL Certificates and are members of Microsoft, Mozilla, Apple, Google and Oracle's root programs, among others.
Alongside this, they are also a founding member of the CA/Browser Forum and participated in the development of the EV SSL standard.
Are SSL Certificates easy to buy? Can I do it myself?
Absolutely. Just choose the option you think fits best. We'll walk you through the process and explain every step, so you'll always know what's coming next and how to get it done right.
The process differs a bit depending on how you plan to use your Certificate:
* I'm buying an SSL and domain name at the same time: We'll take you through the normal ordering process so you can find the domain you want to add the SSL Certificate to it.
* I want to buy a standalone SSL: Standalone Certificates must be purchased through your 123 Reg Control Panel. You must sign up to get a 123 Reg account (if you don't already have one), then log in to our site and place an order through the Control Panel.
How do I renew an expired SSL Certificate?
Once your SSL Certificate has expired, you will no longer be able to renew it as it will become invalid.
To prevent this from happening, you can set your Certificate to auto-renew within your 123 Reg Control Panel. Alternatively, you can manually renew your Certificate up to 120 days before and 14 days after the expiration date by following the steps outlined in the following article: How do I renew my SSL Certificate?
What is the vetting procedure?
When you buy an SSL Certificate, the issuing authority will perform some checks on you or your business to verify your identity.
This step is important as it's only by ensuring SSL Certificates are issued correctly that the security of the system can be guaranteed.
A great company to deal with
A great company to deal with. Prompt service - thank you Elena!
Sami
Excellent Service
Deea was so very helpful and sorted out my SSL Certificate problem in minutes. Many many thanks
Margaret Roberts
Great Support
I needed some help with an SSL Certificate and Elena sorted it within a couple of minutes. Very satisfied.
Paul Keeton
Excellent Service
Excellent Service. Easy to get hold of support and issue resolved immediately.
Stu Cowan