What products do I need to get my business online, and how much will it cost?
That's one of the first questions you'll probably ask yourself if you're looking to get your business online. And it's an important question. Figuring out early on what you need and how to best get your website up and running can save you lots of money in the long run.
Keep in mind that choosing the right products goes beyond just the surface design of your website. It also depends on the type of website you want to build, whether it's a simple presentation website or an online shop, as well as your technical skills (or your willingness to learn to make design or code changes yourself, if need be).
So in this post we're going to look at the products you'll need to get your business online, including the costs you can expect to pay for each. Hopefully this will give you a better idea of how to budget for your new business website so you can forge ahead with confidence.
The five products you'll need to get your business online
Before we get started, first make sure you have a clear idea of how you want your website to look. Do you want to build a small presentation website with a few pages or do you plan to sell products on your site, in which case you'll need a bigger budget?
When you have a solid idea of what your business website will look like, you can start to choose the products you'll need to get it online. Here are the top five you're going to need:
1. Domain name
The first thing you will need is a domain name. This is the web address or URL that people will type into their browser to get to your business website.
So run a search on 123 Reg to find your perfect domain name: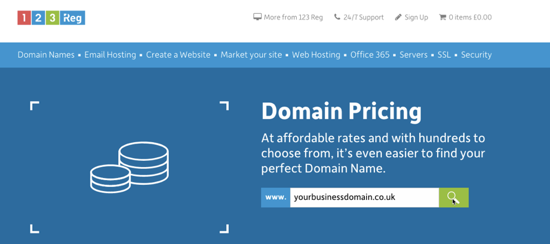 The pricing of your domain will depend on its availability, as well as on the extension. For example, registering a .co.uk domain on 123 Reg will cost you £9.99 per year while a generic Top-Level domain like .florist will cost you £24.99.
If you want to protect your business name and ensure no one else registers it using other extensions, such as .uk or .com, you should budget for that as well.
Need advice on registering your domain name? These resources are filled with great advice that'll help you choose the perfect name for your business:
2. Build your website
Before you start building your business website, make sure you're clear on what you want it to look like. Do you want a simple website where you tell prospects what you do and how you can help, like in this example?

In this case, you'll likely need a small website with a few essential pages such as homepage, About and Contact pages, a Product or Services page, and maybe a News section.
But if you're planning to sell products on your site, then you'll need an ecommerce website that includes other essential pages such as product pages, online ordering forms, help and support.
Depending on your time, budget and technical skills (or your interest to learn to code or design), you have three options to build your website:
a. Do it yourself
If you have the time and technical skills to build a website yourself, that's great as this can also save you money. And with web hosting from 123 Reg, you'll have access to all the tools and applications you need to build your dream website.
b. Use a website builder
If you're on a budget and don't have the time or the technical skills to build your own website, then using a tool like the 123 Reg website builder is a better option for you.
Here's how it works: browse the free templates collection and choose the one that's right for you.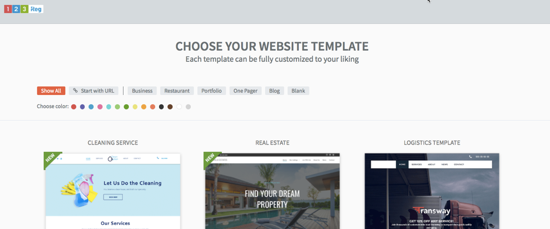 Then you can customise it so it matches you brand. This includes everything from blocks of text to fonts and colours.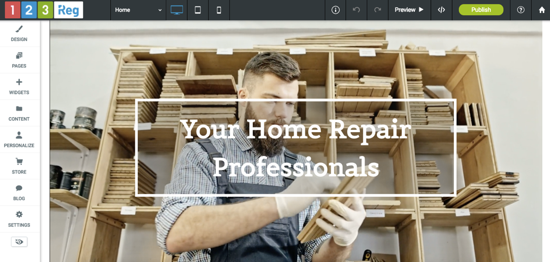 You don't even need technical skills to do this, as the tool is designed so that you make all these changes by simply dragging and dropping elements onto a page.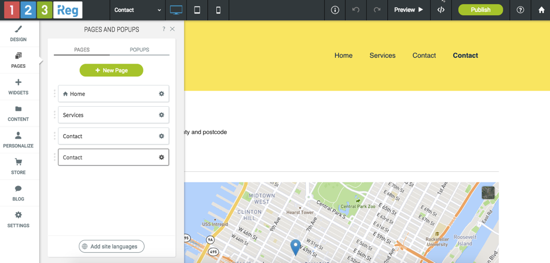 The cost of using the 123 Reg website builder starts at £4.99 per month.
If you're looking to sell products through your website, then you'll need to build an online shop. You can find several ecommerce packages on 123 Reg starting at less than £14.99 per month.
c. Outsource it to professionals
Now, if you have specific requirements and you also have a bigger budget, you can hire professionals to build a custom website for you.
In this case, you can either outsource the project to freelance web developers and designers or to an agency. Or you can try our Make Me a Website service where you not only have a team of experts building your website, but also promoting it online after it's built. This also allows prospects to find your business online once it's up and running.
If you choose to outsource it to freelancers, make sure you check out these resources so you know how to prepare and what to expect:
We also recommend you take our free business course on designing and building your website where you'll learn everything from how to choose and register your domain and plan your website to how to craft the perfect web page.
3. Website hosting
A third product that's essential to getting your business online is website hosting.
When choosing your hosting provider, make sure you take some time to do your homework. Always research your options so you can make an informed decision and go with a reliable host that will be there for you whenever you need assistance.
Now, the hosting package you will need, and the costs that go with it, depends on your requirements.
Here are a few things to consider when choosing your web hosting:
If you want a simple website, an entry-level hosting package will do. Just make sure it includes a minimum of 10MB of storage space.
Make sure you can easily upgrade to a bigger package when your site starts to grow.
If you want a bigger website with tens of pages, like an online shop, then you should go with a hosting package with unlimited bandwidth. This way you can rest assured that your website will work no matter the number of visitors it receives. And you won't have to worry about the extra costs either.
If you're using the 123 Reg Website Builder package, then hosting is already included.
Check out our UK web hosting packages that start at only £3.49 per month.
4. SSL certificate
If you want to allow customers to purchase products directly from your website, you'll need a way to assure them that their information is safe and secure with you. This is where SSL Certificates come in, as they are key to protecting your customers' data and making them feel safe when buying from your website.
Find out more about the importance of security for small businesses, and head to our website to get a SSL certificate from £14.99 for the first year to protect your website and your customers' information.
5.  Email
No matter what business you're in, you need to provide prospects with a valid email address that they can use to get in touch with you. And since this is a business you're building, you can't use just a generic Yahoo email address. Not if you want to be taken seriously by potential customers.
If you want to show you're a professional business they can trust, you'll need to set up an email to match your domain name.
You can get a free email address with our 123 Reg hosting packages or our website builder solution, or you can buy it separately at only £2.99 per month.
Next steps
Once you've got your business up and running online, you'll undoubtedly want to start promoting it so you can attract more customers. To learn how to do that, check out our guide to marketing a new online business.
Wrapping up
While this may seem complicated if you're just getting started with your first website, it really isn't. Anyone can do it, regardless of technical skills. With the right tools and all the support guides and information available on our website, blog and business training, you can get your business website up and running in no time, and at an affordable price.