What products do I need to get my business online in 2023?
What products do I need to get my business online, and how much will it cost?" is one the first questions you'll ask yourself if you're looking to get your own business website.
Figuring out early on what type of website you want and what you need to get it up and running can save you lots of money in the long run.
So, do you want to build a small basic website with a few pages so people can learn more about your business, team, and offering? Or are you looking for an ecommerce solution to sell products on your site?
Also, are you willing to learn to make design or code changes yourself? Or do you prefer an easy solution that allows you to work on your site without ever needing to touch a line of code?
When you have a solid idea of the type of website you need, what you want to achieve with it, and how you'd like to make changes to it, you'll have an easier time choosing the right products to get it online.
In this post, we'll share the top products you need to get your business online, including the costs you can expect to pay for each and the skills you need to use them. This will give you a better idea of how to budget for your new business website so you can forge ahead with confidence. Prices in the article are correct at the time of writing and exclude VAT.
A domain name
The first thing you'll need is a domain name. This is the web address or URL that people type into their browser to visit your business website.
Make sure you spend some time researching the perfect name. With the right one, your domain name can be one of the most powerful tools to promote your business, attract customers, and entice them to keep coming back. A name that is short, easy to type, and catchy makes it easy for people to remember who you are and quickly visit your site whenever they need your products or services.
Note: The 123 Reg Website Builder and our hosting packages come with a free domain name for a year. You may want to take this into account before you buy a domain name.
If you've already decided on a name, go to our domain search and run a quick search to see if it's available.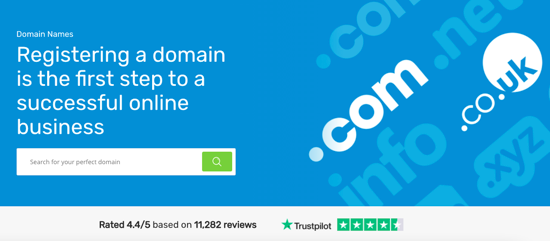 If you find that it's already been taken, don't fret. There are lots of other options.
You can either go with a backup name or go through the alternatives available and see if maybe there's another one that would work just as well for your business.
You can also consider going with a different extension. The truth is you don't necessarily need a .com or a .co.uk to be successful online. Your customers will always care more about your offering and their experience with you than about whether you have a popular domain extension.
So, why not take advantage of the numerous different domain extensions available to find a great domain name for your business? For example, if you're looking to attract London-based customers, a .london extension is a fantastic option to target local prospects. If you own a flower shop, consider a descriptive extension such as .florist or .boutique, or get straight down to business with .biz extensions.
The cost of your domain will depend on the extension. For example, registering a .co.uk domain on 123 Reg will normally cost you £11.99 per year (99p for the first year if you're a new customer), while a generic top-level domain like .photography will cost you £21.99. (Neither of these prices include special offers.
If you want to protect your business name and ensure no one else registers it using other extensions, such as .uk or .com, you should budget for that as well.
Keen to grab the perfect domain name for your business but aren't sure where to start? Then check out these resources to help you make the right choice. 1) Everything you need to know about choosing a business name and a domain name, 2) Brandable vs. descriptive domain names (and which one is right for your small business), 3) Questions to ask before buying a domain name.
2. A way of building your website
Before you start building your business website, make sure you're clear on the type of site you want and how it should look.
Do you want a simple site where people can learn about what you do and how you can help? In this case, you'll likely need a small website with a few key pages such as homepage, about and contact pages, a products or services page, and maybe a blog.
If you're planning to sell products directly from your site, you'll need an ecommerce website that includes other essential pages such as product pages, online ordering, help, and support.
Not sure what kind of website you need? Read this post about the six most popular types of websites to help you decide about which one suits you best.
Depending on your time, budget, and technical skills (or your interest in learning code and design skills), you have three options to build your website.
1) Do it yourself
If you have the time and technical skills to build a website yourself, that's great as this can also save you money. And with web hosting from 123 Reg, you'll have access to all the tools and applications you need to build your dream website. Skip to the section on hosting if you've already decided this is the right option for you.
2) Use a website builder
If you don't have a big budget, the time, or the technical skills to build your own website (or just don't want the hassle), then using a tool like the 123 Reg Website Builder could be the best option for you. Why? Because this all-in-one package lets you build an expert-looking website quickly and easily, even if you have no technical skills.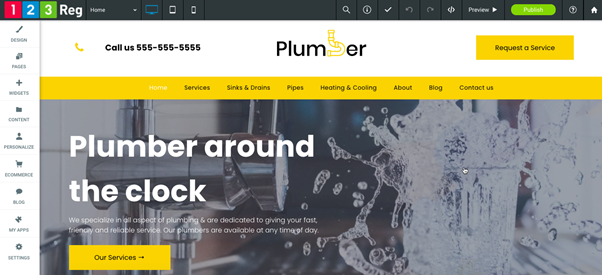 Here's how it works:
Browse through the vast collection of pre-designed templates and pick the one that best reflects your brand personality and what you do.
Fill out some basic information about your business.
Customise your website by adding or deleting pages, dragging and dropping elements onto the page, changing fonts and colours, and adding your images and text.
Review and publish.
That's it. And the best thing about it is that you don't need technical skills to create, customise, and get your site online. The tool is designed so that you make changes with ease, and without requiring help from a designer or a developer, or from anyone else for that matter.
Check out this step-by-step guide to creating a website with the 123 Reg Website Builder.
The cost of using the 123 Reg Website Builder starts at £5.59 per month (for the first year, paid yearly in advance) and it comes with hosting and email included, and a free domain name (for one year).
If you're looking to sell products through your website, then you'll need to build an online shop. Fortunately, 123 Reg also offers a solution to help you create an ecommerce website with ease.

Learn more about the 123 Reg Online Shop Website Builder starting at £10.49 per month (for the first year, paid yearly in advance).
3) Outsource it to professionals
If you have specific requirements and a bigger budget, you can hire professionals to build a custom website for you.
In this case, you can either outsource the project to freelance web developers and designers or an agency. Or you can try our Make Me a Website service where you get a team of experts building and writing compelling content for your website to get it in the best possible shape.
If you choose to outsource it to freelancers, make sure you prepare so you can ask the right questions and ensure you're hiring the right person for the job. You can find some tips and advice in our post on how to outsource web design in the right way.
3. Website hosting
The third product you'll need that's essential to getting your business online is website hosting. Web hosting provides you with a place to hold everything that makes up your website (that is, files, code, text, images, videos, and more).
Note: If you use the 123 Reg Website Builder, the cost of hosting is included in your package.
First, you'll need to choose your hosting provider. Make sure you take some time to do your homework. Always research your options so you can make an informed decision and go with a reliable host that will be there for you whenever you need assistance. Read this post for some advice on how to choose a web host.
The hosting package you will need and the costs that go with it will depend on your requirements.
Here are a few things to consider when choosing your web hosting:
If you want a simple website, an entry-level hosting package will do. Just make sure it includes a minimum of 10MB of storage space.
Make sure you can easily upgrade to a bigger package for when your business takes off and starts getting more visitors.
If you want a bigger website with tens of pages, like an online shop, then you should go with a hosting package with unlimited bandwidth. This way you can rest assured that your website will work properly regardless of how many visitors it receives. Plus, you won't have to worry about the extra costs either.
If you're using a 123 Reg Website Builder or Online Shop Website Builder package, hosting is already included so that's one less thing to worry about.
Check out our web hosting packages that start at only £3.99 per month (for the first year, paid yearly in advance).
Not sure which hosting package is right for you? This post walks you through the main types of web hosting so you can quickly decide on the right one for your website.
4. SSL certificate
Part of providing a great user experience is keeping customers and their sensitive data safe and secure. So, if you're selling products on your website (or asking people to input any kind of data such as their name and address), make sure you get an SSL certificate. It's key to protecting your customers' data, building trust, and helping them feel comfortable and safe buying from you. Learn more about the importance of security for small businesses.
An SSL certificate from 123 Reg starts from £59.99 per year.
Note: The 123 Reg Website Builder and some 123 Reg hosting packages include a free SSL certificate.
5. Email
No matter what business you're in, you need a professional email address that prospects and customers can use to get in touch with you. And since this is a business you're building, you can't use just a generic Yahoo email address – not if you want to be taken seriously by potential customers.
If you want to show you're a professional business that people can trust, you'll need to set up an email to match your domain name. Learn more about the benefits of a professional email address by reading our post.
You can get a free email address with our 123 Reg web hosting packages or our Website Builder packages. Otherwise, you can get email hosting separately at only £1.49 per month (first year, paid yearly in advance).
Wrapping up
Anyone can get their business online, regardless of budget or technical skills. With the right tools and all the step-by-step guides and information available on our website and blog, you can get your business website up and running fast, hassle-free, and within your budget.
Need more help? Give our support team a ring on 0345 450 2310 and they'll be able to help you with your questions.