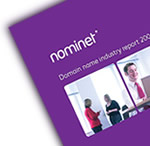 We mentioned last week that Nominet has released its second annual domain name industry report (PDF, 1MB).
These things usually contain a lot of fairly interesting domain name-related data. Fairly interesting, that is, if you work in the industry every day, like we do.
If you have a more casual interest in domain names then much of what's in there possibly isn't very relevant to you.
So instead of just summarising the headline findings and linking through to the report, here are a few bits of information and practical advice you might actually find useful:
Don't let your valuable domain names expire
According to the report, the number of cancelled domain names that then get re-registered is dropping. However, of domains that are cancelled, nearly 5% are snapped up within 10 seconds of their expiry. And over 10% are re-registered within a month.That means that if you let a valuable domain name expire, there's around a 1-in-20 chance that someone else will register it within 10 seconds. Now that might not sound too risky, but if the domain name is one you've built a business on then it is actually quite a gamble. Read the rest of this entry »
Share and Enjoy