So, you've registered your first domain name. Fantastic! Now you are one step closer to building your brand and promoting your skills or products and services online. Whether you're a freelancer and want to showcase your portfolio online or a small web store selling products on the Internet, once you have a registered domain, getting your site live is not as complex or time-consuming as you may think.
Now you may be asking yourself: "I have a domain name, what next?" Where do you go from here? Getting your new website up and running is an easy job, especially if you're using tools and applications that do all the hard work for you.  In fact, we'll show you what steps you need to follow to build your site from the ground up quickly and without much hassle.
Let's get started!
1. Set up your free 2-page website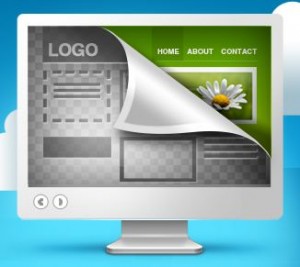 Now that you've secured your perfect domain, you don't have to build your site on the spot. Actually, before you even start creating your site and choosing templates and colour schemes, you might want to take some time to come up with a user-friendly structure for your site. While this may take a while to sort out, there's no reason why you can't set up a free 2-page website and use it as a placeholder until you are ready to release your site properly.
In fact, when you register a domain name from 123-reg, we'll help you get started easily with a free 2-page website. All you need to do is activate it from your 123-reg control panel and then you'll be able to create your website in a few simple steps using our free 'do it yourself' website builder.
Professionals and businesses worldwide have been creating Coming Soon pages for years to let users know they'll be online soon and create buzz at the same time, and now you can do that too at no cost whatsoever.
2. Build your site
Depending on your technical skills, you have three options to build your website:
i.      Build it yourself from scratch
While this may be time-consuming, it's a good option if you are familiar with HTML code and with web hosting from 123-reg, you'll have access to all the tools you need to build an awesome site. Plus, one of the many perks of buying web hosting from 123-reg is that you will have access to dozens of free applications, including WordPress, Joomla or Prestashop, that allow you to create blogs, good-looking websites and e-shops in no time.
ii.      Use a site builder
You can also use our website builder to create your first website. It's really a child's play: choose a template, customise it to your liking, add content and just click Publish to get your site online.
Our website builder is powerful in its simplicity as its lets you build a great-looking website in a matter of minutes without needing any technical knowledge. If you're also interested in creating a mobile version of your site, which we highly recommend considering the massive number of users who are now accessing the web using smartphones and tablets, you can do that easily with our mobile website builder.
Now, if you're looking to sell products on your website, we've got you covered with several ecommerce packages that make it simple to build an e-shop and start selling your products online.
iii.      Hire professionals to build it for you
Of course, you can always have your site designed and implemented by professionals. Chances are you'll get a good-looking design with all the bells and whistles, however, this option can prove to be costly and time-consuming.
Still don't know what to do next? Check out our step-by-step guide on how to create a website.
3. Set up your professional email
You will probably also want to create a professional email address that's personalised to your domain name. You don't want to be using the same generic Yahoo email address you've been using since college, do you? That would be embarrassing. This is business and if you want to show you take things seriously, then the next step is to set up your email to match your domain name. You can then use it for everything you need to keep organised, from managing emails and contacts to keeping track of your tasks and calendar.
You can buy it separately, depending on the features and storage you need, or get it free with a hosting package or our Website Builder solution. Find out more about setting up your personal email from our Email guide.
Now, when you're done building your WordPress blog or site, check out our WordPress hosting package to see how you can get it online.
As you can see, there are options for anyone, even if you have no technical skills whatsoever. With the right tools, you can get your first website up and running in no time.