I Have a Domain, Now What?
So, you've registered your first domain name. Fantastic! Now you are one step closer to building your brand and promoting your skills or products and services online. Whether you're a freelancer who wants to showcase your portfolio online or a small business looking to sell more on the web, getting your site live is not as complicated or as time-consuming as you may think.
Now, you may be asking yourself: "I have a domain name,  now what?". Where do you go from here? Getting your new website up and running is fairly easy, especially if you're using tools that do all the hard work for you. In this post, we'll walk you through all the steps you need to follow to build your site from the ground up quickly and hassle-free.
What you need to know now you have a domain name
Before you start thinking about building a website, you'll need to understand a few key concepts. Don't worry though, they're really easy to get your head around.
What is web hosting?
Hosting is where your website "lives". When you visit any website, you connect to the host which then sends relevant data to your browser. So without hosting people won't be able to visit your site.
What is WordPress?
WordPress is considered one of the easiest to use content management systems thanks to a very friendly interface. In other words, it allows anyone to create, edit and maintain the content and functionality of a website. It often comes bundled with a web hosting package.
What is a website builder?
A website builder is a tool that enables you to build a fully functional website even if you have no technical skills. That's because it usually doesn't require manual code editing. If you subscribe to a website builder, web hosting will be included as part of the package.
Ready to build your site? Here's how you can do it:
1. Quickly set up a one-page website with 123 Reg
When you register a domain name from 123 Reg, we can help you get started with a one-page website. It's free for 30 days and then costs just £1 a month. If you want to, you can upgrade to a different Website Builder package in the future.
Why do you need a one-page website? Well, businesses worldwide have been creating Coming Soon pages for years to let their audience know they'll soon be online and to create buzz at the same time.
This is a good option if you're not ready to launch a full-blown site but want to create some buzz before the big launch. Not ready to launch even a holding page? Consider domain parking until you're ready to go.
2. Build your site
Before you jump in and start building your site, you'll first need to think about the structure you want and how all the information and pages will fit together. If it's a simple site where you present your business, you might only need a few pages like: homepage, company information, contact page and business news.
If you're looking to sell products online, then your website will also include product pages, online order form, help and support.
Depending on your technical skills, you have three options to build your website:
a. Build it yourself from scratch
While this may be time-consuming, it's a good option if you are familiar with HTML code. Plus, with web hosting from 123 Reg, you'll have access to all the tools you need to build a great looking site. One of the many perks of buying web hosting from 123 Reg is that you will have access to dozens of free applications, including WordPress, Joomla or Prestashop, that allow you to create blogs, good looking websites and e-shops in no time.
While WordPress can seem confusing at first, once you learn how to get around you'll find that it's easy to update and to use.
Need help getting started? We've got you covered with a great guide that explains how you can use WordPress to build the site you need.
This is a good option if you're familiar with code and have time to work on it yourself.
b. Use a site builder
A second option would be to use a tool like the Website Builderto create your site. It's really easy: simply choose a template, customise it to your liking, add content and just click Publish to get your site online.
Our Website Builder is powerful in its simplicity as it lets you build a great-looking website in a matter of minutes without needing any technical knowledge. In addition, since all templates are responsive, it means that your site will look and work properly on all devices – desktops, tablets and smartphones. This is extremely important as a significant number of users now access the web using mobile devices.
If you want to sell products, then you should opt for 123 Reg's Online Shop, which offers all the benefits of a website builder combined with ecommerce functionality.
A site builder is a good option if you're on a budget and don't want any technical hassle.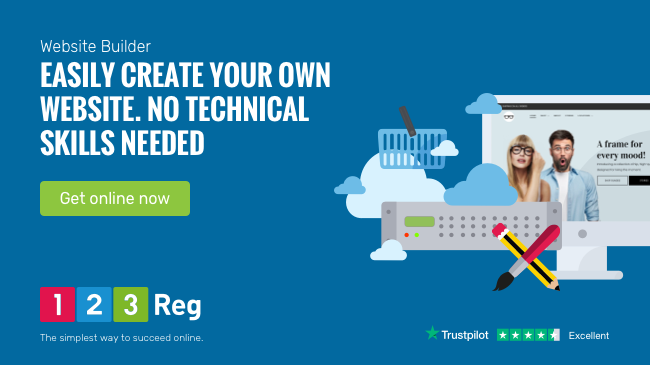 c. Hire professionals to build it for you
Of course, you can always have your site designed and implemented by professionals. Chances are you'll get a good-looking design with all the bells and whistles, however, this option can prove to be costly and time-consuming.
This is a good option if you have complex requirements, money to spend and would rather have experts build it for you so you can focus on other tasks.
3. Hosting your site
After you build your site, it's time to get it live using a web hosting package. If you've used a website builder (including Online Shop), you won't need to worry about web hosting as that's already included.
When getting your web hosting, here are a few things to consider:
For simple websites, entry-level hosting packages are usually suitable. This should include at least 10MB of storage space
Make sure you can easily upgrade when your site starts to grow
For bigger sites with lots of traffic, look for a hosting package with unlimited bandwidth so you won't have to worry about hitting limits or paying extra for being popular
Look for guides and a knowledgeable support team that can assist you anytime you need help
Do your research to ensure your chosen hosting provider is reliable and secure
Now, if you have a WordPress site and you're not sure if you should go with a hosted website or with a free version, give this post a read. It explains what the pros and cons for each option are when it comes to design, functionality, professionalism and more.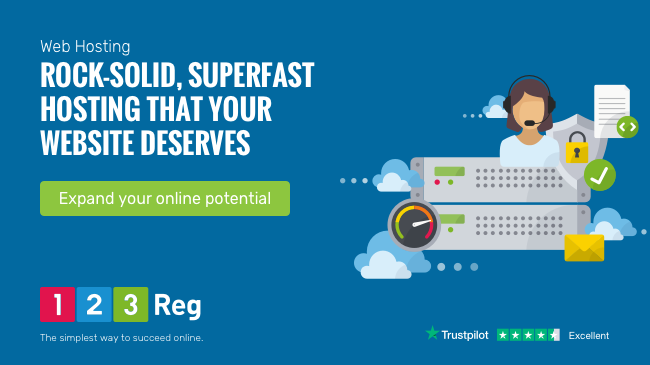 4. Set up your professional email
You will probably also want to create a professional email address that's personalised to your domain name. You don't want to be using the same generic Yahoo email address you've been using for years, do you? That would be embarrassing.
This is a business you're building and if you want to show you take things seriously then the next step is to set up your email to match your domain name. You can then use it for everything you need to keep organised, from managing emails and contacts to keeping track of your tasks and calendar.
You can buy it separately, depending on the features and storage you need, or get it free with a hosting package or our Website Builder solution.
What next?
Your job is not done. Here are some of your next tasks, along with comprehensive guides that'll help you tackle them with ease:
Take up blogging to share great content with your audience and to build your reputation as an expert in your industry
Get social to engage with your audience, hear what's being said about you and deal with negative perceptions about your brand
Wrapping up
While getting your site up and running isn't easy and may take time, anyone can do it, regardless of your level of technical ability. With the right tools and the proper guides and information, you can get your first website up and running and successful sooner that you might expect.