What is domain parking?
By
John
- December 19, 2008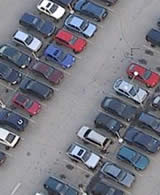 If you've spent much time registering domains, or reading about the industries that have sprung up around them, you've probably come across the concept of domain parking at some point.
So how does it work?

A parked domain is one which has been bought and then used to display a single page. At its simplest, a parked domain could point to an 'under construction' page. You could even fit it out with an early-90s throwback roadworks sign for that retro feel.
A domain is usually parked in this way when the owner is planning to use it for something, but just hasn't got round to it yet. Domain parking is also sometimes used to protect a brand name – usually the owner of the brand will redirect the parked domain to their main website (so yourbrand.co.uk might redirect to yourbrand.com).
How do people make money from it?
Many domain names are parked in a way which generates cash for the owner. The revenue usually comes from adverts which are displayed on the parked domain's page. Each time an advert gets clicked on, the owner of the domain receives a small payment.
That's fine, but where do the visitors come from?
If you run a website, you'll know that it can be difficult to attract visitors to begin with. That's because when a domain name is registered for the first time, it doesn't have any online history. There aren't any pages for the domain listed in Google, and people can't type the domain straight into their browser, because they don't know that it even exists.
To get round this problem, the people who want to generate meaningful revenue with parked domains look for specific types of domains to exploit:
Recently dropped domains. These are domain names which a previous owner has allowed to expire. Because they've been registered previously, they often have an established history in Google, and potentially some residual 'type-in traffic' (visitors who know the site and type the domain name straight into their web browser). A recent report found lots of expired domains get re-registered in less than ten seconds. Many of them will be used for domain parking.
Generic domain names. It's surprising how many people type a word into the address bar of their web browser when looking for information. If you own a domain name containing a generic word or term (it could be computers.com, holidays.co.uk or anything really) then you might be surprised to see how much type-in traffic it gets.
Domain names containing typos. This one's controversial and definitely towards the shadier end of domain parking. Essentially, people register domain names that are very similar to other words or brands. They're usually a misspelt word or brand name. It can be unpleasant if you're the target of this sort of 'typo-squatting', but judging from the amount of it going on, there's money to be made from it.
The clever stuff
In truth, I've barely scraped the surface of domain parking here. You should have a handle on the basics now, but in practice, there are lots of clever things domain owners do with parked domains to maximise the revenue they generate.
For a start, many of the services that insert ads onto pages are context-sensitive. That means they look at words used in the domain name and on the page, and then display adverts they think will be relevant. This targeted advertising can boost the click rate significantly, because people who arrive at the parked page find the adverts relevant.
Some parked pages offer a search option. This usually displays adverts as results. Again, when a visitor clicks, the domain owner gets a cut. This works well because the parked page invites the user to enter exactly what they're looking for, making it easier to show targeted adverts.
How much can you make?
There's lots of hype surrounding domain parking, and if you hunt around you'll soon encounter claims of huge returns.
While this may be possible for very generic domain names (something like cruises.co.uk, which isn't currently parked, but did exchange hands for £560,000 last year), the truth is that most parked domains will produce rather less-impressive returns.
Having said that, they can provide a steady stream of income. Parking a domain you're not using can be a good way to make it pay its way, and if you pick your domain names carefully, you can see a good rate of return. Check if your preferred domain name is still available.
More information