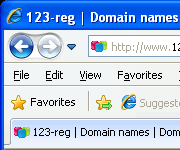 A web browser is the piece of software you use to look at internet sites. You're using one to read this.
There's quite a choice of browsers out there. Most people use one of the most popular ones, like Internet Explorer, Firefox, Google Chrome or Safari.
And then there's a whole host of smaller browsers. For instance, check out Opera, Flock, SeaMonkey, Avant and K-meleon.
Different browsers display sites differently
Having a choice of web browsers is generally considered a good thing. It means you can decide which you like, and a bit of competition encourages the browsers to introduce new features.
But if you've ever decided to build your own site, you'll know that multiple browsers can be a real headache. Because they all display websites in slightly different ways, it can take a lot of work to make sure your site looks good in all of them. Read the rest of this entry »
Share and Enjoy