In the run up to the General Election our elected representatives are going to be doing everything they can to convince us that they are the right person for their constituency.
One MP, Derek Wyatt has been representing Sittingbourne and Sheppey in Kent since 1997 and is attempting to cover all routes of communication to his constituents, with accounts on bebo, twitter, facebook, myspace and even his own .tv video-clip site.
It is perhaps not surprising then, that the former Director of The Computer Channel at BSkyB and Chairman of the All Party Communications group in Parliament, is the first to try out a new iPhone application allowing would-be voters to keep a track on their serving Member of Parliament.
MyMP allows members of the local community to find out where Derek is, what he's doing and even send him a message directly. They can also keep up to date with the latest local issues and give their view on major points that the MP is seeking feedback on.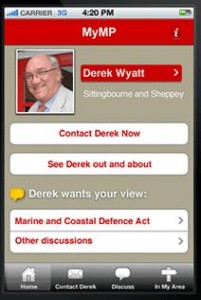 We are not sure if every MP will be as embracing of new technology – some seem to live very complicated private lives – but with over 6,000 downloads in the first two weeks of its launch, the MyMP app certainly seems to have captured the imagination of the tech-savvy electorate.
Have you downloaded the MyMP app?
Have you ever contacted your MP via the internet?
Should MPs embrace technology more?