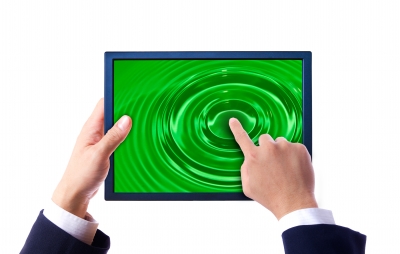 With Blackberry launching their Playbook tablet in the UK next month, the push for businesses to invest in tablets is  on.
Blackberry's offering will no doubt prove popular with the business market where it has a strong following on the back of its smartphone range. The Playbook also appears to have everything a business-user may need including dual 1080p HD cameras, multi-media playback support, Wi-Fi and Bluetooth connectivity, plus a starting price tag under £350. Expect to see more and more tablets being unveiled in meetings in the months to come.
But are tablets just a fancy gadget for people just to show-off with or do they have a practical purpose in business?
To be honest, probably both. The kudos of having the latest technology is something the majority reading this blog will probably appreciate. Unwrapping your tablet in a meeting is certainly a way of getting noticed. Yet, from my own experience, that's about where it all to frequently ends. It's a bit like the majority of people who proudly show-off their latest smartphone. It's looks over functionality that they are proud of, and many don't even understand the full potential of the device in their hands.
However, I am definitely of the opinion that tablets are the future of computing and the future of business – we just need to learn to use them properly. With the right apps, correctly configured and organised your online life can become much slicker and more efficient and that includes your business too, especially for presentations. Whereas information may have been to hand before via a few clicks, now it literally can be at the push of a button (or screen). Some of the slickest presentations I have ever seen have been tablet based and there is something more personal about a hand-held device showing a slideshow or video than a laptop plugged into a projector. Tablets can make business easier and more enjoyable but are tablet makers geared enough to serve the business sector?
Apple sold nearly 15m iPads last year and with iPad2 still in short supply, the desire for a tablet continues to rise. Yet Apple have never really appealed to or been embraced by the business world – beyond the creative sector. This is where the Playbook may prove a stronger business proposition based on the Blackberry name and the fact that the Playbook is smaller and thus more portable than an iPad. Yet, there is more to come. Amazon are rumoured to be working on the launch of a tablet, hot on the heels of the fantastic success of their Kindle book reader. Plus Business IT specialists Cisco are also expected to enter the market with a business-focused tablet possibly named the Cius.
The wave of apps hitting the stores is also rapidly increasing and as more business-styled apps appear, the technology will evolve, so that tablets will be able to all but very few functions that laptops can. Remember your first laptop? Heavy, slow and not half the power of your desktop. The embryonic tablet market is similar. They start off already running though, fairly powerful and not too burdensome to log around. However, tablets will become more portable and lighter, the Apps that they run will become more advanced and soon we will wonder how we ever lived without them. Whereas now businesses invest heavily in bespoke CRM tools or industry specific software, in a year or so that investment will be in company or industry- specific apps.
Do you use a tablet for business? If not, what barriers are holding you back?