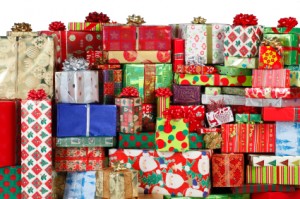 Well OK, not quite, but it is only 8 weeks away – and fast approaching as people begin to get into the festive spirit. So we thought we had better give you a heads-up on what are expected to be top of the Christmas lists of boys and girls up and down the country.The UK toy industry is still one of the strongest sectors of the economy with an 8.4% growth between January to August 2010, compared to last year, taking total sales in that period to £1.2billion. Here's why:
Last year it was toy hamsters, in previous years it has been Teletubbies, Thunderbirds and Tamagotchis. So what will parents be clambering for as 2010 draws to a close? We consulted the Toy Retailers Association (TRA) list of Dream Toys 2010:
Top Toys
Another 'T' is expected to be popular this year. The summer release of the Toy Story 3 film has seen a huge range of spin-off toys but the poseable action figures of Jetpack Buzz Lightyear and Sheriff Woody are expected to be the toys all the boys want and many of the girls too. There is even a Toy Story Barbie for those more girlie girls and both are expected to fly off the shelves as quickly as they are placed there.
There are lots of old favourites too. Sylvanian Families, the tiny character animal toys with their own houses, schools, cars etc have been around for decades but this year the Sylvanian Families Motorcycle and Sidecar is featured in the Dream Dozen -the top 12 toys suggested by the TRA. With older roots still, is Lego, and this year the Lego City Airport (with a recommended retail price of £84.99) is expected to be the most desired make-it-yourself toy.
Meanwhile, some other more traditional favourites are also back with new twists. Monopoly Revolution will create family competition this Christmas in many households. The new version dispenses with the issue as to who plays banker by replacing paper money with electronic cards and a chip and pin type machine. Boggle, Scrabble and Trivial Pursuit also all have new 'versions' out this Christmas.
Last year's must haves, the Go Go Hamsters, have lots of new fun places to go too. Also on the Dream Dozen is the ZhuZhu Grooming Salon for the hamster who just has to look right. Animals feature heavily in the top toys listings with the FurReal Go Go Walkin' Pup hopefully being sold with the promotion of the fact that a dog is for life and not just for Christmas (or when its batteries have run out).
Toys for Big Kids
So that's some of the things the kids will expect to be waking up to on Christmas morning but what about the big kids? Well economic times might be hard but toys and gadgets for grown-ups are expected to sell as strongly as ever.
Top of the list for a bit of fun is Dave the Funky Shoulder Monkey. A cute simian friend who will sit on your shoulder and perform as you instruct via a tiny remote control. Make him act shy, wave, sleep or make outrageous sounds – this is the choice for the person who has everything including a sense of humour.
Aimed at smaller kids, the big kids and fans of ITV's The Cube will probably have hours of fun bouncing a ball into a cup – that is the basis of Cuponk, simple but set to be very popular according to the experts. Last year virtual guitars were popular and the latest incarnation of these the Paper Jamz Guitar is set to be the gift of choice for many 'big kids' to strum along with.
Must-have Gadgets
All that, plus there is the return of the original home robot Bigtrak, no doubt numerous requests for an iPhone 4 or HTC Desire HD mobile and some deep-pocket hopes on an iPad or Samsung Galaxy tablet computer.  The Kymera Magic wand – a remote control featured on BBC TV Dragon's Den – is proving a big hit for online retailers while the gaming world awaits the arrival of Microsoft Kinect for the Xbox 360 next month offering 'controller-free gaming' and with demand sure to outstrip supply.
The ultimate present?
Of course, here at 123-reg we continue to have the ultimate gift for the person who has everything! Choosing a personalised domain name, perhaps linked with our simple to use SiteFusion package, is a perfect way to show you've put some thought into a present, even if it hasn't taken much effort.
What's top of your list for Christmas?