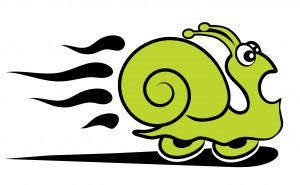 It's Friday, so we thought you might like a lighter story to brighten up your day at the end of the working week.
In case you hadn't already heard, tomorrow is the day for the World Snail Racing Championships. Held annually for over 35 years at Congham's Cricket Field in Norfolk, it is the big day for sporty molluscs. A day when slimy creatures 'slug' it out, carrying their homes with them along a challenging 13-inch course.
The event may have the global tag but surprisingly is part of a local fete in the small Norfolk town of Congham, near Kings Lynn, raising funds for the 13th Century St. Andrews Church in the parish. Yet, the race gets worldwide news coverage (we found reports from previous years on news sites based in Australia, Kenya, Malta and South East Asia!). Race master Neil Riseborough even featured with some racing snails on this year's Britain's Got Talent. Webmaster of the official website Mark Scase chose 123-reg for the domain and hosting because it is "cheap and reliable" and that has helped promote the event to an even wider audience.
Speaking exclusively to the 123 -reg blog, racemaster Riseborough explained how he ended up in his role and becoming one of the world's leading experts in the field of snail racing :
"I used to get involved in the running of the fete and my kids used to race snails in the race when they were little. When the old farmer decided to hang up his shell, they asked my take over the running."
With busy media schedules and preparations in uncertain weather conditions, Riseborough is unsure how this year's competition is likely to pan out:
"Its been tough with the intensive training beforehand. The weather hasn't helped as it's been too hot so they haven't want to go. I don't know what will happen tomorrow whether the snails will be chomping at the bit, I don't know."
And there's more to the competition than just plucking a snail from your garden. There's some serious breeding and coaching that goes on:
"They have a life expectancy of 3 years so we have a junior title for the little ones, an intermediate one for the middle ones and a seniors for the older ones. Some have bred snails that last 4 years, but this year the winter has really decimated the senior stars and there is not a lot of them about. Most of them are intermediate this year."
In the Championship final, snails race from the centre of a circle to the outside – a radius of 13 inches. The current record-holder Archie completed the course in just two minutes back in 1995 – a pace few have got near since. 187 snails took part last year with a similar number expected to enter tomorrow's 2pm race in the hope of winning the title of the "Fastest Snail in the World" – and a silver tankard stuffed with lettuce.
With over 2,000 spectators expected to attend the event, Riseborough is also keen to encourage new competitors:
"Anybody and everybody can turn up, even if they haven't got a snail. I'll have 50 or 60 underneath the table so that anybody can hire a snail. Last year the winner came along without a snail and hired one and ended up being World Champion."
While snails might not be an obvious choice of a pet, Riseborough admits there is often a strong bond between competitor and coach:
"Sometimes the winners do kiss their snail. It isn't every day you are a world champion is it?"
So if you fancy a day out with a bit of an unusual twist why not try your hand at snail racing in Congham tomorrow. As Riseborough explains.
"It's been going for years and it's not affected by money. It is a great day out and a bit of a giggle."