A report from the US suggests the social media generation are showing worrying signs of addiction as Facebook, Twitter, and even SMS threaten to dominate their day-to-day lives.
The latest Retrevo Gadgetology Report reveals a nation becoming obsessed with social media. 19% of respondents aged under 25 admitted that if they wake up in the middle of the night they do check their Facebook or Twitter accounts. With over 32% of under 25s admitting to checking their accounts as soon as they woke up in the morning, it seems the younger generation are struggling to get on, without their social media kick.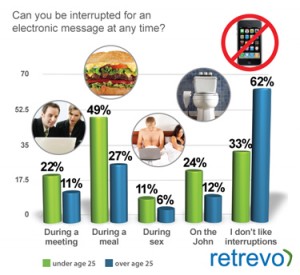 Perhaps even more worryingly, a large percentage seem to have no limits as to when and where they will check an incoming message. Again, younger respondents seemed more willing to interrupt what they were doing to check a message but even 12% of those surveyed in the over 25s bracket suggested they had no problems logging on even when they were on the toilet. We can only wonder as to whether the 6% of over 25s and 11% of under 25s who admitted to checking messages even during sex were being too honest for their own good or just spicing up their replies.
With technology set to advance even more in recent years, could the warnings ring true that computers may come to dominate humans?
Where do you do it?