What regular tasks can small business owners automate?
As a small business, you're probably doing all sorts of tasks, from updating your social media accounts to dealing with customer questions and feedback. Wouldn't it be great if you could automate a few of these tasks and save some time and energy?
After all, why take an hour to perform a set of tasks when you can take 15 to 20 minutes and use the time left to focus on more important tasks? We dug out the tasks that we believe could be done quicker and some great tools that are designed to do the hard work, so you don't have to.
Social media
Managing social media accounts takes time, especially if you have more than one channel where you communicate with your audience. There are plenty of tasks involved from researching content and sharing it to engaging in conversation with your community.
Fortunately tasks like research and scheduling of posts can be automated easily. Tools like Buffer, Hootsuite and Tweetdeck are a time-saver when it comes to scheduling content for social networks like Twitter, Facebook, Google +, LinkedIn, YouTube and more.
Let's take Tweetdeck as an example so you can see how easy it is to find great content to share online and to schedule it to go live when you know your audience is spending time online.
Start by creating an account and then add your Twitter account. You'll then be able to add several columns that include your posts, notifications and direct messages. Next you can add a custom column where you can see all posts on a specific topic or keyword. For example, if you're a nutritionist you can run a search for "healthy eating" and then add this search as a permanent column in your Tweetdeck.
To do this, click Add Column from the left menu and then click Search:
Next you add your keyword and click Add column. So whenever you want to see what people are talking about that's related to healthy eating, you can simply go to your dedicated column, which looks like this: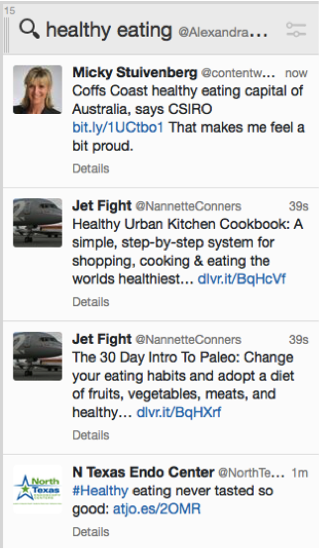 Now, say you want to schedule a bunch of posts to save some time. All you need to do is to click on New Tweet from the left menu, write your post, add an image if you wish and then schedule it:

You can schedule as many tweets as you want. This is very useful especially when you've written articles on your blog and want to share then with your followers.
Tweetdeck only works with Twitter but Buffer and Hootsuite allow you to schedule posts on other social networks including Facebook, Google + and LinkedIn.
IFTTT
IFTTT stands for "If This Then That" and it's a web-based service that allows you to create connections (called "recipes") between the various web apps you use often such as Facebook, Instagram and Pinterest. After you sign up on IFTTT, you will be able to create "Recipes." These recipes involve two web apps, one app to trigger, and the other app to perform an action.
The best part about this website is that it's free to use and supports a huge collection of popular web apps that you can set to trigger and perform an action. Dropbox, Feedly, Facebook, Twitter, Craigslist, Foursquare, Google Calendar, Instagram, Google Drive, Gmail, Tumblr, and Bitly, just to name a few!
Confused? Here's are a few examples of what you can do with it:
Set your Instagram photos to upload to a Facebook album.
Create a short URL with Bit.ly for every blog post you publish. Then create other IFTTT tasks to share the short links to your blog posts on all your social networks.
Automatically tweet your Facebook status updates or publish your Google+ posts on Facebook
Check out this post to see what other cool things you can do with IFTTT.
Email marketing
If you often send emails to your subscribers to inform them about a product launch, a special offer or to send them useful information on how to make the most of your products or services, why not automate this task as well?
The best email marketing tools offer automation as part of the service, so make sure you make the most of this feature.
Blogging
Blogging is time-consuming but necessary if you want to become an authority in your industry. While writing a blog post can't be automated, scheduling and posting it on social media is possible.
No matter what content management system you're using, you should have the options to publish the post immediately or at a later date and time. Here's how it works on WordPress:

Now that you've scheduled the post, why not also have it automatically shared on your social media accounts the moment it goes live? For this task you can use IFTTT to automatically share your blog posts on Facebook, Twitter, LinkedIn and other social networks you're using.
If you have a WordPress blog, you can also one of the many plugins available that allows you to get the word out about a new post that you've published on your blog. The most popular ones are Jetpack Publicize and NextScripts: Social Networks Auto-Poster.
Here's how NextScripts looks: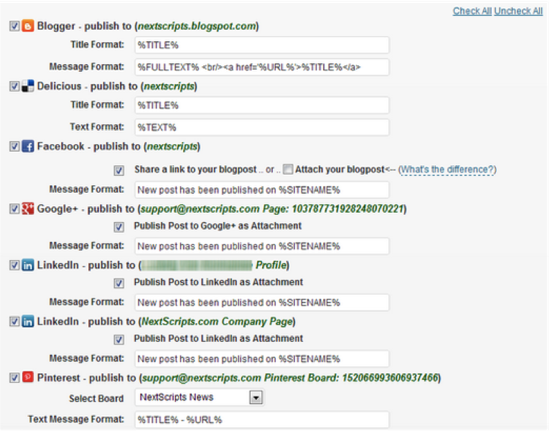 So all you need to do is to install the plugin and then when you publish a blog post to choose where you'd like to share it.
Customer relationship management
A final aspect that you can automate is customer relationship management (CRM). CRM automation can help you to save time when dealing with your customers, from the first time they get in touch with you and after they've made a purchase.
You can use a CRM tool to make the process easier and automatically add your customers' details into the tool when they first make contact with your business.
Here are a few ways you can automate your CRM:
Add contacts to your CRM from emails, newsletter subscribers, help desk tickets, form submissions, purchases and more
Trigger automation from your CRM to send new customers a welcome emails, to send them an invoice or to add their email to your mailing list
Imagine how much you'll be saving by automating all these tasks instead of having to spend time manually adding each contact, their details and email address, sending welcome emails and more. Learn more about other ways you can automate your CRM.
Wrapping up
The power to automate all these repetitive tasks that are often time-consuming is in your hands. Now that you have all these great tools that can make your life easier, why not use them to save some time and focus on other important aspects of your business?
How about you? What other tasks are you automating? What other tools are you using to speed up repetitive tasks?