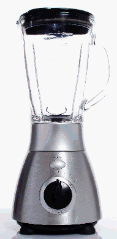 It's Friday again, and as I was on holiday last time people in the office chose their favourite sites, I thought I'd post my own today. So here are six sites, from my bookmarks, that are interesting, funny or just a bit different – and absolutely guaranteed to waste your time:
1. Will it blend? – a great example of some innovative marketing. Four words: iPhone in a blender. Don't tell me you can resist taking a look.
2. How to do just about anything– ok, it's a bit American in places. But it's a mine of information – ever wondered how to make pizza dough, work out if your cat is overweight, or even tie a, er, tie?
3. NetGranny – you'll have to suspend your disbelief for this one. Bascially, pick a granny, choose the kind of socks you want and your chosen granny will knit them to order. It's genuine – I heard about it on the radio and everything.
4. A daily dose of imagery – just what you'd expect. A different photo every day, taken by a decent photographer.
5. Passive aggressive notes – a collection of quirky, catty (and sometimes downright confrontational) notes people have left for each other. You know the sort of thing: shared house, washing up not done…
6. HotUKDeals – actually, this one is genuinely useful if you're looking to pick up a bargain. Anyone can submit a deal (of any sort) to the site. Everyone else votes for them, and the best make the list of 'hot deals'. It's saved me money on a laptop and TV this year, but be warned – you might end up buying stuff you don't need.
So go on, what are your favourite websites to waste time on? Let us know by leaving a comment.