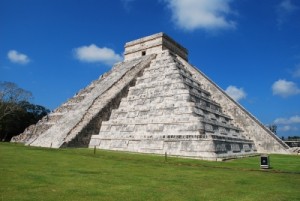 Goodbye. Or at least possibly goodbye in 12 months time. Not that we want to go, but December 21st 2012 is the end of the calendar, there are no more dates beyond this.
The ancient Mayan civilization, who once had an empire stretching from Central Mexico to Guatemala, pretty much invented the calendar system – they were a fairly inventive race. Yet, while they built Ancient Wonders of the world and designed an advanced calendaring system way back in the 5 th century B.C. they never thought the world would live much longer than this. You see the calendar they designed ends on December 21st, 2012. Nobody knows why and admittedly it was a very long way away back then, but soothsayers and doomsday merchants are sure to begin making some mischief through it.
So if the Mayans were right you have a year to make an impact. What are you going to do in 2012? The term bucket list has become more and more recognised in recent years, meaning a list of things to do before you die. It comes from the term "kicked the bucket" so here are a few ideas from us with a 123-reg slant as to some items to stick on your bucket list:
Launch your own blog
With 123-reg hosting the world's favourite blogging tool WordPress comes free as standard included as one of the 123-apps you can install with just a few clicks. If it is to be the last year, a blog is a perfect way to note your thoughts, share your ideas and make new friends.
Start a shop
With 123-reg ecommerce  you get everything you need to build and run an online shop and sell your products effectively – to people all over the world. It is a simple point-and-click-set up, with no technical stuff to worry about so even if you've never done anything like it before, you should quickly get to grips with it.
Register a witty domain and make the world laugh
There really is a world of possibilities from .co.uk to .mx and if you choose a clever domain name, that perhaps uses the domain extension too, you can instantly start attracting some traffic to your site.
Grab a personalised email address and make contact with old friends
If we only have a year left, then make sure you get in touch with everybody who has ever been important to you. The perfect way is via email and with 123-mail you can get your own personalised email address such as you@yourname.co.uk. Making it the perfect way to make contact after a few years.
Design a website
Some of you may have done this already, but for those of you who haven't Sitefusion offers you the perfect way to produce a professional looking site without the need to understand coding. Why not make an impact on your local area and offer to create a site for a local group or charity?
Like 123-reg on Facebook and follow us on Twitter and qualify for a range of special offers
If it is going to be your last year, you need to enjoy it. Over at the 123-reg Fans Facebook Page there are regular things to keep you entertained as well as offers and competitions for our Facebook fans. So get liking us now. Just like Facebook, over on Twitter @123reg we run regular offers and links to items we hope will interest our customers. Over 6,500 followers can't be wrong, so come over and join the conversation.
Of course we don't serious expect the world to end in 2012, the Mayan calendar will probably just reset to zero again like a car's odometer, but the end of a new year and start of another is always a good time to reassess your life and set new goals. So why not create a bucket list, or even just a 2012 list, it might just provide the inspiration you need to make that business breakthrough. Let us know what else you have on your list too.