Toybox Lane is an online toyshop built using our ecommerce package. The site has gone for a minimalist approach, letting the products do the talking.
And they do have some great toys, from favourite family board games to proper wooden train sets and dolls houses. Makes you wish you were a kid again … who wants a game of Buckaroo?!
We spoke to the creator of Toybox Lane.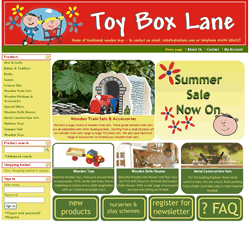 What is your name?
Tim Felstead
How old are you?
39
What do you do?
Full-time IT support and Director of Toybox Lane Ltd.
What is your favourite movie?
Life of Brian is one of many.
What made you create the site?
After a few discussions with friends, we decided to start a business selling traditional toys online.
Is this your first website you have created?
It's the first ecommerce site.
How long did it take you to build?
The site has been growing and changing over the last year, but the current site has taken about 40 hours.
What do you like about it?
I like because it's now starting to look a bit more professional, although I still have some work to do.
What do your family and friends think of it?
They love it!
What made you choose 123-reg?
When I was looking for a hosting company, I had a set of requirements that I needed to begin with, and some that would be needed in the future.
To start, we needed to be able to take payments online from customers but knew that in time that we would need extra customer services like login, cross-selling and product recommendations. The 123-reg ecommerce package allowed us to start small and grow the site as the business grew.
How have you found the product?
Actually, to start it was a bit confusing, and the help file sometimes didn't have the answers. But with some playing around it's fairly easy to use. I use a hidden category page to design and make changes to the home page so I can see how it looks in the site without affecting the customers.
Would you recommend 123-reg to others?
Yes, the ecommerce packages are excellent.
Where next?
You can browse the full range of toys over on the Toybox Lane website. And don't forget to check back here for the next customer showcase.
You can also find out more about our ecommerce packages. If you're already using one, remember you can get help by logging in to our support site or downloading the full user guide online (PDF – 5.5MB).