How to use your free Google Adwords & Microsoft adCenter advertising
Search engine pay per click (SEPPC) advertising is so popular because your adverts are only shown when someone is searching for your product or service and you only pay when some one clicks on your advert. Creating an account and getting your adverts online is really easy, and you can be up and running in a few hours.
SEPPC budgets are also very easy to control. By setting a monthly budget you decide how much you want to spend and the search engines will make sure you will not go over this limit.
This starter guide will help you set up your Microsoft adCenter and Google AdWords accounts along with tips and ideas on how to write and target your adverts. In future posts we will go in to more detail about areas such as
Keyword research
Writing advert copy
Customer targeting
Bidding strategies
Increasing conversion rates (making more sales, sign ups…)
Tracking
Claiming your voucher

Your Microsoft adCenter voucher will have been sent to you in your welcome email. To claim your Google AdWords voucher simply go to your control panel and click on the 'Claim your FREE Special offers' link. This will take you to the page below: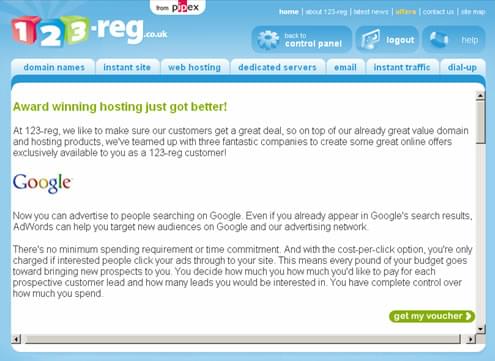 Click on the 'get my voucher' link and an email will be sent to you with your Google AdWords voucher.
Microsoft adCenter
Setting up your account
To sign up go to http://adcenter.microsoft.com, and you will be brought to this page: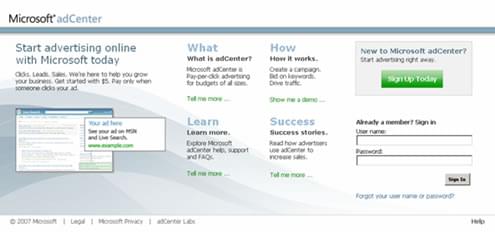 Click on 'Sign up today' and enter your contact information and communication preferences. You will also be asked to enter your business details.
If you do not run a business simply state your domain name in the 'Company/organization' field. Click 'next' at the bottom of the page.
You will then be asked to enter your billing information, and to enter your voucher code. Once you have done this, read the terms & conditions, and if you are happy with them, tick the box that specifies this, and click 'Submit'.
Your account is now active and we are ready to start advertising!
Google AdWords
Setting up your account
To sign up go to http://adwords.google.co.uk, and you will be brought to this page:
Click on 'Start now'
Unlike Microsoft adCenter, Google walks you through setting up your campaigns and adverts before asking for your account details.
The process of creating these campaigns is very similar to adCenter. We have provided a step by step beginners guide below for adCenter and we would recommend you follow that first. Once you have created your adCenter account you will be able to follow the Google process on your own more clearly.
If you want to create highly converting PPC campaigns, but without the hassle, give our PPC search engine management services a try to see how we can help you.