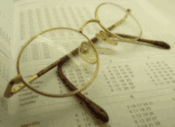 Eye tracking's been a trendy way of testing the usability of websites for a couple of years. It lets you see how people view a web page – where they look and for how long.
I've just stumbled across a great list of 'actionable lessons' from eye tracking studies. It's a set of 23 practical points that you can use to improve the design of your website.
Some of the ideas just seem like commonsense, but the list is a good summary of ways to make a website better. Have a read now.