Showcasing London's best SMEs
In January, 123-reg sponsored a number of awards in the inaugural dot London awards hosted in January. The awards which were set up by Dot London, the company responsible for the dot London domain name, showcased the very best of small businesses in London and further highlighting what a great city London is to start a business.
Twelve London-based businesses were awarded the prizes, with winners from a range of sectors including a vegan bakery, a pop-up cocktail den and a not-for-profit members club. The nominees were narrowed down by a distinguished panel of judges that included some of London's most successful businesses, such as LEON, Brompton Bikes and Made.com. The winners of the 12 categories were then decided by a public vote.
Sponsoring the awards was very important for 123-reg, and further highlights our commitment to helping small business grow both in the capital but also beyond. As part of our sponsorship, 123-reg will be offering mentoring to each of the category winners.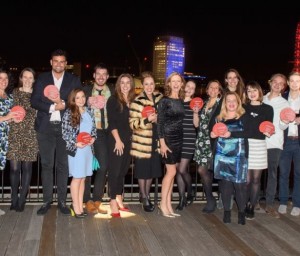 So who were they?
New Business of the Year: Wonderush
Wonderush aims to improve the lives of Londoner's, offering lifestyle subscriptions which handpick hundreds of things to do in London every day for a flat fee of £29 a month. Whether it is a salsa class or a comedy gig, subscribers can book as many activities as they like at no extra cost.
Young Entrepreneur of the Year: Julian Baladurage, MBJ Integrated Technologies
Julian Baladurage started MBJ in 2011 whilst studying at university. He began by offering consulting services to his peers at university, as well as social-media strategy advice to a few larger corporate clients. In 2012, he met his business partner Toni Horn, and together they branched into the design and development of digital products. Since then they have built a team of 25 highly skilled staff spread out over several countries.
As well as the winners in the categories that 123-reg sponsored, there was also a prize for the business that was best using the dot London domain name:
Dot Londoner of the Year: Yogarise
Yogarise is an independent yoga studio offering a stylish location with great sound system and relaxed atmosphere. Added to this, they run a whole range of core classes, donation-based classes and rooftop yoga summer pop-ups in Stratford and Peckham.
Emma Hitzelberger, co-founder of Yogarise, Peckham-based independent yoga studio and winner of the Dot Londoner of the Year award, said: "It's amazing to be recognised by Londoners, but specifically by the people of Peckham, our home, which has such a wonderful sense of community". Co-founder Sean Hitzelberger added: "We'd like to use the Dot London prize money to re-vamp our website. We're really not digital experts so this, and having the sponsors mentoring, will be an invaluable boost to our business."
123-reg would like to congratulate all winners of the London awards!