Spotlight on Startups: SecondSkin PPF
The Online Experts team at 123 Reg have the privilege and pleasure to take a sneak peek at many start-up business ventures and budding entrepreneurs. They get to help sculpt their online presence and join in with their passion and excitement.
Our account coordinators have selected their most inspiring business this month for our Spotlight on Startups series, where we give you an exclusive insight into what drives entrepreneurs to start their own ventures. We ask them to share their inspirations, tips for success and things they could have done differently.
The thought of starting your own business can be overwhelming, scary and often remain a pipe dream – however, for those who take the leap, it is also exciting, exhilarating and liberating to create and grow something that is truly your own.
This month we shine the spotlight on Simon Stevens, founder of SecondSkin PPF and long-time entrepreneur, to find out how his nerve and passion has stayed intact throughout his career, building a very successful business that channels his passion and skill in every project undertaken.
So Simon, please tell us a little bit about your background and what led you to found SecondSkin PPF?
"I have had a fairly extensive entrepreneurial background, having started several companies from scratch in the graphic design, magazine printing and marketing fields, then selling them on. After selling my last company in 2011, I worked in the City for a while and then decided to pursue something more akin to my passion for all things automotive.
"Having experienced (via my friend) the stress trying to sell cars to people, I decided this was not for me, but looked for something within the field that was in rapid growth mode.
"The paint protection film sector is the fastest growing area within the automotive industry currently and is projected to remain as such for the foreseeable future. More and more people are starting to understand the immense benefits of having this magical force field around their car, protecting it from stone chips and all of the elements"
Wow – it sounds like you have had a few ventures over the years, can you tell us about SecondSkin PPF?
"Initially, the brand emerged from and came out of setting-out my stall with a natural explanation as to what paint protection film does. It is, by definition, a "second skin" which sits invisibly over the top of a cars existing paintwork, protecting it from anything sinister such as stone chips, birds mess, bug splatter, acid rain, hail and/or anything that would normally damage and deteriorate a car's paintwork."
So you took the plunge with this one and its clearly found momentum – What is it like running your own business? Describe a typical day.
"Running my own business is a pleasure. Of course, like most things, it doesn't come without its challenges. The freedom it has given me from a young age, when I set up my first company, Symbian, at the age of 25 in 1996, has afforded me the time to be around for my children and to go on long holidays albeit at the cost of having a mobile telephone always by my side – much to my wife's displeasure!
"My typical day would start dependent on how much work I have in; the business is very much wrapped around my life – rather than it being the other way around. Essentially, it revolves around responding to 2 or 3 enquiries a day, either by telephone or email and then cracking on with cutting the patterns for the Ferrari, Aston Martin, Ford Focus RS or whatever the car happens to be in that day. Once the car has been fitted correctly, I go home! Sometimes that means 3 o'clock in the afternoon or 10 o'clock at night – but I'm comfortable either way as long as it doesn't interfere with my plans too much."
So no two days are the same for you – what do you love most about running your own business?
"I love having the flexibility to be around for my children and help my wife whenever I can without having to worry about excusing myself to a boss or manager. Obviously, working for yourself has some significant financial benefits too. Once your company has an element of traction, it enables you to earn at least as much, if not more than you would have done working for someone else.
"Fortunately, having built-up and sold several companies previously, the pressure is not so heavy as it once was, but I still feel the urge to work hard to pay for holidays and dare I say it, boys toys – i.e. sports cars and other expensive 'playthings'!"
It sounds like that lifestyle isn't without its fair share of hard work and graft, but results in a lot of freedom. Which entrepreneur/person has inspired you the most and why?
"Over the years, I have admired a number of people. Some of them high-profile, such as Lord Alan Sugar or Sir Richard Branson but, it's the people closest to me from whom I have gained the most inspiration – my friends that have driven me to do well.
"First and foremost has to be the mention of my old boss Mr David Balls, who was a pioneer in the magazine printing industry throughout the 1970s and 80s. If it wasn't for David who employed me at the tender age of 18, giving me a chance that no one else would, I have no doubt whatsoever that I would never have achieved anything close to where I am now.
"My old friend, Ian Baxter, has done exceptionally well too in the food and beverage industry and worked with me back in the late 1980's. He was my first experience of that real entrepreneurial, go-getter mentality. Ian and I were two peas in a pod back in those days when we worked in the property sector."
"My other very close friend, Paul Green, who has also been very successful in the materials handling industry, selling forklift trucks with his multimillion pound company Hiremech, has been one of my closest friends for the last 30 or so years and has probably pushed me beyond my 'real' ability in order to glean that extra bit of success.
"Not only has Paul been an inspiration but he has probably been one of the main influences and driving forces behind why I have pushed myself to succeed. I think a lot of any success I have enjoyed is down to the 'FOMO' factor (fear of missing out).
"When you are a young man and you see hungry, successful people (friends) around you, there is a testosterone-fuelled need to be up there alongside them, rather than looking up at them from the bottom. Money certainly isn't everything but money buys us choice and choice really is everything in my opinion."
That's quite a list of people you have gleaned inspiration and greatness from – something others can relate to. Your product sounds quite exclusive, who is the most high-profile client have you provided your services to?
"I recently worked on Martin Brundle's new Aston Martin DB11 which was in at Xpel's HQ when I was there working on another car, whilst my unit was being prepared."
With ever-changing products and inventions, what new technology do you anticipate will impact your business the most in the future?
"Currently there is no foreseeable technology which can overtake what we are doing, as it is such an evolving and constantly improving technology anyway. The self-healing properties of paint protection film is just astounding and continues to break new ground every year.
"Recently a friend of mine had his black Range Rover attacked by a vandal with a key. By the time we took the film off there was absolutely no damage whatsoever to the paint beneath. The armoured coat that this product creates for a car as it stands is unsurpassable with any new technology we know of."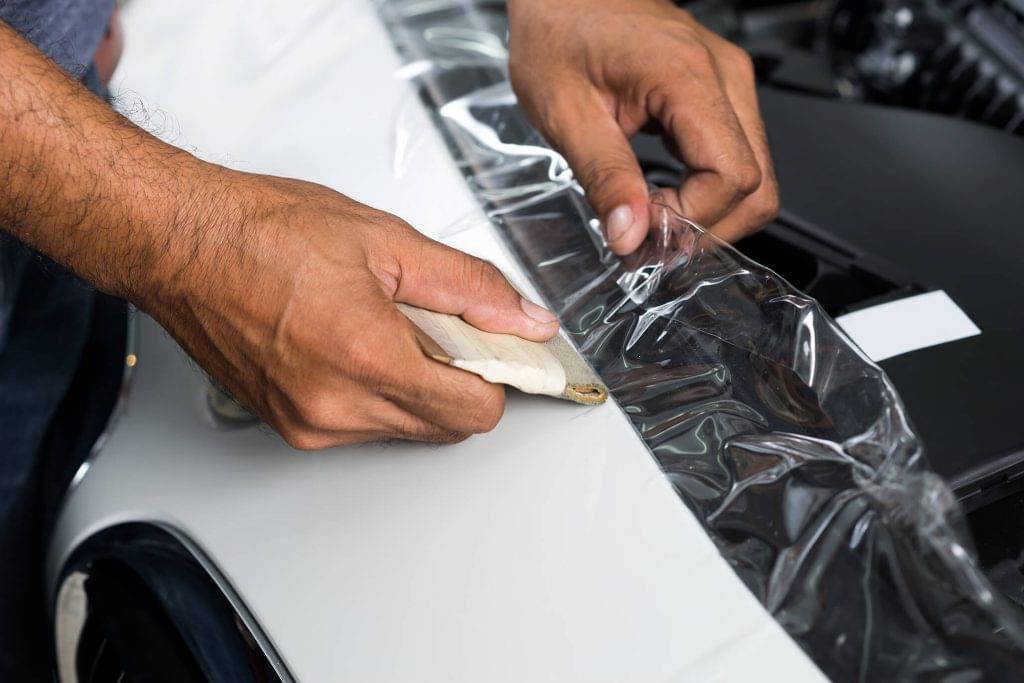 It seems like the future is looking bright – but what about the past? Looking back, is there anything you would have done differently?
"I think I should have worked even harder when I was younger, and like I try to tell both of my young children now, when you are young you have so much more energy and spare time than when you get older.
"This is the only real regret I have; not pushing myself that little bit more when I had the energy reserves of a younger man. At the age of almost 47 years old, I feel somewhat burned-out in comparison to those days, but am still quite driven to succeed."
That is quite an uplifting statement, what advice would you give to somebody thinking of starting their own business?
"The best advice I can give anyone who is thinking about going alone is not to hesitate. Just be respectfully mindful of the risks and don't be too gung-ho, because there really is a fine line between being too much of a gambler and not enough of a risk taker.
"Like so many other things in life, this is extremely important; moderation with risk is imperative. Try not to let funding and finances hamper your aspirations, there will always be a reason not do something, you have to have the ability to really believe you can absolutely succeed – just make sure that you buy into that."
We are nearly at the end of our interview, one final question please Simon, what are your future plans for SecondSkin PPF?
"Once the SSPPF brand has matured over the next 18 months to 2 year period, I plan on rolling this out as a franchise model to other people who want to learn the art of installing paint protection film, with the experience and infrastructure of a company that has all the right aspects of support behind them.
"Within five years' time I would expect that there will be between 35 to 40 franchisees around the UK and I am also looking at opening branches in Europe, having already inspected a unit on the Costa Del Sol where there are many sports cars – all of which need protection from the elements."
Look out for our next instalment of the Online Experts Spotlight on Startups series, where we will be talking to another exciting start-up business about their journey to success.