Iain Lee – The Magic of the Internet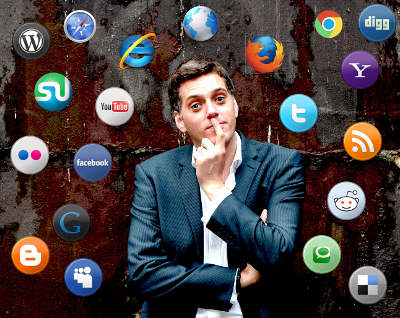 Want to hear my geeky news this month? I am downgrading my phone and I actually bought a Nokia 3410 to replace my iPhone 5. It's brilliant. It doesn't even have Bluetooth, but it does come with the Snake app preloaded.
Why am I taking this stand against technology? Well, I think I may be an internet addict and the only way to overcome this terrible illness is to not walk around with the entire WWW stored in my pocket. It's hard work, but I'm comforted by knowing I am not the only one. Internet addiction and the terrible downer that comes with going cold turkey is now a recognised condition. Don't believe me? Have a butchers at this –
Now, if that hasn't scared you off, let's get on with this shall we? Why the hell is the internet full of cats? Are they trying to tell us something? I have always thought they were of a far superior intellect than dogs, but it can't be our feline friends filling the web with cute pictures, can it? To be honest, even if cats were running the old http, I don't think they could have been insane enough to come up with Sports Balls Replaced By Cats. This has to be the work of their evil nemeses, dogs…
sportballsreplacedwithcats.tumblr.com/
Ooh, speaking of cruelty (although, before the Daily Mail jumps on me again, none of the sites I write about are actually cruel, what do you take me for? No, the cruel ones are just stored under my favourites in my web browser) here is a brilliant tumblr page for those of you with kids. Only a parent would get the sheer beauty of Reasons My Son Is Crying.
www.reasonsmysoniscrying.tumblr.com/
How can I explain One Tiny Hand? Er, it's pictures of famous people, Spiderman, the cast of Mad Men etc., with, well, one tiny hand.
My dad passed away recently and I miss him every day. I really do. I have so much I want to say. If only there was a way to get messages to our deceased relatives, wouldn't that be wonderful and completely non-exploitative. Sorry? There is? A company are delivering telegrams to the dead? Well that is fantastic. How much does it cost? $5 a word…hmm…a bit pricey, but if it works, why not?
Described as 'flotsam and jetsam from around the world' The Urbanaut is just that – a collection of nonsense, rubbish and stupidity from the 4 corners of the globe. And all of it is very, very funny.
I had literally hundreds of emails this month* from people complaining that I don't represent the cloud lovers of the world on this page. I am sorry, and I promise to rectify that in the next link of this article.
www.cloudappreciationsociety.org
If you are under the age of 35, well then you disgust me. No, hang on. Not disgust. Arouse me, that's it. Anyway, you probably don't know what a ZX81 is. Shame on you. Forget all of you kids pretending you don't like Margaret Thatcher when you can't name one thing she did (she invented Mr.Whippy style ice cream – FACT…. ish) you should be reading up on your computer history. The ZX81 was one of the first ever home computers, and even in its day (1981) it was considered pretty pony. Have a look why.
I may know a lot, but I know very little about glue. Gluing fabric to glass? Is that even possible? Why would anyone want to do it? If they HAD to do it for some deviant reason, how would they know which glue to use? They would go here, of course –
Finally this month I have a rare treat for you – Tom Selleck, waterfalls and of course, sandwiches. Enjoy!
www.selleckwaterfallsandwich.tumblr.com
*I had literally no emails regarding my under representation of clouds.
 . . . . . . . . . . . . . . . . . . . . . . . . . . . . . . . . . . . . . . . . . . . . . . . . .
That's it for now. Do please keep sending me your websites. I don't have a proper job so I need something to keep me off the streets. Pop along to www.facebook.com/iainleeofficial
You can read Iain Lee's very own take on the internet here on the 123-reg blog every last Friday of the month.
A familiar face on television since he got his first break landing the job hosting Channel 4's thrice weekly topical comedy show the 11 O'Clock Show at the age of 25, Iain is also an award winning radio presenter, top podcast creator and a genuinely funny guy with an eye for the bizarre.