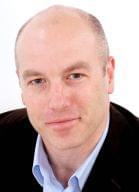 Web analytics. Sounds dull, but it can show you exactly what people are doing on your website. It helps you make improvements – if you're running a business, it can even boost your bottom line.
However, it is a subject that can be difficult to get to grips with. So we asked Brian Clifton, Google's Head of Analytics for Europe, the Middle East and Africa, to explain things.
What is web analytics?
"A lot of people are mystified by what web analytics is," says Brian. "It sounds like a complicated term, and that's a bit off-putting."
"Web analytics is a tool for measuring the success – or not – of your website. It's like a thermometer, where you're measuring the health of your website or online business."
In essence, web analytics lets you understand how people use your website. It's particularly important if you run a company; as Brian says, "it can translate directly into money for a business."
He explains that a web analytics package can show you all kinds of useful information, including "the visitor acquisition phase. Clearly it's important to know where your visitors come from."
"But also," he explains, "you can see what those visitors do on your website. Is it a strong engagement, or is it frustrating for those visitors?"
You can use analytics to track sales from your site, and find out if people are doing the things you want them to.
"How many conversions do you get," says Brian, "and where do those conversions originate from? Was it an AdWords campaign, or an email marketing campaign?"
He continues: "If your website is worth anything at all, then clearly you need to measure the success of that and how to improve it."
Using the data
Web analytics packages can give you a good overview of your site. "Knowing the volume of traffic coming in on a daily basis is clearly an important, high-level metric," says Brian.
You can also home in on some key measures of success. "In any web analytics package," continues Brian, "there's a lot of data. To prevent yourself from being overwhelmed, look at defining goals for your website. Then, instead of looking at every single piece of data, you actually focus on the top reports."
An obvious goal of many websites is to get people to buy something. "But what," asks Brian, "about all those people who didn't purchase? Are you going to disregard them? Or can you measure how close those people came to converting?"
Google Analytics
Google Analytics is Google's own, imaginatively-titled analytics package. It's free to use. The catch is that you have to delve into your website's code to get it work. For a small fee, 123-reg customers can exclusively use Google Analytics Automation to add it to their sites with one click.
Given the cost, it's hardly surprising that take-up has been rapid. As Brian says, "it's free – that makes it very accessible."
It's a great example of the freemium model in action. Google, of course, gets something out of it: it helps the company promote its advertising service. People who buy advertising with the company can see exactly how their adverts are performing.
"For us," says Brian, "clearly it's good for business that we have happy existing advertisers, but we also want to build confidence in new advertisers. Hopefully they'll buy some of that advertising from us."
New features
Brian is reluctant to talk about future plans for the service. But he did highlight a couple of features which recently went public.
The first is Site Search. If your website has a search option, it will show you what people are looking for. "Basically," says Brian, "you're getting market intelligence from your customers as to what they want to see on your website."
The second innovation allows the tracking of events within pages. On many websites these days, people will interact with a single page. For instance, you might pan around or zoom in on a map.
"Traditionally," says Brian, "that's quite difficult to track. But with Google Analytics, you can track all those pan arounds, zoom ins, zoom outs, drag-and-drop type actions."
More information
If you're interested in using Google Analytics, check out our Google Analytics Automation service. This lets you start tracking activity on your site with just one click.
You can also get more information about Google Analytics from Google's website.