Interview: Inspiring social change with 'Uplifting Gifting'
In June 2013, Nominet Trust, the corporate foundation of Nominet (the .co.uk registry), launched their search for The Nominet Trust 100 – a collective of the 100 most inspiring social technology innovations from around the world. The initiative, a commitment to celebrating and supporting the best use of digital technology for social good, has been supported by 123-reg and we are proud to showcase timto.co.uk, who has been nominated in the prestigious list of socially inspiring innovations.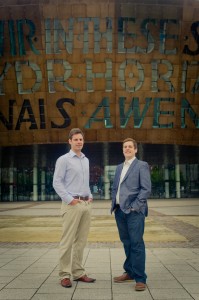 timto.co.uk is without doubt one of the major social initiative success stories, an initiative that 123-reg are proud to be supporting in whatever way needed. The award winning 'Uplifting Gifting' service, launched in 2010 by brothers Luke and Nathan Cornish delivers a unique B2B group gifting ecommerce platform. The gifting service enables friends to chip-in to an online gift fund and buy presents for someone celebrating a special occasion, whilst donating a percentage of the fund to charity.
Since its launch, the platform has received recognition from NESTA and the UK Cabinet Office as well as being named as the 'most promising fundraising platform' by UK Fundraising. In June of this year timto.co.uk attended the DNA summit, where the 'Uplifting Gifting' service was awarded the prestigious DNA Profit with Purpose Prize in collaboration with Bridges Ventures and the UN Office for Partnerships.
123-reg had the opportunity to catch up with Nathan Cornish, co-founder of timto.co.uk, to learn the importance of the Nominet Trust 100 nomination, how the platform works as well as what's ahead for the company.
For any social initiative, being nominated for such an award (Nominet Trust 100) is an extremely powerful message because the award showcases leading pioneers from around the globe, something that Cornish and his team are honoured to be part of: 'We are really proud to  have been recognised by the public and put forward for the Nominet Trust 100. The nomination has and will continue to be significant for our company. To be recognised amongst some of the leading innovators throughout the UK and across the world will be immensely valuable to us,' Cornish stated.
'Our ambition is to make it easy and fun for people to donate to charities when they celebrate a special occasion. So for example, if Sophie is celebrating her 40th birthday and her friends chip in a total of £100 to her gift fund. Using our platform, Sophie can decide to give a percentage of this to a charity of her choice – which means she is able spend £80 on a Kindle and donate £20 to Macmillan Cancer Support.'
For this to work, the social entrepreneurs need a service that is both reliable and easy to use, something that 123-reg has responded to. '123-reg is always the first stop for us as a business; we find it incredibly easy to use and to manage on an on-going basis. Most importantly, 123-reg has provided us with a reliable service which has been invaluable to the growth of our organisation. Because of this, 123-reg has helped empower us to raise money for the charities we work with and help them fundraise in the digital age.'
So what does the future hold and how will the company address big social challenges? Simply, it is very bright for Cornish and his team and without doubt the Nominet Trust 100 nomination will provide a great platform moving forward. 'As a company we aim to make it normal for digital businesses to add value to society and integrate doing good into the core of their businesses. By 2015, we aim to have raised more than £3million for charities and to make incorporating giving into gifting occasions the social norm,' Cornish summarised.
The Nominet Trust brings together, invests in and supports people to develop robust ventures that can demonstrate the potential of digital technology for social good. At 123-reg, we aim to support the ambitions of timto.co.uk, to help them affect significant social change.  The final Nominet Trust 100 list will be published early November.