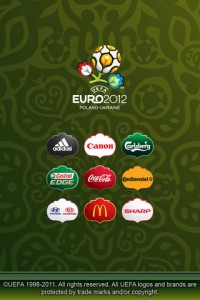 Tonight England takes on Sweden in their second game of Euro 2012, hoping for their first win in the competition. With iTunes applications there is now no reason you should miss any of this intriguing matchup, nor any of the rest of the tournament.
We all know that the mobile phone app industry has boomed in the past four years. There is a lot more to the competition than just watching the games live. Whoever you are supporting in the tournament, these five great i-Tunes applications will keep you up to date with all the happenings during the tournament.
Whether you have iPhone, iPad or an iPod touch device you need never be away from the action. With Euro 2012 in full swing, 123-reg brings you what we feel are the five best iTunes mobile phone apps for the tournament.
UEFA 2012 App
The official app from UEFA keeps you at the heart of the action from Europe's elite competition in Poland and Ukraine. The app allows you to stay tuned to the tournament from the comfort of youir device allowing you too share the tournament with your friends and family.
To download the app click here
Euro 2012 Soccer Stats Zone
This free Euro 2012 application allows you to view, discuss and debate all the stats from the competition, from the useful to the useless. If you want to settle an argument on the possession stats in a certain game or simply want to know the pass completion record of your favourite player, this is the app for you. Simply download the app here and enjoy having commentators stats at your fingertips.
Euro Finals From Betfair
The iPhone and iPod touch app offers you the best betting experience for the Euro 2012 finals. Download the easy to use application to discover up to the minute betting odds.
*123-reg encourages responsible gambling and with that we offer no advice on any form of gambling. This is simply a guide to iPhone applications.
Live Score Euro 2012
This comprehensive app gives users a comprehensive list of everything Euro 2012! Get all the latest news from the finals including all the latest team news, injury tables as well as a guide to all of the Stadiums across Poland and Ukraine. Want the app? Simply click here.
Football Attack Euro 2012
This fun Euro 2012 application puts you in the place of Paul the Octopus or the Physic Pig. The app allows you to predict results of the Euro 2012 finals. This great app also lets you compete against your friends and family via Facebook. To download the app click here.
What do you think of our list? Do you have a great application not featured on this list? Make sure you follow us on Twitter and leave your opinions!