7 ways our Digital Marketing Suite can help you succeed online
You've bought a domain name, you've created a website and you might think that's all you need.  
But as well as providing what you need to get a business online, 123 Reg also offers the tools you need to promote your site to potential customers.  
That's where our Digital Marketing Suite comes in. Here's how it can help you succeed online. 
1 By tracking your search engine rankings
You probably already know that search engine optimisation (SEO) is a vital part of digital marketing. You might even have done some SEO work.  
But if you're not tracking your search engine rankings, you'll never know if your work is paying off. 
Our Digital Marketing Suite includes rank tracking, so you can tell at a glance if your efforts are paying off.
Looking for an SEO guide, check out these simple SEO tips for beginners. 
2 By finding the keywords your customers use
Keywords are another hugely important part of SEO. If you don't know what keywords your target customers are using, you won't know which keywords you should include on your website. 
With our Digital Marketing Suite, you'll be able to see the keywords you should be targeting, making it easier to add them to you site. 
By targeting the right keywords, you'll increase your chances of ranking for the search terms your potential customers are using. (And, of course, you'll be able to track your rankings with the tool.) 
Learn more about website keywords here.
3 By getting step-by-step tips on how to improve your SEO
If you're just starting out, SEO can feel very confusing. That's why the 123 Reg Digital Marketing Suite provides you with step-by-step tips on how to improve your website's SEO and increase the chances of it ranking well in Google and other search engines. 
4 By creating better Google Ads
SEO isn't the only way to get to the top of Google rankings, paid advertising can do it for you too. 
You've probably already spotted ads at the top of Google's search results. If not, here's an example.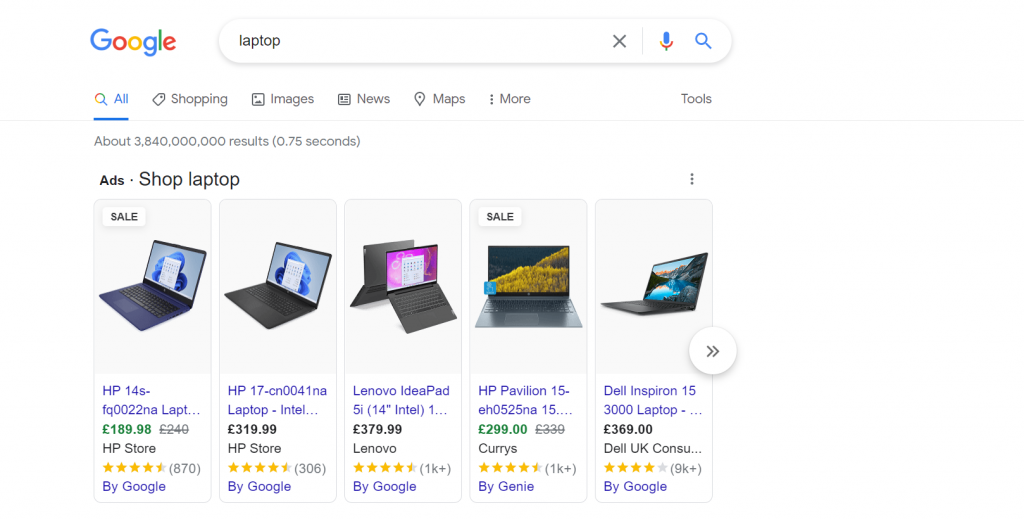 Google Ads can be a great way to promote your business, but it can also be confusing for a beginner.  
Our ad builder tool helps you create better ads by providing suggestions based on your site and other ads in its database. 
The tool also lets you see how your ads are performing and you can pause or edit your ads at any time.   
5 By helping local customers find your business
Ever used a search term like "coffee near me" and wondered how businesses get included in the map result that appears at the top of search results? 
Or have you ever used Google Maps to navigate somewhere and wondered how businesses show up on that? 
The answer is local SEO. In many ways, local SEO is similar to "normal" SEO, but there are some important differences. 
Chief among these differences is that fact that if you want to rank well in local search results on Google, you need to set up a Google My Business page.  
Our Digital Marketing Suite can help you do this. Plus, you'll be able to add your business to other relevant online local business directories  
6 By keeping track of your reviews
Online reviews are an important part of your business's reputation and if you're not keeping track of them, you're missing out on opportunities to connect with happy customers and learn from the feedback of unhappy customers. 
With Digital Marketing Suite, you'll be able to monitor and respond to reviews from one central location, meaning you'll get an overview of what your customers think. 
7 By learning what your competitors are up to
Keeping an eye on your competitors will help you understand where you're winning and where you might be lagging behind. 
Digital Marketing Suite will help you keep an eye on your rivals' search engine rankings and their social media posts, so you'll know if there's anything new you should be trying to reach customers. 
Summing up
If your website needs a marketing boost, then our Digital Marketing Suite could give you the helping hand you need. 
It's packed full of useful tools that both demystify online marketing and make it easier to get things done. You can get our Full Marketing Suite for £25 a month (excluding VAT).