60 Days 'til Christmas: Get Business Ready for the Festive Season
As the calendar inches closer to December, businesses brace for the most hectic time of the year: the festive season. 'Tis the time for gift-giving, carol-singing and — for online companies — Christmas offers a golden opportunity for shining brighter than the major rivals. With this in mind, let's unwrap a few festive tips for getting the most out of the build up to Christmas this year.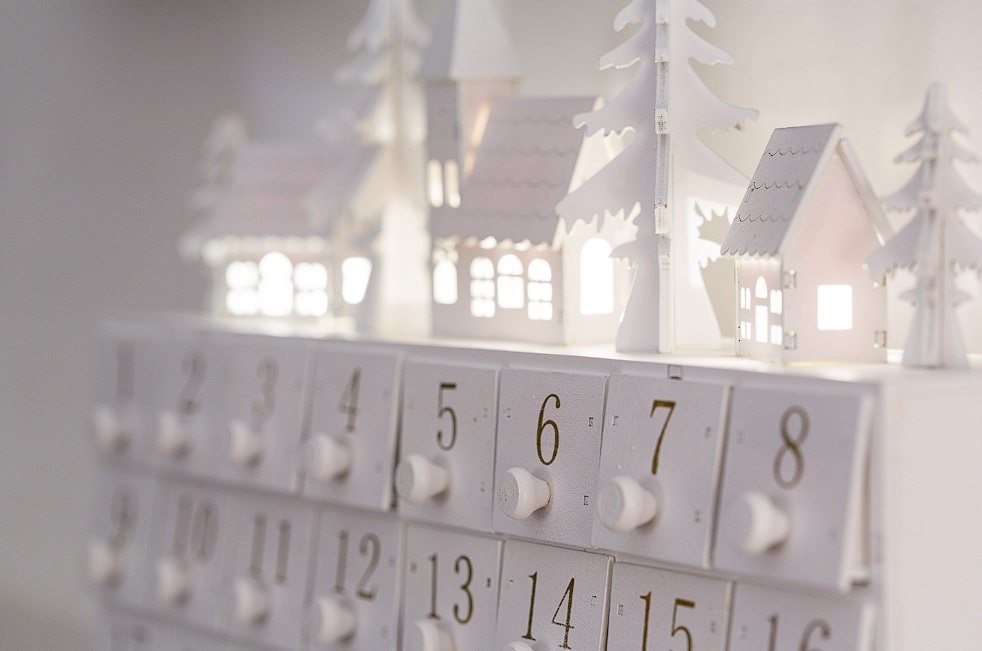 Christmas Comes Early
Santa seems to show up just that little bit earlier each and every year. Once a mere three-or-four week window of December, the Christmas shop is now a multi-month affair.
One reason for this has been the rise of so-called "Mega Sale Days". In the US, Black Friday and Cyber Weekend kickstart a shopping frenzy on the Friday and Monday after Thanksgiving. Black Friday has gained a lot of headway on this side of the pond now, too, and particularly when it comes to online retail.
The dying embers of Guy Fawkes Night might be an even earlier cue for the Christmas countdown in the UK. We're certainly eager to get a head start when it comes to finding our ideal gifts. According to Statista's 2022 UK Christmas Shopping data, over half of UK adults said they would begin their Christmas shop before the 1st of December, while 16% said they would be done by that date already.
❝40% of British consumers now begin their Christmas shopping in October❞
Many of us start even earlier. Retail sales for October have grown every year since 2017, while RCS UK data suggests that 40% of British consumers now begin their Christmas shopping in October — long before the Halloween pumpkins have been rolled away.
And the slice for online shopping only keeps growing: £30 billion in online Christmas sales last year compared to £52 billion in bricks and mortar.
Scrooge
The cost of living crisis is likely to pinch this Christmas. Don't let that dampen your spirits, but do consider it in your sales and marketing strategy.
Last December, 79% of consumers said they aimed to buy fewer gifts, while 73% stated they were searching for cheaper alternatives. This year, 45% of UK adults have said they plan to cut their holiday spending, according to The Retail Times. That amounts to about £13 billion in total. 26% of respondents to the same survey said they'll set aside less than £300 for all Christmas spending this year.
While it's true the high-end luxury market tends to remain unaffected, inflation is high and most will be hunting for value. It might be a good strategy to put more bang-for-buck in the Christmas cracker.
Making the Christmas List
Begin by setting your goals and defining what you aim to achieve during this festive period. Whether that's increasing sales, generating leads, growing a customer base, or boosting brand awareness on the whole. Set the objectives to guide your entire Christmas plan.
Keep an eye on Black Friday on November 24th. No longer just an American thing, this day kickstarts the unofficial festive shopping frenzy across much of the world. It can be a good barometer for the upcoming December trends, plus a smart time to offer vouchers and deals valid to the end of the year and beyond.
❝Black Friday can be a good barometer for upcoming December trends, plus a smart time to offer vouchers and deals valid to the end of the year and beyond.❞
It's not just about keeping up with the holiday rush: this is a great opportunity to build a strategy for long-term customer loyalty and a steady revenue stream year-round.
✓ Establish a roadmap. Early planning and scheduling of core promotions can be a lifesaver during the busy holiday season. This empowers you to free up more of your time without causing any disruption or delay to your core activities.
✓ Create Your Content Calendar. Plan your holiday-themed content, blog posts, and social media updates. This will help you stay organised and ensure a consistent and festive online presence that captivates your audience.
✓ Do your research. Take a peek at what your competitors were doing last year. Analysing their strategies can provide valuable insights and inspiration. You might also wish to take a look at analytics within your online channels, such as Google Analytics.
✓ Money Matters. Prepare a budget that covers all your Christmas expenses, including marketing, additional staff, and stocking up on inventory. Allocate resources wisely to make the most of your festive campaigns.
✓ Work out your product and inventory strategy. Make sure you have the right products in stock to meet the holiday demand. Identify popular seasonal items and ensure you're well-stocked to meet consumer demand.
✓ Reflect on last year. What worked well? What could have been better? Learning from your own past experiences (a little 'elf examination) will help you build to success this time around.
Christmas Branding
A festive branding makeover is more than slapping on a few snowflakes. It's snow joke: your website needs to breathe the holiday spirit, from product images right down to the copy of product descriptions and promotions. This all works to put customers in the festive mood and shows that your business is current, attentive, ready for business — and ready for Christmas.
If you're looking for a quick and easy way of creating a professional website, there's no better place to start than with our Website Builder. You'll easily find the themes to spruce up this Christmas.
✓ Think of creative ways to stand out. Get creative with a welcoming theme with festive spirit. Infuse your website with the warmth and magic of the season through captivating visuals, cheerful colours, and eye-catching graphics.
✓ Showcase your top-selling Christmas products and the best holiday gifts prominently on your website. Tailor your website's language to reflect the generosity and spirit of the season, bringing a touch of Christmas magic.
✓ Highlight special deals and limited-time offers to entice shoppers looking for ideal presents for friends and family.
✓ Make use of sales pop-ups and banners. Pop-ups on your website may see better conversion when they're strategically delayed — it may be best to give readers the opportunity to view content before hitting them with an offer.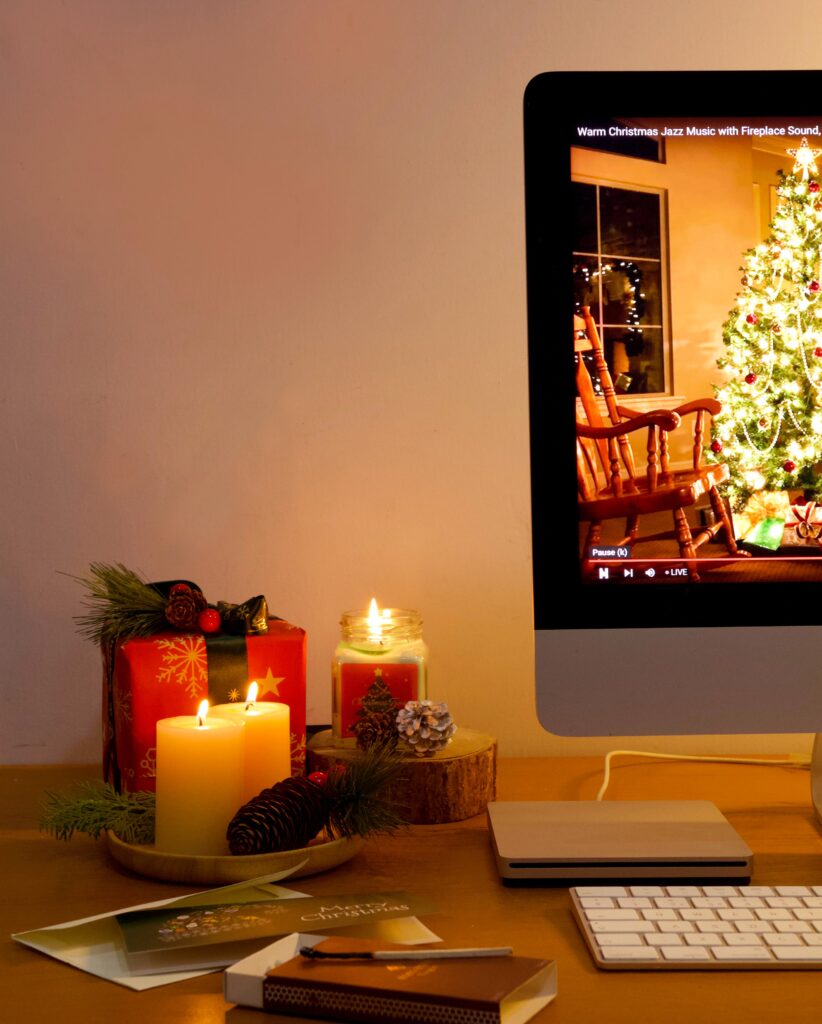 Mobile Merriment
Christmas Day brings a surge in online shopping, with more people using their smartphones and tablets to find the perfect gifts and festive essentials. You may be surprised to learn that the busiest day of the year for online shopping is December 25th — shoppers use their mobile phones more on Christmas Day than at any other time throughout the year. In fact, 77% of UK shoppers prefer to use their mobile device to purchase Christmas gifts.
Mobile readiness is a must for online businesses during the shopping rush. Getting things right for Christmas ought to help for a smooth and enjoyable shopping experience (UX) all year round.
Simplify the checkout process and offer fast mobile payment options. Be sure to speed up your website by making it load faster — 47% of us expect a site to load in two seconds or less, while 40% of us bounce if it takes more than three seconds to load. Create easy-to-navigate content for smaller screens (that is, "Responsive Design"). Luckily, with Website Builder by 123 Reg and good CMS like WordPress, making mobile and tablet-friendly sites is like a piece of Christmas cake.
Finally, ensure mobile security for safe transactions by investing in an SSL Certificate, bringing full encryption (and that little padlock icon as a badge of safety). As we near 2024, customers expect no less.
Social Media
Christmas is all about giving. For businesses, social media is your best friend during the holiday countdown. By the time Christmas rolls around, your social media ought to be a hub of holiday spirit, engagement, and brand awareness.
✓ Start early. Creating a buzz with festive posts and sneak peeks of your holiday products. It's all about getting people talking about your brand.
✓ Use multiple platforms. Spread the cheer across all your social media channels. Instagram for eye-catching photos, Twitter for quick updates, Facebook for detailed posts, and TikTok for the younger demographics. Each platform has its own vibe. Build customer engagement and reach different parts of your audience.
✓ Interact. Reply to those comments, ask questions, and get involved in conversations. It shows that your business is active, friendly, and ready to celebrate the season with your customers.
✓ Share the love. Encourage your customers to post their own photos of your products and tag your business. It's authentic, builds community, and gives you great content to share on your own channels.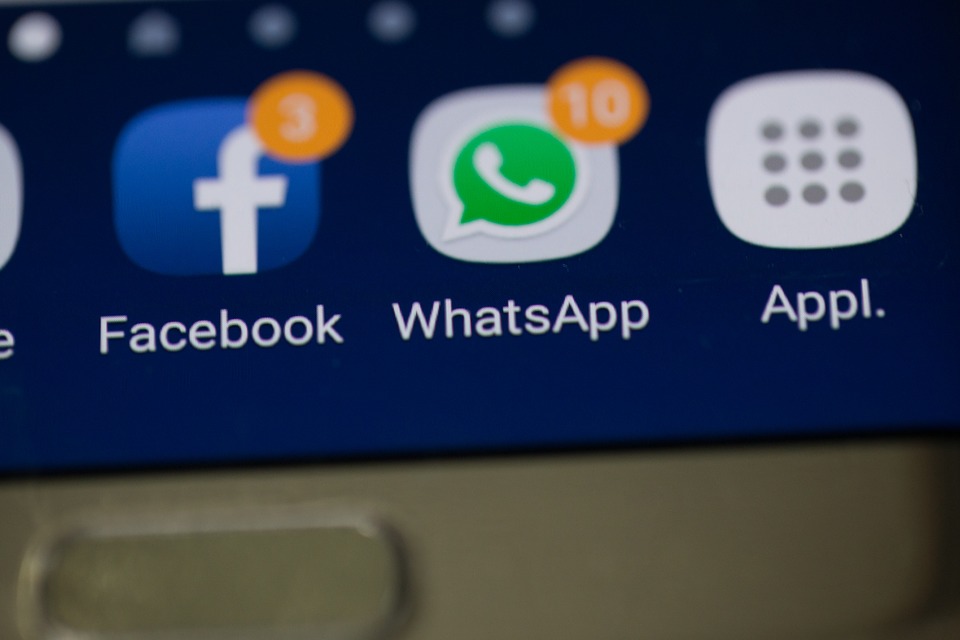 Christmas Goodies
You may not be able to offer Christmas stockings, but you can certainly offer incentives with bundles and other exciting offers to spread the joy.
Here are some easy ways to entice your customers during Christmas:
✓ Everyone loves a good bargain. Offer buy-one-get-one-free promotions on select items, making it hard for shoppers to resist.
✓ Christmas Giveaway: Make spirits bright by running a Christmas giveaway. Encourage customers to participate and offer a chance to win exciting prizes.
✓ Run a Competition: Get everyone into the holiday spirit with a fun competition. You could create a 'Where's Santa?' game or any other festive challenge.
✓ Offer Gift Cards/Vouchers: For those who are hard to shop for, provide gift cards or vouchers. It's a great way to let recipients choose their perfect Christmas present.
✓ Free Shipping: Take the stress out of Christmas shopping by offering free shipping. It's a gift that everyone appreciates during the holiday rush.
Launch Your Christmas Email Campaign
Like a digital advent calendar, start a Christmas email campaign in the lead-up to the holiday season. This will serve as a reminder for customers about your business during this busy time, making it more likely they'll shop with you.
✓ Share special offers and discounts, and exciting Christmas products through emails, making your customers feel like they're getting exclusive gifts from you.This helps build a connection with your customers.
✓ Lead Magnets attract potential customers by offering exclusive holiday content, early access to seasonal sales, or festive tips and tricks.
✓ Use customer data to tailor your email marketing, recommending products based on their previous purchases and browsing history.
✓ Engage. This not only builds your email list but also enhances customer engagement, spreading holiday cheer and boosting sales during the festive season.
Sleighing Amazon
Going head-to-head with giants like Amazon might seem daunting. But your small online business has some unique strengths during the Christmas season. It brings a wintery opportunity to outperform the bigger, frostier competitors.
✓ Added Christmas Touch. Focus on little Christmas touches that big retailers can't possibly match. Thoughtful gestures create a memorable unboxing experience, forming an emotional connection with your customers.
✓ Personalise it. Personalising your business approach can make such a big difference at Christmas. Personal touches make shopping with you special. Consider including handwritten thank-you notes. Recommend products just for them, or a select few, rather than a blanket message to everybody. These small steps bring smiles and help build a bond between you and your customers. Happy customers are more likely to come back and spread the word.
✓ Localise it. Host events, sponsor local festivities, or collaborate with other small businesses to create a sense of camaraderie and support. This not only strengthens your brand's presence but also fosters customer loyalty.
✓ After-Sales Service. Provide peace of mind by extending product warranties beyond the standard period. If you can't extend it, just make it better. Offer top-notch after-sales service shows customers that you stand by your products and care about their post-purchase experience. And, a personal touch goes a long way.
✓ Loyalty Programs. Introduce a loyalty program that rewards repeat customers. Providing points for purchases, exclusive discounts, or early access to sales can incentivize customers to choose your business for their holiday shopping.
It's beginning to look a lot like Christmas ♬
This winter's "Super Sunday" — coming on the eve of Christmas Eve — is tipped to be the busiest in-store shopping day of the year. Make a final drive by offering special last-minute deals. Think discounts and bundled gifts to attract shoppers who are running out of time to buy presents, for instance.
In the days leading up to the big day, ease customers' worries about gift arrivals offer guaranteed shipping options with clear deadlines. Make sure your customers know when they must order to get their gifts in time for Christmas.
Update your website's messaging on Christmas Eve to build the excitement and again on the big day itself. Merry Christmas, one and all! As we mentioned earlier, Christmas Day is the busiest day of the year for online shopping — with most of that done via mobile and tablet (better to do it by phone when you're too stuffed full of turkey, after all). Shoppers will also be eager to use their vouchers.
Boxing Day and Beyond
Reflect on the year gone by and set business goals for the year ahead. It's the perfect time to plan how you'll make your business even better in the coming year. Come up with a New Year's Resolution for your business and publish it on your website or in your email campaign.
If you're shutting up shop for the holidays, plan your holiday closure well. Let your customers know when you'll be available and when you won't. Don't forget to set up your out-of-office email response before taking a holiday break.
Show your appreciation to your hardworking employees. A simple thank-you note or a small gift as a gesture of appreciation can boost their spirits. An awesome party would be even better.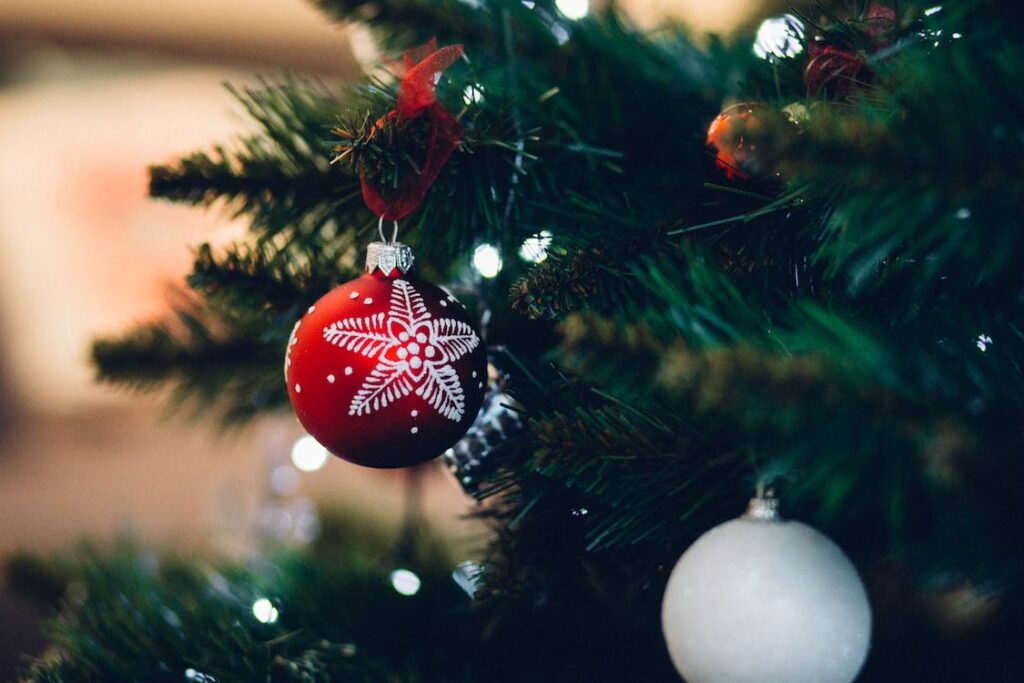 Christmas Wrapping
With just 60 days to Christmas, it's time to get your marketing strategy on top of the tree. Give your brand a festive makeover, using festive visuals and engaging stories across your website and social media. Make the most of social media and email to share your holiday spirit, offers, and discounts.
The holiday season is a great time for giving back. Consider hosting events to connect with customers and team up with local businesses for special deals. Think about adding a charitable aspect to your campaign to make a positive impact. It all works to build community presence and extend reach.
Being prepared makes all the difference. For businesses, the message is clear: it's never too soon to start dreaming about Christmas. Stay true to your brand, let the festive spirit shine, and you'll be all set.