How can my small business get found on Google?
Build it and they will come, right? Anyone who owns a website knows that's rarely the case. Every day millions of people run searches on Google to find businesses just like yours. So what can you do to ensure that your website will be found by potential customers?
It's not easy. We use Google to search for everything from tasty banana bread recipes to the trustworthy mechanic nearest to us. So if you want your small business website to show up in the search results as the solution for your audience's needs, then you'll want to do everything you can to get listed at the top of Google's search results.
In this post we'll walk you through the key things you can do to help get your business found on Google.
Paid search
Paid search is one of the most effective and quickest ways to get your business at the top of the search results. In fact, the top three paid ad spots on Google results get 41% of the clicks on the page.
If you're not familiar with pay-per-click advertising (PPC), it refers to paying for traffic via advertising programs like Google AdWords. This enables you to display ads in the search results within the sponsored results section, above the organic results.
Here is how ads look in Google's search results: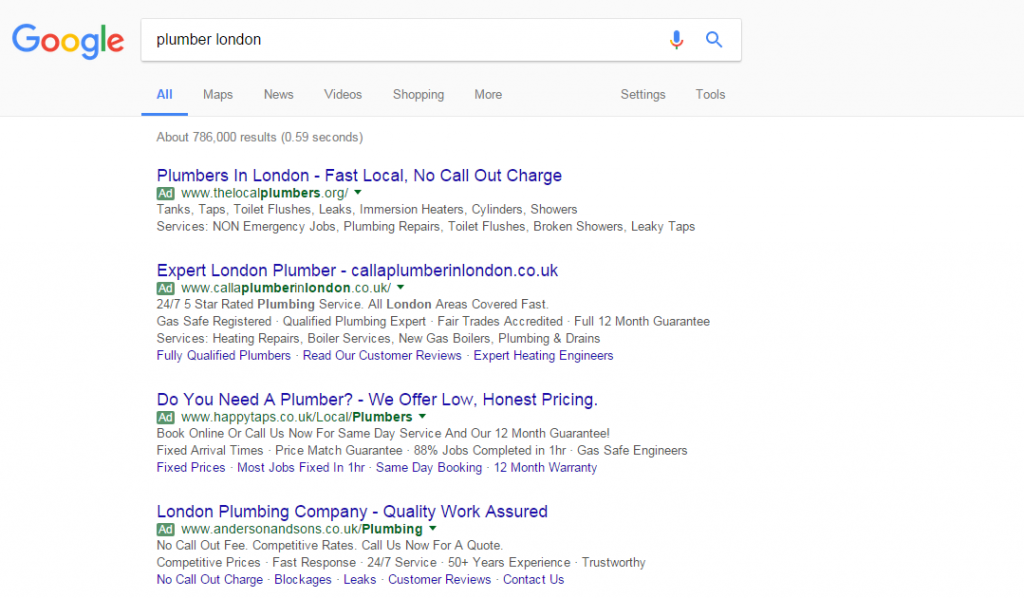 Setting up a PPC campaign involves bidding for ad placement in a search engine's sponsored results. So when potential customers search for keywords related to your business, your ad pops up. If that person chooses to click your ad, you will pay the search engine a fee.
But why should you try PPC?
It's predictable. The more you spend, the more visitors you get.
You get results quickly. Unlike search engine optimisation (SEO) or other marketing strategies which can take months to produce results, with PPC you can lots of visitors to your website in hours. Here's how one 123-reg customers used PPC to ensure her website was appearing in prominent positions when potential customers search Google for terms relevant to her business.
Algorithm updates don't affect your PPC. While Google does suspend AdWords accounts on occasion, with PPC you're much less likely to experience major flux or drop-offs in rankings and traffics due to changes in Google's algorithm.
If you're looking to give PPC a try, our guides can help you to get started with your first campaigns:
Does your small business need a pay-per-click service?
Getting started with AdWords: Creating a campaign that works  
Or you can check out our free Online Business Training course on getting started with PPC ads.
Now, if you're new to the scene, PPC can get confusing. On top of that, ads can get expensive, especially if you're targeting the wrong keywords. So if you don't want to do it yourself consider having an expert manage your PPC campaign for you to ensure you get the best results.
Organic search
While PPC is often used to yield immediate results, SEO is the seed that you plant, water and nurture to grow your business over time. In other words, SEO refers to specific actions you take within your site to naturally increase your visibility and rankings in the organic search results.
While this takes time and effort before you see solid results, it's one of the keystones of successful online marketing. Here are some reasons why your small business should consider investing in organic SEO:
It works. As long as you're focusing on providing a great user experience while performing effective SEO strategies, you are sure to be rewarded with higher rankings and organic traffic.
It's cost-effective. Compared to the costs associated with PPC advertising or social media marketing, SEO provides fairly good return on investment. Also, while PPC may drive more traffic a lot quicker, your organic SEO remains the bedrock of your online presence.
Most people are searching for products and services online to see their options and to learn more about them prior to making a purchase. You want them to be able to locate your business, correct? Without proper organic SEO, your prospects will have a hard time finding you, but will instead find your competitors.
Don't worry if you haven't the slightest idea where to begin. We have a comprehensive selection of beginner's guides that will set you on the right track.
SEO tips that will work for your small business in 2016 and beyond
7 simple yet vital SEO first steps for a new website
A beginner's guide to SEO competitor analysis
A beginner's guide to SEO tools (and what to use them for)
We also have a free Online Business Training course covering the basics of SEO.
Google Maps
If you've ever searched for a local business on Google, you'll have seen results like these: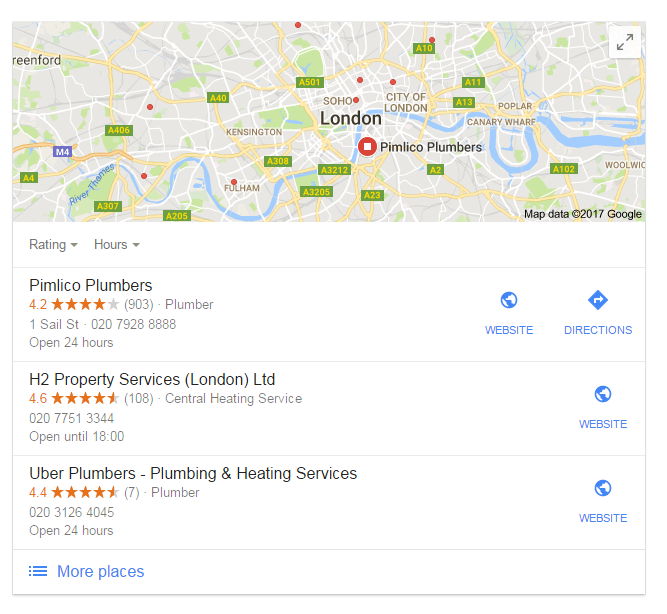 There's a huge advantage to appearing in Google Maps. So if you want to stand a chance of showing up in this manner, you need to register for Google My Business. This service can help improve the way you manage your public image and it can also make it easier for prospects to find you online.
Think about it. Most people do their research online prior to popping into your store and purchasing a product. They will most likely want to find out where you're located, what you have to offer and what others think about your business. By signing up for Google My Business you can reach your customers the right way and be visible in the places they tend to search through.
Also, the more information you provide on your Google My Business profile, the more likely it will be that someone interested in your offer comes across your name. So make sure to add your phone number, physical address, website, opening hours and a picture. That way Google and potential customers will know exactly what your business is about.
For example, if you're a plumber or a hairstylist, make sure to provide a physical address that customers can visit. Then when people search on Google for a business like yours, you'll get a pin like the one in the example above. If you deliver goods remotely, like software, Google will display your service area. If you have a store and deliver, then Google maps will reflect this as well.
Need more help? Check out our short tutorial on how to get started with local search and Google My Business (formerly known as Google Places for Business).
Local search
If you're like most small businesses, your success is dependent on attracting local customers. While it's great to see that you're getting traffic from visitors from around the country or maybe even around the world, you don't want to waste the time or resources worrying about leads that you can't possibly convert into paying customers.
Optimising your site for local search allows you to start ranking for various keywords that local shoppers are using to search on Google. This helps you to quickly and easily pull in those valuable visitors from across town.
So, how do you optimise for local search? Start by checking and ensuring that the page title, URL, H1 tag and the content on your web pages include your local keywords and keyword phrases. For example, check out this page which illustrates local optimisation done right: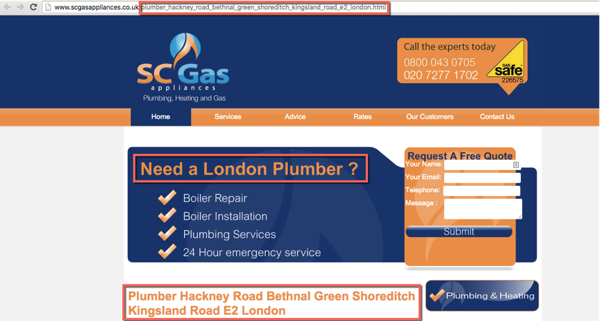 By doing this, this small business is more likely to pull in prospects in Hackney Road who are looking for a plumber.
Don't know how to get started optimising your site for local search? Check out our guides to get the advice you need:
Local SEO for local businesses – a beginner's guide
The simplest ways to do local keyword research
Six simple ways for small businesses to build good local links
How your small business can use reviews to improve local SEO
Wrapping up
If you're a new business or if you're just getting started online and think your business doesn't stand a chance getting found on Google by potential customers, you're wrong. Sure, you might not have big budgets and resources, but now you do have the knowledge and free tools to increase your visibility on Google.
Have any other advice on what small businesses can do to get found on Google? We'd love to read your best tips in a comment below.