How Can My Small Business Get Found on Google?
Every day, millions of people go to Google to search for everything from personalised gifts to nearby caterers and plumbers. If people are searching for your business, products, or services, the hope is they'll find you in the search results as soon as they hit enter.
The problem is the competition is fierce. Run a search for an emergency plumber in London and you get two million results. While no one will go through all two million, most searchers do look through the first few results. If your website isn't there now, you need to take steps to get found at the top of Google's search results as soon as possible.
So, what can you do to get your website to show up on Google when potential customers search for your business and offering? Read on as we share some things you can do to get your business found on Google.
Use PPC to get listed at the top of the search results
A quick way to have your website show up at the top of the search results is to use paid advertising. Search engines like Google allow businesses to pay to gain immediate visibility in the results when potential customers look up their business, products, or services.
Google's paid advertising is called pay-per-click (PPC). Here's how it works: you create an ad to have your site show up when someone runs a search for your specific business, products, or services, and then pay each time a person clicks on your ad.
Check out this example of how paid ads look in Google's search results: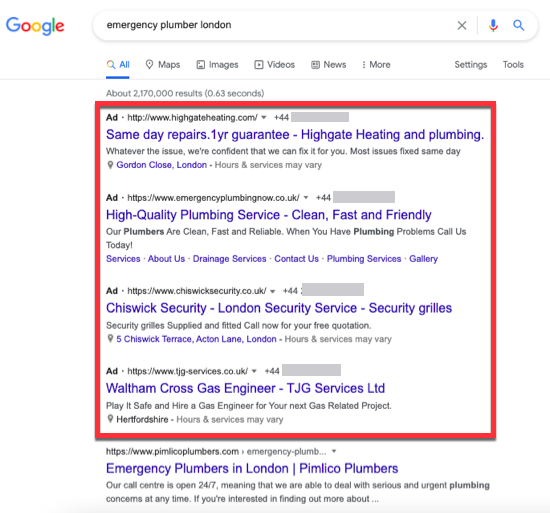 Setting up a PPC campaign involves bidding for ad placement in the search engine's paid results. When potential customers search for keywords that you've bid on, your ad pops up. If that person clicks on your ad, you pay the search engine a fee.
Should you try PPC advertising? That's up to you. If you're a new business with very little traffic and visibility in the search engine results, you might want to give it a try. Here's why:
• You get results quickly. Unlike search engine optimisation (covered in the next section) or other online marketing tactics that usually take months to produce results, with PPC you can have your site show up in the search results and drive interested visitors to your website in hours.
• You can target interested buyers. You have the option to select the category of people who see your ads in the search results. This can lead to better results as your target audience is more likely to click on your ads and visit your website.
• Algorithm updates don't affect your results. With PPC advertising, you won't have to worry about drops in rankings and traffic due to changes in Google's algorithm. As long as you pay, Google will keep showing your ads in the search results.
The downside of PPC advertising is that you'll need to spend some time learning how it works, which keywords to bid on, and how to write compelling ads. The 123 Reg Digital Marketing Suite can help you manage your PPC campaigns.
If you want to learn more about getting started with PPC, read our post about the six things your small business should know about PPC advertising.
Optimise your website for visibility in organic search results
While PPC advertising is often used to yield immediate results, search engine optimisation (SEO) is the seed you plant, water, and nurture to grow your business over time. SEO refers to specific tactics to optimise your website and naturally increase its visibility and rankings in the organic search results. You can read our post to learn more about the differences between SEO and PPC.
It may take a bit of time and effort before you see solid results, but SEO is a keystone of successful online marketing. Here are some reasons why your small business should consider investing in organic SEO:
• It works. As long as you're patient and focused on providing a great user experience while performing effective SEO strategies, you can be rewarded with higher rankings and organic traffic.
• It's cost-effective. Compared to the costs associated with PPC advertising, SEO can provide a better return on investment if you put in the work. Also, while PPC will drive instant traffic as long as you pay, your organic SEO remains the bedrock of your online presence if you're consistent with your efforts.
• Potential customers will continue to find you online. Unlike with PPC, your online presence and visibility in the search engine results won't disappear the moment you stop paying. While your site might not immediately show up at the top of the search results, or even on the first page of results, that doesn't mean you won't get any visitors. Besides, with hard work, the right tactics and tools, you can get enough visibility and a steady amount of traffic every month.
The downside of SEO is that it takes hard work and time to see results. You need to properly optimise your website, ensure it loads quickly, and that once it does, it provides visitors with a smooth, pleasant experience they'd recommend to others.
Check out these resources to learn how to get started with SEO for your website: 1) Six SEO beginner tips to boost your website's visibility in the search engine results, 2) Why (and how to) create evergreen content to get more traffic to your site.
Now, if you're looking for a quick and easy way to optimise your website, you can use the 123 Reg Digital Marketing Suite, which comes with an SEO tool. The tool can help you find relevant keywords for your business, which you can then add to your website.
Get your business to show up in Google Maps
If you've ever searched for a local business on Google, you'll have seen results similar to these: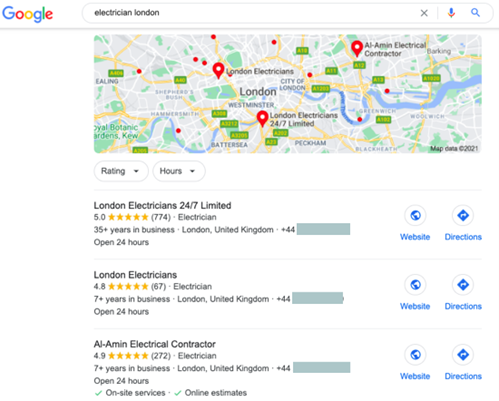 With an increasing number of people searching for local businesses and services near them, there are lots of benefits to having your website show up in Google Maps.
It allows your prospects to quickly find your business on one of the most widely used search tools on the web. In addition, you can control all the information that's displayed about your business, including your phone number, products and services offered, ratings, and more. And the more information you add, the easier you'll be to find and the more trustworthy you'll come across to anyone who sees your website in Google Maps.
So, how do you get your business to show up in Google Maps? You'll need to sign up for a Google My Business account, add your business and information, and then verify your identity with Google. To learn more, read our post on five reasons you need a Google My Business page and how to get one.
The 123 Reg Digital Marketing Suite can help you quickly and easily create a Google My Business page, saving you time as you work to towards appearing in Google Maps search results.
Optimise your site for local searches
If you're like most small businesses, your success is dependent on attracting local customers. While it can feel rewarding to see you're getting visits from people around the world, you don't want to waste your time or resources on traffic that you can't possibly convert into paying customers.
That's why it's important to focus your efforts on optimising your small business website for local searches. When you do it right, you can rank higher in the search results for keywords that nearby, interested shoppers use to find local businesses like yours.
So, how do you optimise for local search? Here are a few things to get you started:
Find out what keywords and keyword phrases people use to search for your business and offering. A quick way to get some ideas is to run a Google search for your business or a product or service that you sell. Scroll down to the related searches section (shown below) and see what search terms show up that are relevant for your business. You can also use the 123 Reg Digital Marketing Suite to help you find keyword ideas.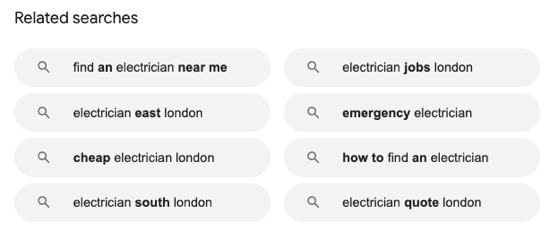 Use these local keywords and keyword phrases in your website content. Make sure each page you create is focused on one keyword, or one related group of keywords. This post explains where and how to use keywords to properly optimise your content for search engines.
Publish local content that your target audience is interested in. Create a blog, if you don't have one already, and cover things that are local and related to your business such as events, causes to support, and interviews with local business owners that sell products or services complementary to yours.
Wrapping up
If you're just getting started online and think your business doesn't stand a chance at getting found on Google by potential customers, think again. No matter the budget you're working with, you have plenty of solutions to boost your visibility in the search engine results and make it easy for interested customers to find you online.