How mobile marketing can set your hospitality business apart from the crowd
If there's one key thing you need to know about today's customer is that they take their smartphones everywhere they go. And they love to use for everything, from finding a nearby restaurant with good reviews and making a reservation, to paying the bill.
When people arrive on your website, can they do all that? Or is calling a number the only way for them to make a reservation or put in a delivery order?
If you're in the competitive hospitality business, consider this your wake-up call: if you don't have a mobile-friendly site and if you're not using mobile marketing to drive the ravenous hordes through your doors, then you're missing out.
Other pubs and restaurants may not be necessarily better than yours, but they will beat you in the dinner rush if you fail to use mobile marketing to reach out to customers on the devices they use the most: their smartphones.
So, if you want to capture the attention of the empty stomach as it wanders the streets, here is how you can use mobile marketing to your advantage.
Get listed in nearby search results
Is your pub or restaurant listed on social media platforms that allow users to check in or that incorporate the "nearby" search?
If not, here are a few popular platforms and apps where you should consider listing your business:
Having your business listed on these platforms can increase the chances of people finding your place when they run a search for a nearby pub or restaurant.
That's because these platforms incorporate geographic proximity into their search results. So when users run a mobile search for coffee shops, pubs or restaurants near them, if yours isn't listed, you're going to miss out.
Extra tip: An old address or phone number, or inaccurate business hours can frustrate customers, and you might risk losing them for good. So make sure all your information, including address, hours and phone number, is up-to-date. If you need a bit of help getting to grips with this, you can take the local search engine optimisation segment of our free SEO training course.
You should also encourage customers to leave reviews as it can help boost your ratings. Just make sure you keep an eye on every new review you receive. If you ever receive a negative one, don't ever delete it. Instead, do your best to respond positively because your reviews as well as your responses will directly impact your ability to attract new customers.
Text at the right time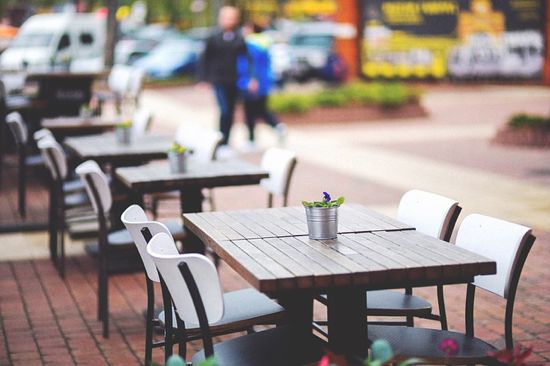 Deciding where to have drinks or lunch is usually a spontaneous decision. That's why texting your customers just before lunch or dinner time or after getting off work is so important.
Sure, SMS marketing is so 2008. But the truth is it still works, and here are some stats to back it up:
98% of text messages are read, compared to 22% of emails, 29% of tweets and 12% of Facebook posts
SMS produces engagement rates 6 to 8 times higher than email
The average click through rate (CTR) of URLs included in SMS messages is 19%, compared to just 4.2% CTR for emails
As you can see, SMS marketing can be very effective. However, you do want to make sure you use it legally. In other words, you must have clear permission from your customers.
This means your mobile user has to opt-in before you send them the first message. The simplest way to do that is by encouraging them to sign up for your text marketing list. A discount, or a special offer are great ways to entice people to sign up.
If you want to learn more, this article includes some useful information about the use of SMS in the UK.
Use geo-targeting with ads
No matter if you own a pub, a coffee shop, or a restaurant, your business is local. This means that you're not looking to attract the whole Internet, but the people who live in or are visiting your city. These are your potential customers. And a great way to attract them is by using paid online advertising with geo-targeted ads.
In simple words, you promote ads that only reach people in a specific location.
For example, Facebook is popular choice for mobile advertising, as it allows you to target only those mobile phones in your specified area. This means you can create ads that are served to people within a three to five mile radius from your restaurant.
Of course, you can combine this with other criteria as well, such as demographics. For example, if you're looking to get more young men to your pub, you can target your ads to men aged 25-30. If you want to attract more young women to your restaurant, a proper ad campaign can identify mobile phones belonging to women aged 25-30 and serve them your ads.
There are lots of online ad platforms where you can use geo-targeted ads. Google AdWords, Facebook and Twitter ads are just a few of them.
If you're curious to learn more about creating your first ad campaign on these platforms, sign up to take these free courses on our Online Business Training and we'll teach you how to do it yourself:
Harness the power of email marketing
People love their iPhone, Blackberry, or Android device. And they take it everywhere. So it's no surprise that most email activity now takes place on mobile devices.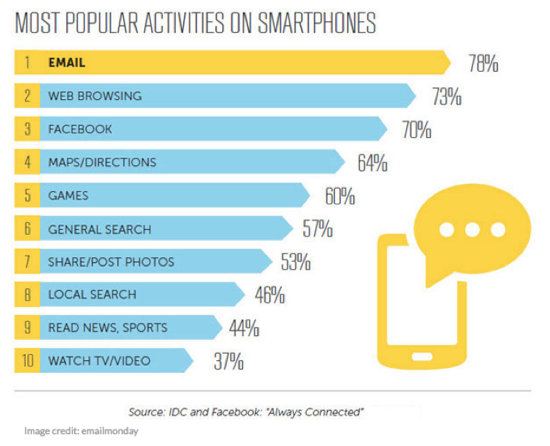 So what does this mean for your pub or restaurant?
It means that your messages can be more timely than ever. When local customers receive your weekly coupon, happy hour discount or special offer in their inbox, there's a higher chance that they may be just down the street from your pub or restaurant when they read your email on their phone. And the chances of them opening and reading your email is high.
Take our free course to find out how you can get started promoting your business using email marketing.
Offer convenience
One thing that frustrates people is having to wait a long time for a table at a restaurant. And if they have to wait an hour for a table to free up, chances are they'll also have to wait a long time to place an order and receive their food.
You can help by simply allowing them to make a reservation via mobile so they no longer waste that time waiting. This will not only set you apart from the competition, but it'll also increase customer satisfaction.
For example, Jamie's Italian lets you book a table online through Bookatable, a third-party website. The booking is done quickly and you don't need to register with the site, it just needs your name, number and email address.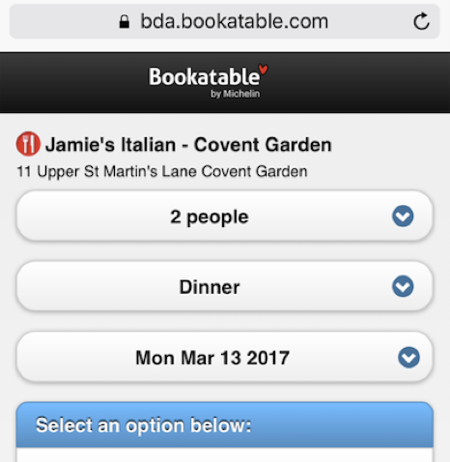 If you do deliveries, another thing you can do is to simplify the online ordering process on your site. Make sure you have a big "order online" button on your site that directs users to a page where they can see the menu and place their orders within minutes.
Create a loyalty program
Imagine if your favourite restaurant gave you a free meal after going say, ten times? You'd probably sway your way over there more often. (I know I would.)
Mobile presents a huge opportunity for loyalty programs. So consider creating one, if you haven't already, and provide customers with discounts and other incentives for returning to your pub or restaurant in the future. You can even use SMS marketing to distribute loyalty rewards.
This article has some great information on how to create a successful loyalty program for your restaurant, from available options to ways to sustain engagement with loyalty members.
Partner with local delivery services
Many cities have local delivery services that will deliver food from a variety of restaurants and gastropubs, so why not take advantage?
When you partner with these businesses, you'll not only get your pub or restaurant in front of many more customers but you'll also benefit from their already built reputation and popularity.
Just take a look at these stats to get an idea of how popular delivery services are in the UK: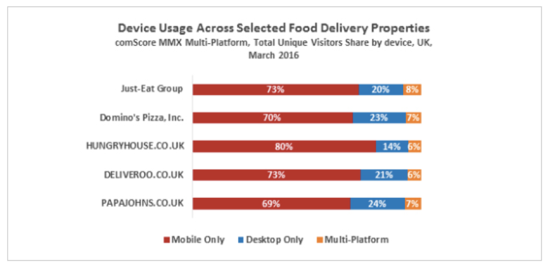 The reason they're so popular is because they're very easy to use while giving people access to hundreds of options.
Wrapping up
Mobile marketing won't make your pub or restaurant a success overnight. But it can help spread the word about your establishment, bring in more customers than ever, and encourage previous ones to return.
How else are you using mobile marketing to reach more customers? Tweet us your best tips @123reg.