The new expanded text ads and how small businesses can take advantage
The day has come: Google has launched expanded text ads. This is one of the biggest, most exciting change to Google Adwords since its launch, 16 years ago.
The extra-long ads with double headlines have already began rolling out so in this post we'll get you ready for all the changes so you know how to take advantage of the extra space in your ads.
One key thing to know is that starting January 31st, existing traditional ads will continue to run with expanded text ads, but you won't be able to edit or create standard ads any longer.
Before we get into the nitty-gritty of how to best handle expanded text ads, let's get to know them a bit better.
What are expanded text ads?
Expanded text ads are twice the size of standard text ads (about 47% for maths nerds). This means you can now add 140 characters to your ads compared to 95 characters with the old format.
The idea is to maximise and optimise your exposure on mobile search results with a bigger headline and extra-long description.
Here is a comparison between the expanded text ad format (left) and the standard text ad format:

As you can see, expanded text ads differ from standard text ads in a few important ways. Expanded text ads have:
Two headline fields instead of one. Each headline can use up to 30 characters, compared to the standard text ads where the headline had 25 characters.
An extra-long description of up to 80 characters.
Here's a little more info on the changes from the AdWords blog: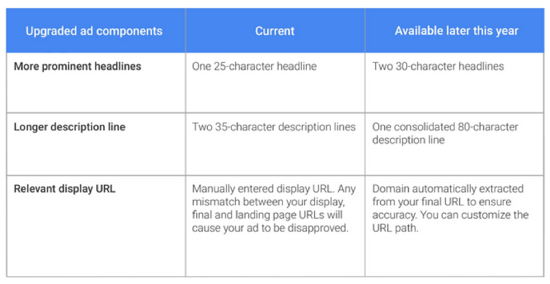 Now, while more text means more visibility, it also spells the end for many best practices used since AdWords launched in 2010. Before it was a case of too little space, now it's a question of "how do I make the most of 50 more characters?".
Here are some of the best practices for expanded text ads, for those of you still getting to grips with the new format.
Making the most of the new expanded text ads format
Use those extra characters wisely. You might be tempted to take the easy road, and reuse old text ads, combine description lines and just add an extra headline. But before you do that, know that what worked in the past might not work now. So instead take this opportunity to revise your entire ad creative. Take a look at which ones worked best and use the extra space to sell more benefits, provide more insights and appeal to customer's sensibilities.
Don't forget the ad extensions. Use them to promote further services like free delivery or popular product categories, thus creating a stronger incentive for potential customers to click your ad.
Optimise your headlines. You already know just how important headlines are. They're big and prominent, and the first thing users see. So make them count by testing the effectiveness of one headline over another. For instance, you could add your company tagline or a value proposition unique to your business as your first headline. Then use the second headline to promote an irresistible offer, a strong call-to-action, or a question that sparks curiosity and inspires downloads or email sign-ups.
Test multiple versions of your ETAs. Shoot for three to five new ads per ad group to see what works best for your audience.
Use the additional space in the description line to make your offer more enticing. This is the extra space you were longing for to establish a better connection with the searcher. So this is your chance to use it to provide more information and to talk about the benefits of doing business with you.
Replicate what works in standard text ads in your new expanded text ads. For example, if you mention pricing or free delivery in a standard text ad that's proved to be successful, then carry those over to your expanded text ads. The same goes with benefits or attributes of your product that had proven to be enticing in the past. Add and test all those benefits in your expanded ads to find what works best in the new format.
Leave your standard text ads running until the new ones outperform them. Just because you have more space to talk about your business and products doesn't mean that your expanded text ad are guaranteed to get better results than a standard text ad. So leave your top performing standard text ads running. Keep them on until they stop receiving impressions on their own or the message is no longer accurate.
For more tips and advice check out Google's guide to expanded text ads.
Wrapping up
Now that you know what expanded text ads are, and how they work, it's time to get creative. Just remember not to pause your standard ads yet, and to give yourself time to experiment and practice being an expert at expanded text ad campaigns. So work out the kinks, and find the best ad copy for your small business.