Five tips for creating an effective Google Ads campaign for your online business
In terms of advertising options, few platforms can match the power and reach offered by Google Ads. Not only does this tool allow you to publicise your business on the world's most popular website but it'll also promote your services on certain mobile apps and YouTube videos.
When executed correctly, companies have seen their brand awareness increase by 80% with Google Ads. However, if you go into it without conducting the necessary preparations first, you may be wasting your hard-earned cash on a futile venture. As the adage goes: if you fail to prepare, prepare to fail.
So, without further ado, here are five useful tips for creating an effective Google Ads campaign that can help you stand out from the crowd.
1) Know your objectives
As with any promotional work, you'll need to consider exactly what you want to achieve with your Google Ads campaign before getting started. Once you've decided this, you can then determine the best course of action, along with the most relevant keywords, that will help you to achieve this goal.
When creating a campaign, you'll be able to choose from four different goals:
Sales
Leads
Website Traffic
Brand awareness and reach
If you want to sell more products or gather more leads, we highly recommend including a unique offer that customers can claim or a specific telephone number that they'll need to call. That way, you can easily measure the effectiveness of your campaigns. Should you wish to boost your web traffic instead, then you'll need to gear your content so that your ads appeal to your customers' needs and sensibilities. Consider the language that you use, whether informal or formal, as well as the quality of your keywords, which can be determined by performing a keyword diagnosis within your account.
Regardless of which goal you select, you should aim to use a sharp, simple message that offers a clear call to action. To learn more about these goals, along with the best ways of adapting your content to fit them, Google have compiled a dedicated page that explains how they can be used to improve your campaign performance.
2) Incorporate negative keywords
When we say 'negative keywords', we don't mean that you should start using sad or harsh language. These simply refer to phrases that you don't want your business to be searched for online.
For example, if you run a carpet shop but don't offer Persian or Oriental rugs, you may wish to include these two terms as negative keywords. That way, you'll be saving your visitors from any unnecessary frustrations when they come to browse your website. Otherwise, they'll promptly leave your site and turn to one of your competitors, which, in turn, could affect your Google rankings.
Struggling to decide which keywords, negative or otherwise, are the best ones to use? Check your search terms report to see exactly which terms people are using to find your business. From there, you can formulate and adapt your campaigns to ensure you hit the perfect notes.
3) Research your competition
It's more than likely that you won't be the only one in your industry conducting their own Google Ads campaign, but this doesn't necessarily have to complicate your workload. In fact, in some ways, it actually makes your job easier!
By reviewing and analysing your competitors' ads, you'll be able to see the quality of their campaigns and how exactly you can differentiate your messages. You'll also be able to identify any terms or phrases that they don't utilise and use them to your advantage, allowing you to show customers how you really are better than the rest.
SEMrush is an incredibly useful tool for this since it will provide you with the top organic and paid keywords that your rivals are using, along with their backlinks, landing pages and more. Best of all, it's completely free!
4) Create a compelling landing page
In addition to captivating wording and strong keywords, you'll also need to make sure your ads link through to a dedicated landing page that features your unique offer or call to action front and centre. If your visitors are taken to an irrelevant page and then have to search for this themselves, chances are they'll just give up and move on.
Further compounding this is the fact that the average amount of time that people typically spend on a website is less than 15 seconds! As such, you'll need to make sure that this webpage grabs your visitors' attention straight away and compels them to stay on your site. For more details on how to create an effective landing page, check out our Blog article: How to optimise a landing page for search engines
5) Test and refresh your content
Think your Google Ads campaign is complete once you've completed all of the above? Think again! To get the best possible results, you'll need to review your content on a weekly basis so you can check their performance and see what is or isn't working.
You don't need to overhaul your ads every time though. Simply fine-tune your content so that any underperforming keywords are replaced with more effective ones and so your overall message meets the latest trends. You could also try variations of the same message to see which option generates the most clicks.
Wrapping up
Ultimately, only you can determine what the best strategy will be for your Google Ads campaign, which involves plenty of research, testing and performance tracking, followed by more testing. After all, if at first you don't succeed, try and try again!
Don't be discouraged though – every change you make will refine your campaign and make it easier for customers to discover your services.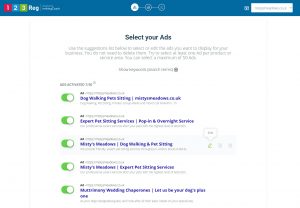 Looking for a simple way of setting up your own Google Ads campaigns? Why not try the 123 Reg Digital Marketing Suite, which offers an Ad Builder tool for £10 per month.
You'll also get access to our Competitor Insights tool as standard with every package, which allows you to identify the most relevant keywords for your business as well as monitor your competitors' social media activity from a single location.
So, what are you waiting for? Kickstart your next online marketing campaign today!