The Kommitments are a live 10 piece tribute to The Commitments, the movie. The band's website is hosted by 123-reg.
As the front of their website says, the "live show is dynamic, visual, authentic and accurate". They play all the classics, including Mustang Sally, Hard to Handle, and Take me to the River, plus many legendary soul hits .
We spoke to the creator of the band's website (who also happens to be part of the group).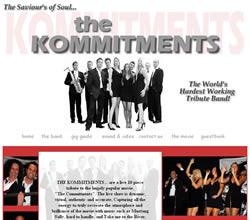 What's your name?
Andrew Stevenson
How old are you?
46
What do you do?
I'm a musician – I play the saxophone.
What is your favourite movie?
The Commitments
What made you create the site?
To get more gigs and promote my band.
Is this your first website you've created?
Yes
How long did it take you to build?
5 days
What do you like about it?
It looks good and gets us gigs.
What do your family and friends think of it?
They say it is "very professional.
What made you choose 123-reg?
You have the cheapest domain names.
How have you found using the service?
Good – I have used it since.
Would you recommend 123-reg to others?
Yes, and I have already.
Where next?