Everything you need to know about Facebook Live and how it can help your business
Live video is slowly being incorporated into many of the major social media channels, from Twitter's Periscope to Instagram Live. But with 1.23 billion daily active users as of 2016, marketing on Facebook is the clear choice for the small business with hopes to reach a large audience. So when Facebook Live was unveiled back in April 2016, a new marketing goldmine was born. Read on to find out how to make the most out of it.
What is Facebook Live?
This feature allows you to broadcast live video to Facebook straight from your smartphone. Viewers can join your broadcast and post comments that will appear during your stream in real-time. Facebook will heavily promote your live video in news feeds while it is live and for a short period after the broadcast has ended.
Why you should use it
Like updating your status or posting a photo, Live is another option you have to reach your followers at the touch of a button and its super easy to use. All you need is a smartphone and a decent internet connection to start a live broadcast. It's cost effective too – you won't need to worry about scripts, fancy lighting or complex video editing. Professionalism is not what your Facebook Live audience are looking for here – it's the realness of your brand and the people behind it that will draw viewers in.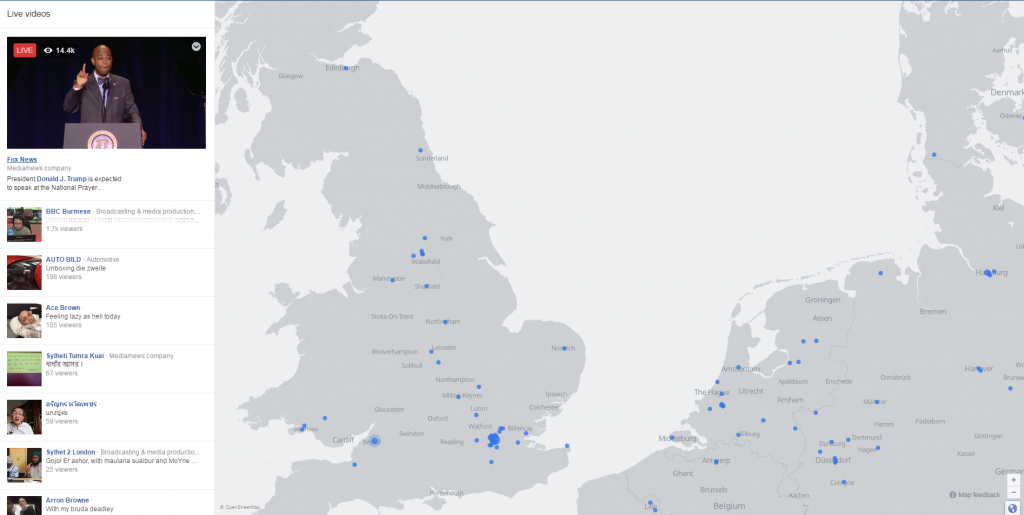 A whopping 100 million hours of video are watched on Facebook each day, making this a great place to start your video marketing journey. It's also easier to get discovered than you think. You'll pop up on all your followers' news feeds when you are broadcasting live, and you can encourage your viewers to subscribe so they'll be notified of any future broadcasts you hold. You can also discover the live broadcasts going on at any given moment across the globe by checking out the Facebook Live map.
How you should use it
Facebook has a guide complete with hints and tips on how to go Live, but here are the most important things to remember:
• You'll find the 'Live' icon in the status bar. Tap it to get started!
• As a small business, you want your broadcast to reach as many people as possible. Make sure your privacy setting is set to 'Public'.
• If you want to have a practice run of your broadcast before you officially go live, set the privacy setting to 'Only Me'.
• Always write a description for your Live video. This is what is going to draw your audience in, so make it attention-grabbing and enticing!
• Make sure you have a good internet connection to avoid a grainy or laggy broadcast.
• Facebook Live videos can be up to 90 minutes long. Although you don't have to use that whole time, it's best practice to broadcast for 10 minutes, at the very least.
• Don't forget to check out your analytics once you're done! You can use the stats from your broadcast to make your next one better.
Things you can do with Facebook Live
Thinking about going live but not sure what you should do? As a small business trying to get your brand out there, you probably have more to offer your viewers than you realise.
Take your followers behind-the-scenes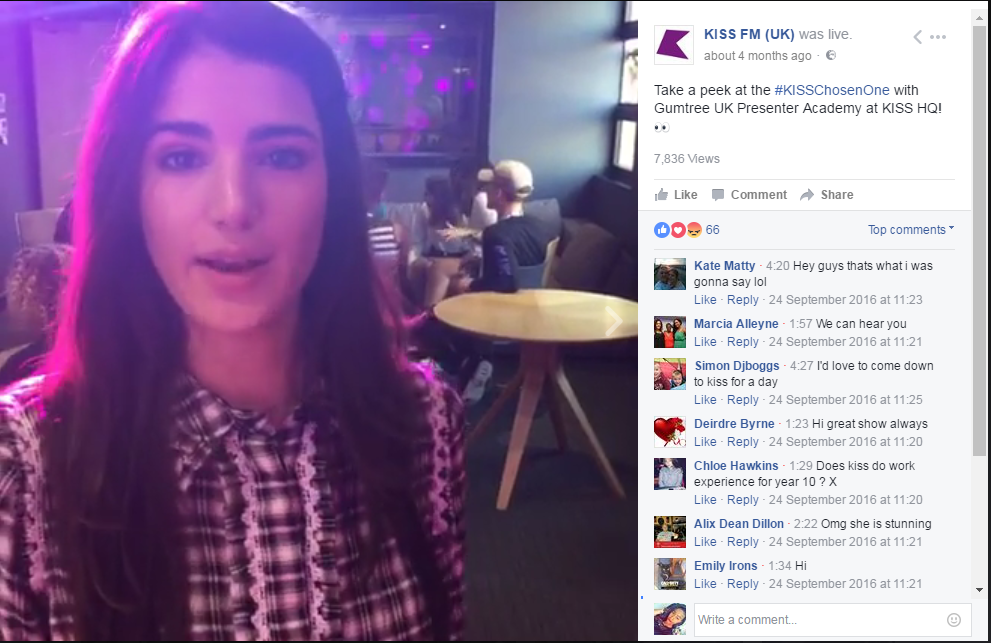 Live video is the perfect way to give your followers a closer look into your brand and what sets you apart from the rest. In the example above, radio station Kiss FM took thousands of viewers behind the scenes at an event held at their headquarters, giving their listeners a whole new way to connect with their brand.
Remember that it doesn't need to be a red-carpet event to be interesting. A live tour of your office where you introduce your audience to each member of your team is a simple yet engaging idea that will allow you to connect with your followers.
Offer your followers a live tutorial or how-to session
Something that teaches your audience how to do something of interest to them is always going to be well received, making it a great idea for a live broadcast.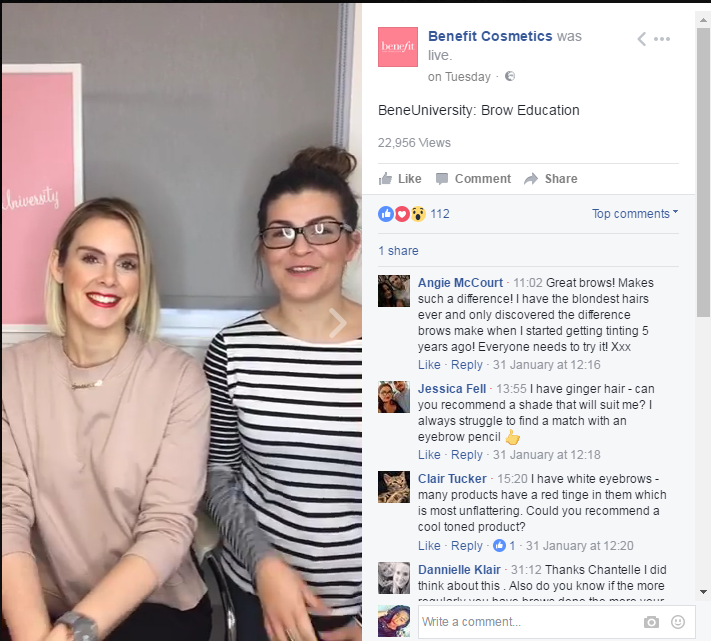 Beauty brand Benefit Cosmetics held a live broadcast educating people on how to tint their eyebrows. Almost 23,000 views later, it's safe to say it was a popular broadcast. If you're stuck for tutorial ideas, or not sure that you have the knowledge to create one – why not invite a guest speaker to do it for you? Find someone knowledgeable in your field and invite them to share their pearls of wisdom in your next live broadcast.
Answer your viewers' burning questions with live Q and As
Facebook Live gives your audience the chance to ask you any questions they may have and receive an answer in real time. This is especially useful in situations where you may be experiencing issues and in turn, a higher volume of customer queries. Set up a broadcast so you can address your customers directly and leave a good impression of your brand by answering their questions quickly.
And remember – it's a two way street! Hold a live focus group or ask your customers for feedback on a new product or design you're launching – you'll gain valuable insights and show you value the opinions of your followers at the same time.
Attending an event? Take your followers with you!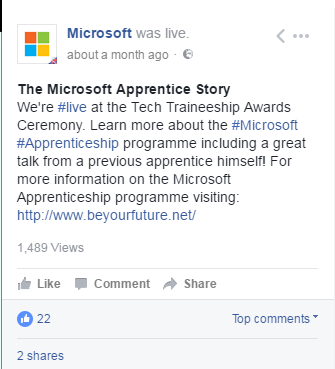 If you're heading somewhere interesting, Facebook Live gives you a great opportunity to take your followers along for the ride. Drum up interest by letting them know in advance that you'll be attending and broadcasting live from the event. They'll appreciate the free pass and it will make exciting viewing for your broadcast.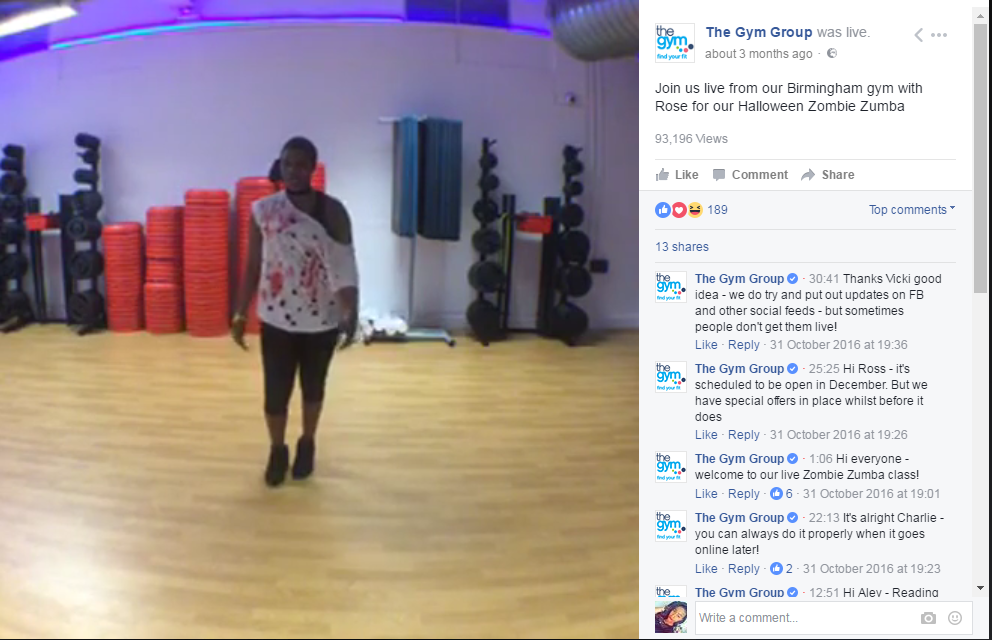 If you're holding your own event, be sure to set up a live stream so your followers can get involved. Check out this amazing example from The Gym Group – they held a live Zumba class at one of their gyms and amassed over 90,000 views.
Something to say? Break the news live
A Tweet or a Facebook post used to be the way that brands would share news with their followers before the rise of video marketing. If you have a massive sale coming up, you can literally break the news live and give your followers all the information they need in one go.
You could also show off a new product with a live launch. Not only can you drum up buzz in advance, inviting your followers to view the live launch, but you'll have plenty of time to showcase every aspect of your new product and captivate your audience with all the details.
Host an interview with someone relevant to your brand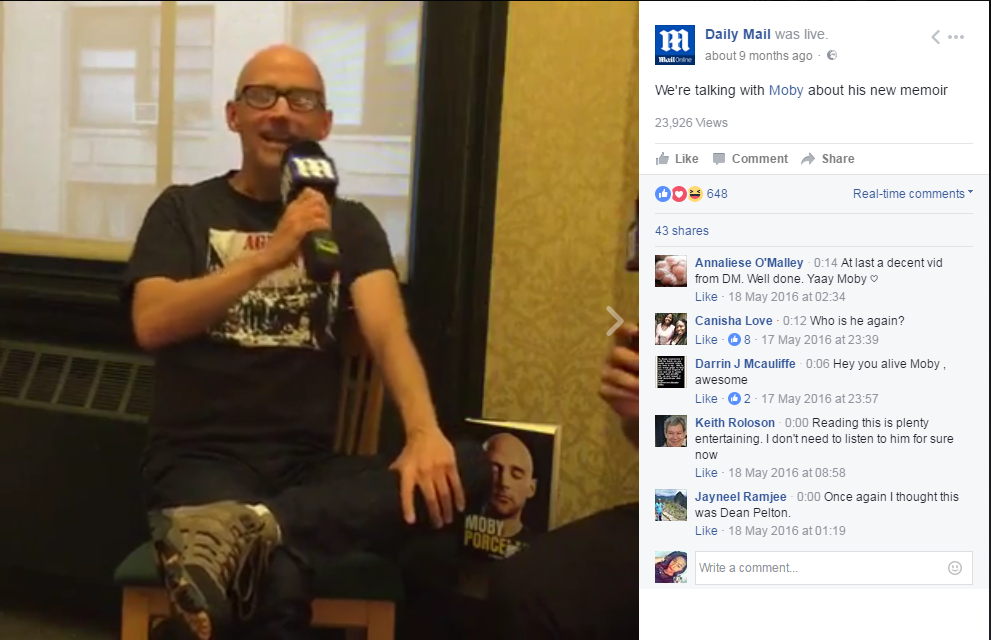 If you have connections with an influencer or someone knowledgeable in your industry, why not arrange to broadcast a live interview with them? This interview held by the Daily Mail attracted over 23,000 views.
Entice viewers with live competitions and giveaways
UK fashion brands commonly use Facebook Live to host competitions and giveaways. It's a clever marketing strategy for three reasons: they're fun, people love them and they allow the brand to promote their products.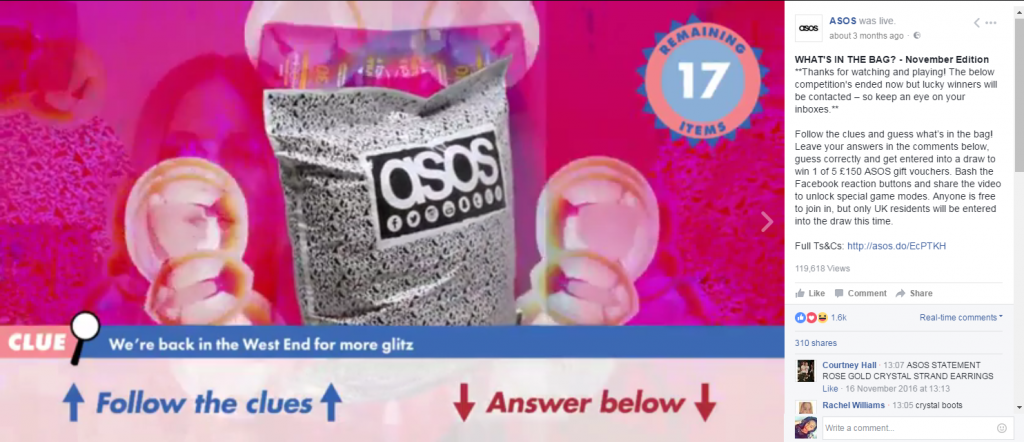 Fashion brand ASOS hosted regular giveaways where they offered their viewers gift vouchers for correctly guessing products in their bag. What's even more genius is that they encouraged their followers to share the broadcast to unlock special game modes. The broadcast above got them almost 120,000 views and a whole lot of publicity.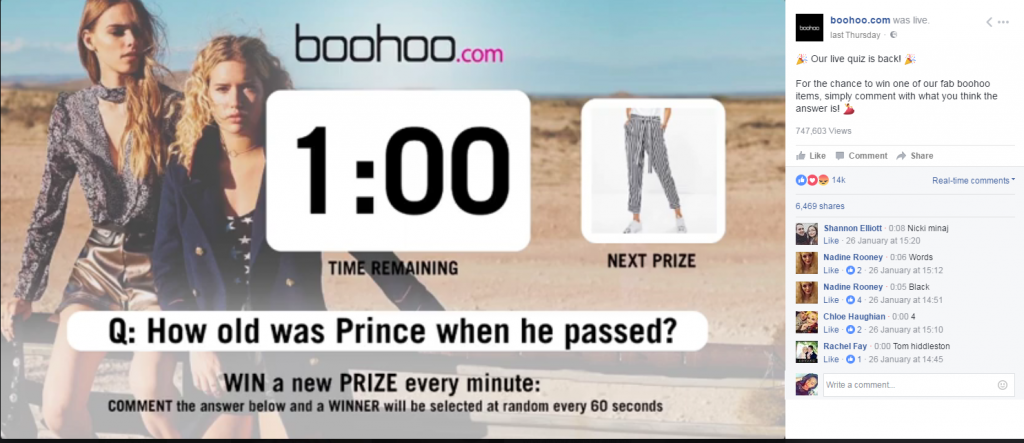 Online retailer Boohoo also hit headlines for their clever Facebook Live quizzes, where they offered viewers the chance to win items of their clothing every minute by commenting their answers to quiz questions. This simple quiz got them an unbelievable 748,000 views. They also offered anyone who shared the broadcast a chance to win £100 Boohoo vouchers – 6,442 people obliged.
Offer your audience some humour and light-hearted fun
Sometimes your viewers just want to have a bit of fun and in this day and age of social media, you never know what's going to go viral.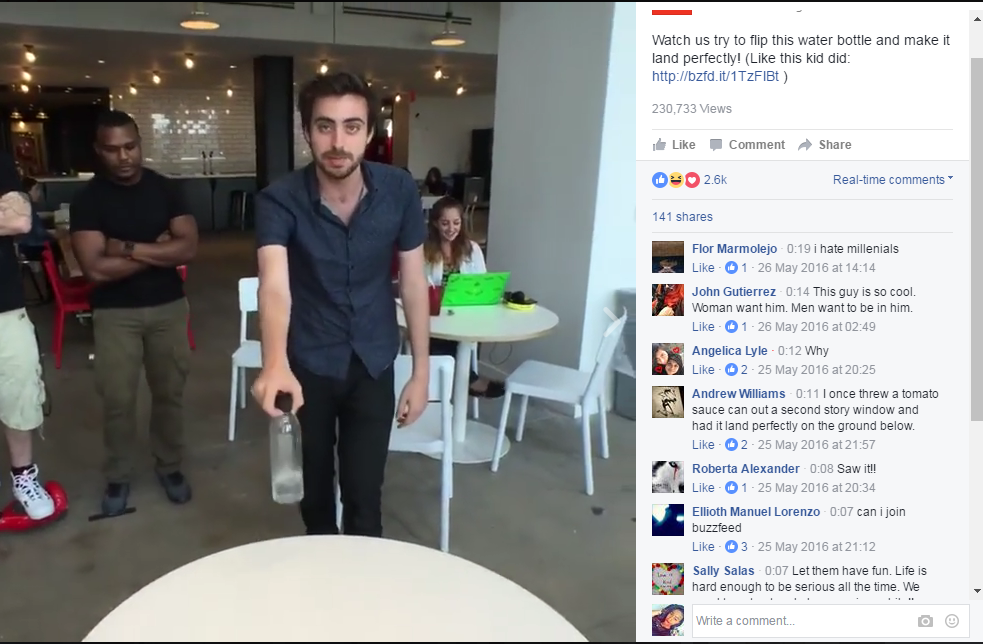 Buzzfeed have mastered the art of keeping audiences captivated during live broadcasts while doing something totally random. In the above example, a live stream of employees simply throwing a water bottle around got over 230,000 views. So no matter how silly or 'out-there' you may think your idea is, you never know the impact you might have. Another great example from Buzzfeed is when they broadcast themselves trying to see how many rubber bands it would take to make a watermelon explode. Over 800,000 tuned in for this!
Summing up
It can be daunting to put yourself out there without the security of scripts, directors and editing to fall back on. But live broadcasting is going to create an enjoyable experience for your customers and drum up some attention for your brand. Check out our full guide to video marketing for small business owners for more information how to get started. Then, you'll be all set for your first live broadcast!